Furankenshutain no kaijû: Sanda tai Gaira (The War of the Gargantuas)
(1967)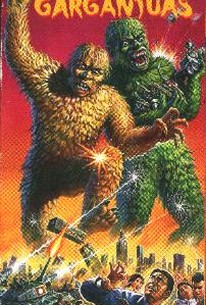 AUDIENCE SCORE
Critic Consensus: No consensus yet.
Furankenshutain no kaijû: Sanda tai Gaira (The War of the Gargantuas) Videos
Furankenshutain no kaijû: Sanda tai Gaira (The War of the Gargantuas) Photos
Movie Info
Two gigantic fake-fur covered monsters battle it out in Tokyo. A mutation caused by an atomic blast, the green Gargantua is evil and desirous of stomping out the entire human race. The brown one is good and is kept busy attempting to derail his evil counterpart's destruction. ~ Sandra Brennan, Rovi
Critic Reviews for Furankenshutain no kaijû: Sanda tai Gaira (The War of the Gargantuas)
All Critics (1) | Fresh (1) | Rotten (0) | DVD (3)
Terrifically entertaining and involving in a way that completely sidesteps irony.

Audience Reviews for Furankenshutain no kaijû: Sanda tai Gaira (The War of the Gargantuas)
½
This is a very odd giant monster movie about a hairy, ugly, ape-like beast that escapes from a research lab. Somehow, the beast has an evil twin. One of the monsters is green, the other one brown. One evil, one good. And we are reminded of that endlessly thoughput the movie. These two gargantua are the equivalent of brothers that are always beating each other up. I thought the monster fights were interesting in that they occurred with greater speed than the typical, lumbering giant monster approach in every other film of the time. The Gargantuas suits were very flexible, almost form-fitting compared to the usual. It gave the stuntmen the opportunity to accomplish some pretty impressive wrestling moves and to run at a decent clip. The miniature effects were also very impressive. There are a couple of memorable moments including a neat shot of a gargantua underwater, glaring up at its future victim. There is also one of the worst songs and accompanying performances I have ever seen in a movie. Kipp Hamilton sings a pop song on the deck of a ship. The song is called "The Words Get Stuck in My Throat" or something crazy like that. And if that isn't bad enough, Hamilton's voice is absolutely awful.
Whit whitsbrain
For all my reviews visit my website idacashmansmoviereviews.webs.com Please note that the rating above is possibly skewed by the ratings on this specific site. There might be a slightly different rating at the end. Most likely one of the WORST Toho Monster Movie of all time. But that's not saying it's bad! The 45th Birthday of...ummm.... A little explanations for all you folk watching the same version I am. The two creatures featured in this film are Gaira and Sanda, a brother and sister (well, they're both dudes but I like to think of them as Brother and Sister), who are spawned from The Frankenstein Monster. In Frankenstein Conquers the World, the movie this is a sequel to (that's why this is a .1 and not a 1...damn it.) Okay, do I really haft to explain to you guys my logic about the 4.2 Monster Movie Marathon? Yes? Okay. The "4" represents series of movies that are from new monsters debut in a movie. Hedorah, Ebirah, Mothra and Rodan all debut in movies that have an anniversary this year. Godzilla vs. King Ghidorah and War of the Gargantuas represent the ".2". Though Mecha-Ghidorah, Godzillasaurus and The Dorats all debut in Godzilla vs. King Ghidorah, the monsters never go on to any future films, thus making them one shot, and .1s rather than 1s. The 1s represents series and the .1s represents films. War of the Gargantuas is also like that. There is one monster however, in here, that makes an appearance that has appeared in other films. The Giant Octopus is a monster who originally debuted in King Kong vs. Godzilla. He fought King Kong for a little bit before being easily defeated. There was a scrapped scene in Frankenstein Conquers the World, however, that featured The Giant Octopus killing Frankenstein's Monster. Wait, that's what we were talking about in the first place. War of the Gargantuas features two monsters that were spawned from The Frankenstein Monster. This was done in a number of rumors. However the American version scrapped all mention of Frankenstein. So, not only will you not be able to hear about Frankenstein, but the Germans re-instated Frankenstein - after all he is their monster - and then in all Godzilla films between 1967-1975, explained that every monster that Godzilla or other monsters (King Kong and Gezora are examples) is a creation of Dr. Frankenstein. This film was actually supposed to have a sequel in 1978, Godzilla vs. The Gargantuas. This was one of many attempts to keep Godzilla on life support after 1975, which also included the attempts of The Rebirth of Godzilla: King of the Monsters - a pseudo remake of the first film - , Godzilla vs. The Devil (which would have been fucking awesome), in which he would fight not only Satan, but a Giant Spider, Fish and Bird; and Star Godzilla, which featured Godzilla, Angirus and King Kong. There was also The Return of Godzilla, in which he would fight Bagan, a very different version as well, but this was considered Hesei material. Now, back onto The Giant Octopus, it makes more sense if the cut scene would be kept in in Frankenstein Conquers the World. In fact, this scenes was shot and finished, edited and all that. But it was scrapped. It is a bonus feature on most DVD releases, even bootlegs. Oddly enough the last time I checked it was not on YouTube. Why would this make more sense? Well because The Giant Octopus actually appears at the beginning. Him trying to take out a ship and eventually fighting Gaira is very slouchy, but he is just an Octopus and those creatures are very slow yet thorough predators. His design is basic Octopus, but it is memorable. Also, the creature has a weird sound effect, which really makes him odd yet awesome. Oh yeah, I should talk about the Gargantuas, shouldn't I? Well, their faces kind of make them look retarded, which is not appropriate for a Giant Monster. Then again....this was the same year when Godzilla REALLY looked like The Cookie Monster. Speaking of which, I guess this is the reason why Ishiro Honda was not doing Godzilla vs. The Sea Monster. Even if it WAS originally done for King Kong, it would still be more important than this goin' nowhere film. Why could he have done that? Okay, back to business. Their hair looks like it's straight from a doormat, it couldn't look any more sheepish in many ways. They have really big teeth like hillbillies, and they look as thick as trees. The design here could not be any more lazy, but let's not blame Ishiro Honda. Eiji Tisyubura, who I have no idea if I can spell his name, is the dude who made most Showa Monster Costumes and Explosions. I can't say whether I like him or not. But I'll tell you that is who is responsible. The difference between Sanda and Gaira is color, Brown and Green. While Sanda matches her name better, is more realistic, and is less over the top, Gaira IS over the top. For that I prefer Gaira as far as appearance goes. In addition, Gaira has tusks and elf-like ears, but these are only seen at close-ups. And I mean CLOSE-UPS. The dubbing is pretty shitty. While it matches up to the actors mouths quite nicely, and the dialogue is up to standards, the actors aren't even trying to sound Foreign, and you can see whether or not you recognize that, that they are extremely uninterested and giving a LOUSY performance! They're not even good for High School standards! The plot is spoonfed to death. The origin of the first Gargantua, the first monster fight, all the characters, and a hint at a second monster are all full introduced at 18 minutes of the film. The concept itself is interesting, but only in the "Cult Classic Sci-Fi Horror Frankenstein Film" sense. The city destruction is EXTREMELY rare, when it is there it isn't much. The monsters fight like UFC fighters, and sometimes hint at a theatrical performance (it's a movie, duh!) but never do anything warrant of excitement. The ending is completely off the wall. It is unexpected, over the top, and you barely can even tell it happened. It's just really odd, but hell, I'll take it! This movie is just overall really weak. The monster design is worse than basic, the dubbing is shit, the plot is completely spoonfed, and there is just not enough monster fighting going on to warrant any redemption. The only cool thing is the concept, however it is just a cult classic concept, not anything warrant of excitement. 3/5. I, Da Ca$hman signing off.
Da Cashman
½
In parts it was terribly boring, but I actually thought it was pretty cool and the military music did get a bit on my nerves. For what is was it was pretty neat.
Marion Ravenwood
Super Reviewer
Furankenshutain no kaijû: Sanda tai Gaira (The War of the Gargantuas) Quotes
There are no approved quotes yet for this movie.
Discussion Forum
Discuss Furankenshutain no kaijû: Sanda tai Gaira (The War of the Gargantuas) on our Movie forum!