The Gate II: Trespassers
(1992)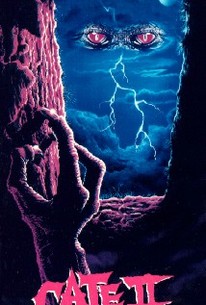 AUDIENCE SCORE
Critic Consensus: No consensus yet.
The Gate II: Trespassers Photos
Movie Info
This horror sequel centers on an outcast teen-age boy who decides to try and improve his life by, naturally enough, opening the gates of hell. He has soon summoned a deceptively friendly demon, who initially does the teen's bidding but who soon enough reveals his true colors.
Critic Reviews for The Gate II: Trespassers
There are no critic reviews yet for The Gate II: Trespassers. Keep checking Rotten Tomatoes for updates!
Audience Reviews for The Gate II: Trespassers
Mediocre follow up to The Gate, this sequel fails to really grab your attention while attempting to create entertaining horror. This could have been a worthwhile horror film, but The Gate didn't need sequel, it was a fun, entertaining horror film that delivered effective thrills from start to finish. This film tries something slightly different, but just doesn't take off in terms of its story. The original was engaging and kept you involved due to a good cast, but this film just lacks and it should have been much better. I feel that this sequel just loses steam halfway through and by the end credits you realize that the film could have been much better than what it turned out to be. The cast here seem bored, and the film just lacks the fire the original had. The biggest problem with The Gate II is that there's little happening on-screen and it just ends being a dull film. If you've enjoyed the first film, you're going to be disappointed by this film. In terms of sequels, this one is forgettable to say the least, it's not an awful film, but it's not a good one either. Fans of the original will most likely agree that this follow up doesn't live up to the face paced; highly entertaining original, which at least was a film that grabbed your attention right from the get go. This film takes far longer for the story to unfold, and I felt that it relied on a script that really felt underdeveloped. At times there a few good parts, but overall, it's not enough to make the sequel it should have been. This is just another one of those sequels that fails to live up to the original, and this one should just be seen by diehard fans of the first, even then, you use caution into going into this one as the action really starts an hour into the film.
You have to take this film for what it is, Candian Horror and Horror for young people, As you have a Harry Potter Looking Main Star (Louis Tripp) and his bad girl, and 2 rowdy friends who try to make life hard for young Terry. The Special Effects are what saves this movie and brings it to 3 stars. Grossed me out when the guy squeezed his zit and it shot out of his pimple like a water fountain. But besides all this beforeGate II was over I was hoping that there was a Gate 3, but still with all that still only worth 3 stars. I have yet to See The Gate, like this one when I find it in a pawn shop I will pick it up.
Bruce Bruce
Super Reviewer
½
When Terry friends Glen moved away he left the gate to hell unguarded to anyone that wanted to open it now its five years later and a teenaged Terry has decided to do some good with the gate and use a ritual to help his father get a better job but for Terry to get that wish he and his friends must sacrifice parts of themselves. Ok sequel to The Gate had some pretty fun moments but all and all can be seen or not seen you wont lose sleep over it.
The Gate II: Trespassers Quotes
There are no approved quotes yet for this movie.