Getting Away with Murder
(1996)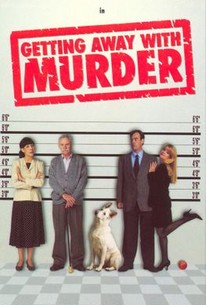 Getting Away with Murder Videos
Getting Away with Murder Photos
Movie Info
With Penny Marshall as producer and a cast featuring Dan Aykroyd, Lily Tomlin and Jack Lemmon, one might think that Getting Away with Murder is a promising vehicle for more than a few chuckles and guffaws. But look a little closer and you may find other emotions arising: distaste, shock, and maybe even outrage. Getting Away with Murder, attempts to be a frothy black comedy about the fate of an alleged Nazi war criminal accused of horrendous crimes against the Jews (interestingly, the word "Jew" only comes up a couple times, the filmmakers preferring the more generic term "victim" instead). But with no real underlying point, no sympathetic protagonist, and a story that offers no barbed insights into the potentially fascinating subjects of administering vigilante justice based on hearsay and the notion of atonement for wrongs done, the story becomes vapid, tasteless and offensive. Aykroyd plays Jack Lambert, a mild-mannered professor of ethics who becomes deeply disturbed to learn that his neighbor Max Mueller (Lemmon) has been accused of being the notorious death camp commandant Karl "the Beast of Berkau" Luger, a man responsible for thousands of deaths. After wrestling a bit with his conscience, Lambert poisons the apples on Mueller's trees, causing his neighbor's swift demise. When the press labels the death a suicide, the outraged Lambert sends an anonymous letter to the press stating that he deliberately offed Mueller. Not long afterward, Lambert learns that Mueller may have been innocent after all. Filled with remorse, Mueller dumps his girlfriend to marry Mueller's plain-jane daughter Inga (Tomlin) as a form of penance. Then even more contradictory evidence surfaces that further confuses the issues. Surprisingly, the film received support from the United States Holocaust Memorial Museum and the Yad Vashem Memorial in Jerusalem.
Rating:
R
Genre:
Directed By:
Written By:
In Theaters:
On DVD:
Runtime:
Studio:
HBO Video
Critic Reviews for Getting Away with Murder
Audience Reviews for Getting Away with Murder
One of my all time favorite films. What an awesome movie! I definetely recommend it! A classic comedy! Aykroyd is great in this one!
kalandra .
Amusing black comedy about a man who decides to execute his Nazi war-criminal neighbor. Not particularly funny but poses some good moral questions.
James Frazier
Starring: Dan Aykroyd, Lily Tomlin, Jack Lemmon, and Bonnie Hunt. Written and Directed by Harvey Miller. Rated [b]R[/b] (for some sexual situations). Running time approximately 1 hour 31 minutes. Dreadful and offensive only begin to describe the inescapably repugnant experience of watching [i]Getting Away with Murder[/i]. The cast is so darned good, but nothing (not, not a single bloody thing) could ever have redeemed this trash from its undying status as one of the worst comedies ever made. I hate this movie. I've seen it once, and it was a long time ago, but I still stand offended. Bleh. [b]* (out of ****) D[/b]
Christopher Lozier
Getting Away with Murder Quotes
There are no approved quotes yet for this movie.