Gifted
(2017)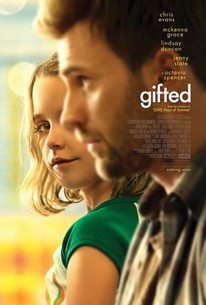 TOMATOMETER
AUDIENCE SCORE
Critic Consensus: Gifted isn't quite as bright as its pint-sized protagonist, but a charming cast wrings respectably engaging drama out of a fairly predictable premise.
Movie Info
Frank Adler (Chris Evans) is a single man raising a child prodigy - his spirited young niece Mary (Mckenna Grace) - in a coastal town in Florida. Frank's plans for a normal school life for Mary are foiled when the seven-year-old's mathematical abilities come to the attention of Frank's formidable mother Evelyn (Lindsay Duncan) whose plans for her granddaughter threaten to separate Frank and Mary. Octavia Spencer plays Roberta, Frank and Mary's landlady and best friend. Jenny Slate is Mary's teacher, Bonnie, a young woman whose concern for her student develops into a connection with her uncle as well
News & Interviews for Gifted
Critic Reviews for Gifted
Audience Reviews for Gifted
Chris Evans has always been a favourite of mine. Steve Rogers/Captain America aside, he has really come to his own in the realm of independent cinema as well. Whether it be in directing himself in the very small, yet sincere Before We Go, or kicking some serious ass in films like Snowpiercer, his range has been tested quite a bit. That being said, I truly don't think he has ever been better than his performance in the Marc Webb directed Gifted. After directing (500) Days of Summer, getting hired to helm The Amazing Spider-Man, only to be critically and slightly financially disappointing, director Marc Webb has once again found himself directing an independent film. Happily, I can say that this is where he belongs. Small, character-driven stories truly seem to be his forte. Although predictable, here is why I believe Gifted isn't receiving nearly enough recognition. Whether or not light-hearted films that exist solely to put a smile on your face and possibly even make you shed a tear annoy or not, Gifted is without question, an effective picture as a whole. After the passing of her mother, young Mary is soon discovered to be a mathematic prodigy. Not wanting her to be swept up in her talents and miss out on her childhood, her uncle (also her guardian) does the best he possibly can in making the right decisions. In this very simple and straight-forward film, there is quite a bit more emotion present than I was expecting. Not only does this story feel grounded in reality and not ridiculous in any way, but the performances were all terrific across the board. As seen throughout (500) Days of Summer and even between the chemistry between Andrew Garfield and Emma Stone in The Amazing Spider-Man films, director Marc Webb has always felt at home when directing his performers. From Chris Evans, to young McKenna Grace, to even the interaction between Evans and Jenny Slate, I couldn't find a single issue with the performances here. I found myself swept up in this story, due to the fact that everyone seemed to be giving it their all. Gifted is filled with a terrific cast, making this average film much stronger in the end. If it wasn't for the commitment from the entire cast, I'm not sure I would've been as moved during my viewing of this film. When it comes to premises involves child prodigy's, this genre has been done to death. For this reason alone, it really does come down to its characters and whether this type of premise can still have a hook. As I said, I was swept up in this film from beginning to end, but I did find myself calling every shot. From every decision Frank (Evans) would make, to where Mary (Grace) would end up in the final moments of the film, there was nothing surprising whatsoever, but I also believe that was precisely the intention of the filmmakers here. Never once did anything feel inauthentic. The film devotes itself to its story and never lets go of what made it important from the first act. In the end, I truly feel as though the script of this film couldn't have been much better than it was. For being incredibly simple, the dialogue between these characters felt very authentic and many of them share some pretty memorable exchanges. I am very happy to see Marc Webb back in his wheelhouse and I really hope he continues to make smaller films like this. Gifted is a very solid film from beginning to end. Aside from it losing a bit of pacing in the second act and becoming incredibly predictable, the effectiveness of the overall film easily trumped those flaws in my humble opinion. If you are looking for a solid human story or just enjoy a well-made drama, I feel no shame in saying you won't regret your decision in checking out Gifted. I enjoyed this film just as much as I hoped I would. Predictable, but very effective.
½
Marc Webb is developing a nice little career for himself. Gifted has a keen sense of emotional weight, even if it's ultimately a tad melodramatic with some clunky dialogue. By far the best thing about 'Gifted' are the performances. Amidst the soap opera-ish story are the touching performances from Chris Evans and Mckenna Grace. This story only works if these two have great chemistry and you believe in their relationship. Both of them clearly had a blast filming with each other and developed a sweet back and forth. The one detractor being that the dialogue they are given isn't all that effective. Tom Flynn doesn't have a ton of experience working on feature films, and it shows here. As I understand, the screenplay was on one of the Hollywood blacklists, so perhaps he wasn't there on set to tinker with the dialogue as the film was shot. Still, someone switching around some lines every now and then would have been nice. The film always has good intentions, as do all of the characters, and in that way it feels safe. It's a predictable story with enough likable qualities to get by, but it could have probably taken a few more chances here and there. Funny enough, the film is about a young child who's smarter than she should be at 8-years old, and that's kind of similar to the film overall. It's an innocent film that tries to be smarter and more thought provoking than it really has a right to be. However, as I stated before, the film's heart lies with Evans and Grace. Their comradery is undeniable and thus there are quite a few powerful scenes. With all of his outings as Captain America, you don't get to see this side of Chris Evans, so I'm grateful this film gave us that. Webb does a nice job of getting an uncharacteristically emotional turn from Evans, and a funny, touching, and surprising turn from the young Grace. Overall, it's not going to knock anyone's socks off, but it definitely puts a smile on your face and maybe even gets a few tears out of you. +Evans & Grace chemistry +Webb has another hit +Funny & heartwarming -Clunky dialogue & character decisions 7.4/10
Thomas Drufke
Super Reviewer
Went in with low expectations and left blown away by this great film. McKenna Grace reminded me of Drew Barrymore and Elle Fanning and she gives the best acting in a movie this year so far. (4-15-17)
Gifted Quotes
There are no approved quotes yet for this movie.
Discussion Forum
Discuss Gifted on our Movie forum!