Gigante
(2009)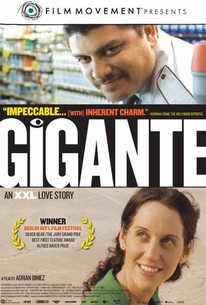 Movie Info
A supermarket security guard forms a powerful fixation on the pretty cleaning woman who scrubs the aisles during the graveyard shift in this deeply personal tale of obsession and voyeurism from first-time feature filmmaker Adrian Biniez. When the sun goes down, Jara (Horacio Camandule) clocks in to monitor the security cameras at a suburban Montevideo supermarket. The job can be pretty dull at times, so in order to keep himself occupied, Jara often passes the time watching videos, doing crossword puzzles, and playing music. One night, as Jara glances at the monitors, pretty cleaning woman Julia (Leonor Svarcas) wanders into frame and the portly security guard is immediately transfixed. With each passing day, Jara's fixation on Julia grows stronger, to the point where he eventually begins following her outside of work, as well. Before long, Jara's entire life is centered on Julia's daily routine; he watches as she lounges on the beach, goes to a movie, and even as she meets with another man. When rumors of layoffs begin circulating around the supermarket and Jara discovers that Julia is one of the workers about to be handed her walking papers, the smitten security guard must choose between letting go of his obsession and laying bare his suppressed feelings for the object of his affections, or remaining silent and letting his one chance at happiness slip away.
News & Interviews for Gigante
Critic Reviews for Gigante
Audience Reviews for Gigante
½
At the beginning, you think the dude's a creep, but as the movie goes a long, you really start to root for that mofo.
Steven (Mogi) .
½
(*** 1/2): [img]http://images.rottentomatoes.com/images/user/icons/icon14.gif[/img] Intriguing and with a good cast. I really enjoyed watching this one.
TTT C
½
In his spare time, Jara(Horacio Camandule) babysits his nephew Matias(Federico Garcia). Actually, it's more like they just hang out and play video games together.(Just don't tell anyone.) For work, he is a night watchman at a supermarket where he keeps a dispassionate eye on the shenanigans of his co-workers. Nor does he ogle any of the women. At first, he laughs when Julia(Leonor Svarcas), a new cleaning lady, knocks over a display of toilet paper but feels empathy for her after she is severely scolded by Rojas(Augusto Peloso), a manager, going so far as to run interference for her. With fluid camerawork that is in no hurry(especially the lovely final shot), "Gigante" takes what could have been a creepy or condescending premise and turns it around into something heartwarming. A lot of that has to do with the sweet demeanor of its lead character who acts as more of a guardian angel than anything else to Julia. While he moonlights as a bouncer, violence does not come easily to him.(Even as a pacifist, I have no problem with how he reacts to the driver.) So while Jara thinks the best of people, he also ignores the growing labor conflict at work, as sometimes he is enmeshed in fantasy, the movie also oddly enough having its share of cold war references like the bar being called Molotov and the occasional familiar guitar chords, the soundtrack to a world he would like to live in.
Gigante Quotes
There are no approved quotes yet for this movie.
Discussion Forum
Discuss Gigante on our Movie forum!