H2: Halloween II
(2009)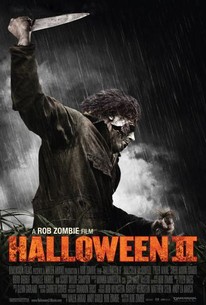 TOMATOMETER
AUDIENCE SCORE
Critic Consensus: Zombie shows flashes of vision in the follow-up to his Halloween reboot, but they're smothered by mountains of gore and hackneyed, brutal violence.
Movie Info
Filmmaker Rob Zombie returns to Haddonfield for this Dimension Films sequel that finds the murderous psychopath Michael Myers (once again played by Tyler Mane) out on the loose again. The film picks up where the last one left off. Laurie Strode (Scout Taylor-Compton) survives an attack by her mental-patient brother, Michael Myers, whom she doesn't know is related to her. On the way to the morgue, the ambulance carrying Michael crashes and, miraculously, the killer survives and heads out into the countryside, his body never recovered by the authorities. In the meantime, the madman's doctor, Samuel Loomis (Malcolm McDowell), has turned into a media whore on the cusp of superstardom with the release of his exposé on the horrific happenings presented in the previous film. As time ticks down to Halloween night, Michael, now living in a barn and urged on by the spirit of his dead mother and his younger self, is driven to seek out his sister once again.
Rating:
R (for strong brutal bloody violence throughout, terror, disturbing graphic images, language, and some crude sexual content and nudity)
Genre:
Directed By:
Written By:
In Theaters:
On DVD:
Box Office:
$33,335,670.00
Runtime:
Studio:
News & Interviews for H2: Halloween II
Critic Reviews for H2: Halloween II
Audience Reviews for H2: Halloween II
Extremely bizarre, and the strangest Halloween-related film I've ever seen. The film is horribly sloppy, unfocused, and poorly written, but it is to be commended because Zombie came up with a unique and interesting concept, and stuck with it. The problem is that he succeeds in doing something different, but fails to execute that "something different". Some of the characterizations were good, but others, such as the way Loomis is characterized is bad in the context of the plot. The best parts of the movie are the music and the visual style, but that is to be expected considering who the director is. There are some good sequences to be found here, but things are horribly unbalanced. My biggest hope is that Zombie either learns to become a better and less lazy writer (by doing away with all things white trash and fleshing out the story and characters) or that he hires someone else to be the screenwriter for his next project, whatever it happens to be. The kicker here is that he had planned to make a really psychological film where it was to be revelaed that everything was in Laurie's head and that it was her doing it, and only thinking it was Michael. That would have been cool. Unfortunately, the studio intervened and forced him to keep Michael at the forefront. Also, good god the film is too excessive with the violence. I'm okay with strong violence, but this goes way over the top and becomes more pointless when we don't really care about the victims.
Chris Weber
Super Reviewer
½
As a die-hard fan of the original Halloween, I felt that the remake was pretty good despite the fact it was different. The sequel to the remake concludes Rob Zombie's take on the Michael Myers saga. The result, I thought were decent at best, but the film lacked something to really make it a good follow-up to the remake. The performances here are good, never anything good, but never bad either, like some of the other remakes, and subsequent sequels. I felt that H2: Halloween II was a fairly decent sequel, but it wasn't as good as the remake. The film had a good, creepy atmosphere, but it also lacked the suspense that the remake had. This one felt like it tried to outdo the previous film, but unfortunately missed the mark. That's not saying that the film is a failure, I'm just saying that it could have been much better. I felt that the end result was a film that could have been better if Rob Zombie would have taken his time with this sequel. I mean, I love Rob Zombie as a filmmaker, and he has made one of the best horror films of the last ten years, The Devil's Rejects. But with H2: Halloween II, this is one of his weaker efforts as a director. The film was entertaining, but as a die-hard fan of the original, I really think they should stop milking the franchise. They've done everything they could with the Michael Myers character. I personally feel that Michael should put his carving knife back in the drawer where he originally found it in 1963 and call it quits.
I liked the first H1 reboot but I can't really say the same for this one. I expected a lot more.
Eric Alvarez
Super Reviewer
H2: Halloween II Quotes
| | |
| --- | --- |
| Annie Brackett: | Oh, boo-frickin-hoo for you, Laurie! |
| Laurie Strode: | See? You DON'T f***ing care! |
| | |
| --- | --- |
| Laurie Strode: | You better BACK THE F*CK OFF! |
| Annie Brackett: | Or WHAT, Laurie?! You act as if you're only one whose life got F***ing trashed! I'm so not loving the new Laurie! |
| Laurie Strode: | I'm not putting up with your Mommy sh*t. Get the f*ck out of my room! GET THE F*CK OUT OF MY ROOM!!! |
| Annie Brackett: | I'm NOT impressed. |
| | |
| --- | --- |
| Laurie Strode: | Barbara... I Know Michael Myers Is Dead. I Shot Him In the fucking head. |
| | |
| --- | --- |
| Dr. Samuel Loomis: | Micael Myers is fucking dead, do you want me to spell that for you D-E-A-D !!! |
| Dr. Samuel Loomis: | Michael Myers is fucking dead! Now, do you brain-dead gossip mongers want me to spell it out for you? D-E-A-D! |
Discussion Forum
Discuss H2: Halloween II on our Movie forum!