Half Nelson
(2006)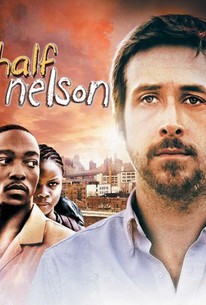 TOMATOMETER
AUDIENCE SCORE
Critic Consensus: Half Nelson features powerful performances from Ryan Gosling and Shareeka Epps. It's a wise, unsentimental portrait of lonely people at the crossroads.
Half Nelson Videos
Half Nelson Photos
Movie Info
Dan Dunne is an idealistic inner-city junior high school teacher. Although he can get it together in the classroom, he spends his time outside school on the edge of consciousness. He juggles his hangovers and his homework, keeping his lives precariously separated, until one of his troubled students, Drey, catches him in a compromising situation. From this awkward beginning, Dan and Drey stumble into an unexpected friendship that threatens either to undo them, or to provide the vital change they both need to move forward in their lives.
Rating:
R (for drug content throughout, language and some sexuality)
Genre:
Directed By:
Written By:
In Theaters:
On DVD:
Runtime:
Studio:
Cast
Critic Reviews for Half Nelson
All Critics (155) | Top Critics (40) | Fresh (140) | Rotten (15) | DVD (8)
Ryan Gosling's self-destructive teacher is easily the year's most mesmerizing character study. And he's hardly the only reason to see this film. Shareeka Epps anchors her scenes as Drey with a self-possession way beyond her years.

Entertainment Weekly
Top Critic
Hollywood Reporter
Top Critic
Gosling and Epps, an unusual but effective pairing, show real commitment in their performances.

The movie comes down to Gosling's spot-on performance and how we feel about it.

Orlando Sentinel
Top Critic
Gosling is indeed amazing as a bewildered, depressed New York schoolteacher who is slipping into dire drug addiction; it's exactly the kind of star turn in a smaller film that Academy voters could (and should) notice.

Audience Reviews for Half Nelson
½
There's no doubt that Ryan Gosling achieves something special in this film, breaking out by playing a character who's incredibly vulnerable and broodingly volatile, but the supporting performance by Shareeka Epps shouldn't be discounted for a second either - her character is just so tough! I have to say that I found the ending abrupt, and that I was disappointed that it wasn't necessarily happy or sad, but this was a short watch that felt longer in a good way because it was so dramatic and well-acted by the two leads.
Daniel Perry
Super Reviewer
It's a refreshing deviation from the 'inspirational inner city teacher' cliche, and a decent exploration of morality. It has other good things going for it as well, especially the performances of Ryan Gosling and Anthony Mackie (more recently seen in The Adjustment Bureau). However, the film constantly tries to be political, and I would have to say that it fails in that regard, since it doesn't make a clear, fleshed-out argument. The random scenes of students explaining historical events only connect with the actual story on the broadest of levels, and they only really serve to take audiences out of that story. There's also the overuse of handheld camera shakiness, which helps to add a gritty realism at first points but becomes pretty annoying before too long. Still, "Half Nelson" succeeds in its depiction of troubled characters that actually feel troubled. From a directing and writing standpoint, the film outshines Ryan Fleck and Anna Boden's more recent film "It's Kind of a Funny Story," a very, very different film that nonetheless highlights that the biggest problem of "Half Nelson" is that it takes itself too seriously.
Sam Barnett
Super Reviewer
½
Cast: Ryan Gosling, Shareeka Epps, Anthony Mackie, Deborah Rush, Jay O. Sanders, Nicole Vicius, Denis O'Hare, Tina Holmes Director: Ryan Fleck Summary: Transcending age and race, an improbable friendship between crack-addicted educator Dan Dunne (Oscar-nominated Ryan Gosling) and streetwise middle-schooler Drey (Shareeka Epps) may lead them to deliverance -- or destruction -- in this powerful urban drama. After Drey finds Dunne feeding his habit in a locker room, she becomes a conduit for a life-changing lesson. Gosling and Epps won Independent Spirit awards for their lead roles. My Thoughts: "Another great performance by Ryan Gosling. The man is one of the best actors in films today. I really liked Shareeka Epps in this as well. She comes off as having a hard shell, but her emotions scream through it. Very talented girl. I feel like Dunne and Drey's teacher and student relationship being more then just that should bother me and feel a bit creepy. But it didn't. They are both lonely and looking for something to just help them get through their lives. It just felt like he was trying to help her and without him knowing it, she was helping him in the process. Great cast, acting, and directing. One of Gosling's best acting roles. The shakiness of the camera was a bit distracting for me at first, but bout an hour in I forgot to notice it. Besides that, I have no other complaints. The film was really one of Gosling's best." Dan Dunne: "One thing doesn't make a man".
♥˩ƳИИ ƜѲѲƉƧ♥
Super Reviewer
Discussion Forum
Discuss Half Nelson on our Movie forum!
News & Features