Hands of the Ripper
(1971)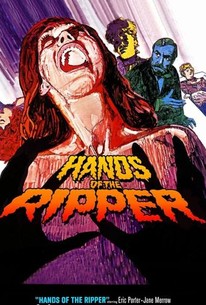 Hands of the Ripper Videos
Hands of the Ripper Photos
Movie Info
This clever reworking of the "Jack the Ripper" legend stars Angharad Rees as Anna, daughter of the infamous serial killer. Believing that she's being directed from beyond the grave to become a murderer herself, Anna seeks out help from Freudian scholar John Pritchard (Eric Porter). Evidently, the treatment doesn't take, and a series of gory killings result. TV prints of Hands of the Ripper include an unnecessary "psychiatric explanation" of what transpires. It probably goes without saying that the film was packaged by Hammer Studios.
Rating:
R
Genre:
,
Directed By:
Written By:
In Theaters:
On DVD:
Runtime:
Studio:
Universal
Critic Reviews for Hands of the Ripper
Audience Reviews for Hands of the Ripper
½
She was possessed! Jack the Ripper's daughter witnessed several of her father's crimes, including the death of her mother. She is paralyzed with fear and seeks treatment from a psychiatrist. She appears wheelchair bound and harmless; however, when death begins appearing around the doctor, the girl may be more than she appears. "If I wasn't desperate for money I would have never allowed for this charade." Peter Sasdy, director of Ending Up, The Lonely Lady, Welcome to Blood City, Countess Dracula, Doomwatch, and Taste the Blood of Dracula, delivers Hands of the Ripper. The storyline for this picture is a bit cliché but fun to watch unfold. The kill scenes are average and the acting was just okay. The cast includes Eric Porter, Angharad Rees, Jane Merrow, Dora Bryan, and Keith Bell. "We're going on a voyage...you and I." I came across this, this past Halloween season and I decided to DVR it. This was just okay and could have been better. The kill scenes left a lot to the imagination and it took a little while for the story to come together. Overall, this is an average addition to the horror genre that is only worth your time if you're a diehard fan of the genre. "The violence of this man is still in that girl." Grade: C
Kevin Robbins
½
Not a terrible film but also not a particularly good one. Not even Hammer Studios at their best but still not entirely disappointing. In other words, a just so-so horror film. The settings and costumes are up to the usual Hammer standard and the performances are generally quite solid but the characters are not really believably written. Eric Porter, for instance, does his usual workmanlike job in the lead but the character is simply not one I ever felt was real. The film blends Hammer's style with the increased gore required of horror films in the Seventies and an attempt at an intelligent story that fails only in its failed human motivations and some rather absurd murder weapons.
David Duncan
A more interesting movie than Hammer's typical output at this time this film still has plenty of gore but the use of Freud's theories to diagnose the killer and Porter's sympathetic but misguided doctor suggest that the writer was at least trying something a bit different. The ending in St Paul's is almost operatic and brings a grandiose to the proceedings that is missing from most Hammer of the 70's. There are still plenty of silly bits in there and one gratuitous nudity sequence but otherwise this isn't half bad horror.
David Sayers
Super Reviewer
Hands of the Ripper Quotes
There are no approved quotes yet for this movie.