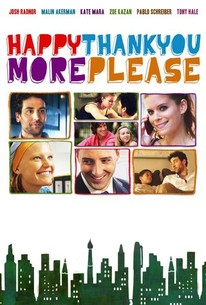 Happythankyoumoreplease
2010, Comedy/Drama, 1h 40m
54 Reviews
5,000+ Ratings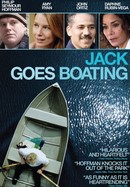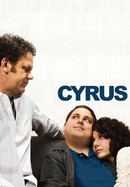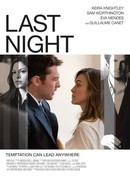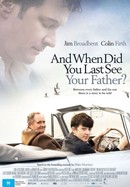 And When Did You Last See Your Father?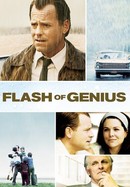 Where to watch
Rent/buy
Rent/buy
Rent/buy
Rate And Review
Happythankyoumoreplease Photos
Movie Info
Young New Yorkers try to navigate a rocky course of careers and personal relationships. Sam, an aspiring novelist, takes in a boy he saw abandoned on the subway. Sam's best friend, Annie (Malin Akerman), suffers from alopecia and finds herself torn between two men, one good, one bad. Meanwhile, Sam meets an aspiring singer, who may be the one to break his endless stream of one-night stands.
News & Interviews for Happythankyoumoreplease
Audience Reviews for Happythankyoumoreplease
Really wasn't expecting much, but this was a lovely movie. Cast are all excellent and it had several stories running at once, all of which I enjoyed. The character with alopecia was something different and very nicely written.

In Josh Radnor's directorial debut, "HappyThankYouMorePlease" is a subtle drama about a writer taking in a young, African American boy left on the subway. The film never quite digs as deep as we hope, floundering with three love stories, when it should stick to one, yet it delivers Radnor in a new role, hopefully opening up roles outside of "How I Met Your Mother", even if the persona of Ted Moseby is engrained in his image. Kate Mara is stunning, as the high point of the film, begging the question of why her career hasn't entirely taken off yet. Zoe Kazan also delivers an endearing performance. Radnor's writing and directing may not have reached its peak with this film, but it screams independent film in the best of ways, hitting its mark without slapping us with romanticism.

"HappyThankYouMorePlease" starts with a walk of shame out of Sam Wexler's(Josh Radnor, who also wrote and directed)apartment and life. Once he wakes up, he realizes he is running late for an appointment with a publisher which gets complicated when he witnesses Rasheen(Michael Algieri), a young boy, being separated from his family at the Union Square subway station. At a loss what to do next and running out of time, he takes him with him to his appointment which goes diastrously wrong and to a party at his friend Annie's(Malin Akerman) that goes better, not only because he hangs out there with his pseudo-cousin Mary Catherine(Zoe Kazan) who is debating with her boyfriend Charlie(Pablo Schreiber, of "Lights Out") which coast to live on. Meanwhile, even though Annie is suffering from alopecia, she hooks up with Ira(Peter Scanavino) while also attracting the interest of another Sam(Tony Hale) at work. Helped immensely by a surprisingly strong cast, "HappyThankYouMorePlease" is a romantic comedy that is not just about love but just as importantly, friendship. With its dry wit, the movie is grounded in the realities of life's disappointments of these wounded characters and how hard it can be to get what you really want. Notice especially how none of the characters are successful in their chosen fields which goes beyond just Wexler's stalled writing career to include Mary Catherine having to work in an art supply store while living in an apartment full of her paintings. Wexler intends to get his life on track by trying to do the right thing by Rasheen but has no idea how to complete the task, with his friends getting after him to work something out soon.

The whole notion of Indie movie is a hit and miss for me. I might be draw in and ended up loving the movie or switch it off after the first fifteen minutes due to boredom. HappyThankYouMorePlease is one of those movie that I knew I would loved when the credit rolls. Debutante Josh Radnor did a pretty good job in his first project, he cast the right actors, wrote amazing dialogue and chose loveable Indie music. The screenplay might be overused but if you're like me who adores simplicity of a feel good movie, I guarantee you will like this one too. 8/10.
See Details