Hatchet
(2006)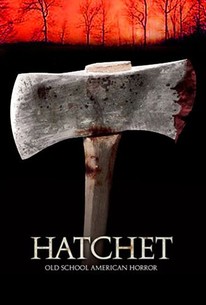 TOMATOMETER
AUDIENCE SCORE
Critic Consensus: The over-the-top gore, campy acting, and dim cinematography may be part of Hatchet's self-described old-school ethos, but irony alone can't sustain a horror film.
Movie Info
A group of tourists on a haunted swamp tour find one of the horrific local legends to be true. They try to escape alive--and with all of their pieces.
People Who Like this movie also like
News & Interviews for Hatchet
Critic Reviews for Hatchet
Audience Reviews for Hatchet
[img]http://images.rottentomatoes.com/images/user/icons/icon14.gif[/img]
Directors Cat
Super Reviewer
Marcus: You look like you been molested by wolves!  "Stay out of the swamp." So, Hatchet is another one of those backwoods, deformed killer movies. The genre isn't great to say the least, and Hatchet isn't the worst one out there. But it certainly is terrible. It had moments, and when I say moments I mean like two 30 second scenes that were okay. The rest is complete garbage. Most of the shit is recycled garbage. I know that Adam Green's goal isn't to surprise us. He knows that 90% of the people who are watching his movie are doing so because they are horror buffs. So he knows that we've seen all the slashers, and that we know all the plot developments. So I'm not disappointed with Hatchet because it follows that familiar plot. I'm disappointed with it because nothing in between those plot developments did much to set it apart from any of the other crappy slashers. The good ones are always able to mix in some originality amidst all the predictability. Hatchet is about a group of people who take a haunted boat tour in the swamps of Louisiana. Once they are out in the swamp, their boat breaks down and they are left stranded with a deformed killer chasing them. It's very much like The Hills Have Eyes, except instead of the desert, we get a dark, wet swamp.  Hatchet is extremely gory too. I mean there are gory kills and then there are the ones that take place in Hatchet. Now, gory to some people means gross. The kills in Hatchet relays aren't gross though because there is now amount of realism in them. Each one looks more ridiculous and fake then previous one. I mean the kills here make the ones from Friday the 13th look amazing. As a horror fan who finds too much enjoyment in bad slashers, I'm telling you not to watch this one. That should tell you everything. When I see a slasher that I denounce this badly, it must mean it's pretty damn bad. Terrible acting, terrible attempts at humor, and even worse attempts at horror. But there are some nice shots of naked boobs.
Melvin White
Super Reviewer
Good gore and pretty mediocre everything else. And seriously everyone suffered from "I'm just gonna stand still and let you kill me" syndrome.
Ken Stachnik
Super Reviewer
Hatchet Quotes
| | |
| --- | --- |
| Clive "Rev. Zombie" Washington: | I had a tour group, out in the swamp, last Halloween. It was the mist of night, and there was this kid, who looked kind of like you, he was spooked by something in the marsh. He saw two eyes staring at him from the woods, it chilled him to his very marrow. He wanted to get off the boat in a hurry, and he had his foot dangling over the edge. He... |
| Ben: | He fell in? |
| Marcus: | A gator got him? |
| Clive "Rev. Zombie" Washington: | He slipped, hit his head, on the roof... and sued me for negligence! That cock sucker! |
Discussion Forum
Discuss Hatchet on our Movie forum!