Hated: G.G. Allin & the Murder Junkies
(1994)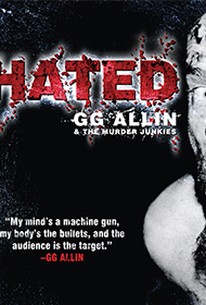 Hated: G.G. Allin & the Murder Junkies Photos
Movie Info
Punk rocker, performance artist, and persona nongrata G.G. Allin shocked and offended audiences everywhere with his famous violent, naked (literally) performances often featuring self-mutilation, bloody assault, and coprophilia. Todd Phillips directs this documentary look at the life and death of rock & roll's most dangerous practitioner.
Critic Reviews for Hated: G.G. Allin & the Murder Junkies
Audience Reviews for Hated: G.G. Allin & the Murder Junkies
½
Love him or hate him, GG Allin was the most dangerous man in Rock n Roll for a good long while. Ever feel like Rock n roll is too sanitized and safe now (it really is!) then check out this documentary. Also recomendable to fans of extreme cinema in general. Features GG defecating, throwing his shit at people, eating/rolling iaround in his shit, drinking a ladies urine, assault (sexual and otherwise) etc. Also pleanty of good interview footage. One of the few places you can see a calmer more lucid GG explain his position and worldview (even in these moments, he was still a mean son of a bitch.).GG wasn't the greatest singer out there but I have always considered this punk rock performance art. When GG died he left a void in rock n roll that will probably never be filled again (for better or worse), but in my opinion, RnR is supposed to have a healthy amount of unpredictability and danger to it. GG embodied both in spades, who do we have striking fear in the heart of the audience now? Marilyn Manson? Eminem? ??? pshhh. Fuck those try hard pretenders, this is where it's at.
Ed Fucking Harris
Super Reviewer
Fascinating and disturbing doc on G.G Allin, lead singer of the murder junkies. It's like watching a train wreck. G.G should have been locked up instead of fronting a band. If he wasn't performing, he would have been in jail.
Offensive, stomach turning and untalented little G. G. Allen tries his best to be the most hated punk singer of all time. I think he succeeds. Hats off to Todd Phillips who follows this lunatic around with a camera (something I'm sure Allin loved). Still, a fascinating look into someone living a truly alternative lifestyle.
Christopher Brown
Super Reviewer
Hated: G.G. Allin & the Murder Junkies Quotes
There are no approved quotes yet for this movie.