Haunted Spooks
(1920)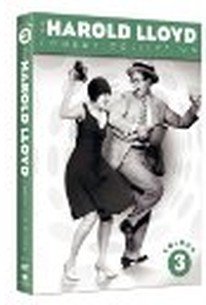 AUDIENCE SCORE
Critic Consensus: No consensus yet.
Movie Info
This film is one of Harold Lloyd's best short comedies. A rich man dies and leaves his house and fortune to "The Girl" (Mildred Davis). There is only one catch: she and her husband must live in the house for a year. Unfortunately, she is not married, so her lawyer rushes off to find her a husband. Meanwhile, "The Boy" (Harold Lloyd) is in love with a very rich woman who has a lot of male admirers, and he constantly battles with a rival over her affections. The boy succeeds in gaining permission from her father for the marriage, but his beloved is already kissing someone else. Lloyd is depressed and tries to shoot himself, but the gun is only a water-pistol. He stands in front of a streetcar, but it switches tracks. Twice, he jumps off a bridge without success. He tries to get run over by a car, which just happens to be driven by the girl's lawyer. The lawyer arranges for a hasty marriage for the boy and girl. The girl's uncle is upset at being left out of the will and after the newly married couple finally arrives at the inherited mansion late at night, the uncle and an accomplice pretend to be ghosts. They scare the couple and all of the African-American servants, which leads to many comic events. While filming this movie, Lloyd was posing for some publicity photos when someone handed him a prop bomb which turned out to be an actual bomb! It exploded, injuring his face and severing two fingers on his right hand, and for the rest of his career he had to wear a glove on that hand to conceal his injury. A few years after this film was made, Lloyd married his co-star Mildred Davis.
Rating:
G
Genre:
Directed By:
In Theaters:
Runtime:
Critic Reviews for Haunted Spooks
There are no critic reviews yet for Haunted Spooks. Keep checking Rotten Tomatoes for updates!
Audience Reviews for Haunted Spooks
An early horror-comedy with Harold Lloyd ("he wants to get married, he has no other faults"). Full of all the gags, antics, and twists in the writing you come to expect from his shorts (the suicide attempts were the best!). An innocent young woman of 16 (who "never, well, maybe only once or twice"), played by the lovely Mildred Davis, stands to inherit the estate of her late uncle provided she and her husband remain in the house for one year. But she has none, "ex or expected." The lawyer handling the estate happens upon the depressed Lloyd (as he has just "lost another of the only girls he's ever loved") and takes him to marry the young woman. Another of family members will inherit the estate if the new couple do not remain in the home for a year, so the other group of family members attempt to give the appearance that house is haunted. Made at a time when frightened-Black-folk weren't controversial, they sure added their share of laughs! Maybe not the best of his works, but of course its still good. And true to fashion, everything works out for the still shy couple.
D M
Although it contains dated racial humor, Haunted Spooks remains a delightful silent short film that contains numerous gags and a series of comedic chase scenes.
Eduardo Partida
½
Hilarious! Only Harold Lloyd I have seen so far and I loved it. I wish they still made comedies like they used to.
Grant Fitzgerald
Discussion Forum
Discuss Haunted Spooks on our Movie forum!