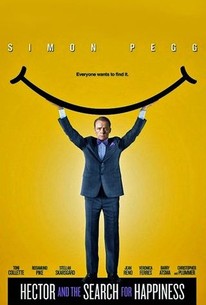 Hector and the Search for Happiness
2014, Comedy/Drama, 1h 54m
88 Reviews
5,000+ Ratings
What to know
critics consensus
Simon Pegg remains as charming as ever, but Hector and the Search for Happiness drowns his appeal in schmaltz. Read critic reviews
Where to watch
Rent/buy
Subscription
Rent/buy
Rate And Review
Hector and the Search for Happiness Photos
Movie Info
Disillusioned with the tedium of his existence, psychiatrist Hector (Simon Pegg) confesses to his girlfriend (Rosamund Pike) that he feels he is a fraud for dispensing recommendations to patients who never seem to improve or get any happier. He considers breaking out of his lackluster routine. Summoning up some courage, Hector gives his starved curiosity free rein and embarks on an international quest to find the right formula to bring him joy and vitality.
News & Interviews for Hector and the Search for Happiness
Audience Reviews for Hector and the Search for Happiness
So flippin' awesome! A stuck-in-a-rut psychiatrist is losing patience with his patients and finds that the problem is himself, so he embarks on a world tour to find the secret to happiness...with some selfish self-actualization along the way. The happy moments are indeed uplifting as hell, but Hector's unexpected imprisonment in a third world prison is truly harrowing and suspenseful. The little details are just marvelous: the Tintin parallels, Hector half-closing his eyes to match his botched passport photo, the papier-mache plane turbulence, Hector's perpetual lack of writing utensils figuring into his emancipation, and Clara's neuroticisms, "Is this conversation going as badly/well as I think it is?" Simon Pegg is absolutely darling as the mild-mannered though emotionally courageous Hector, and Rosamund Pike plays his put-upon yet supportive girlfriend with her trademark icy gutsiness. Ming Zhao (and her waterfall of hair) is riveting as Ying Li, Hector's one-night-one-day-stand, and it's a pity that there doesn't seem to be more substantive projects in development on her IMDb page.

A psychiatrist in a rut travels to find the key to happiness. Is it possible for a film to be trite, cliche, predictable, and effective? This film is all of those things. The resolution to the conflict is obvious from the beginning, and the individual act climaxes are obvious. And while the film doesn't offer any new wisdom about life, love, and happiness, that doesn't mean that its repetition of classic wisdom isn't heart-warming and effective. There are also factual errors in the film, which will bother the more logical and cerebral viewer. Special kudos go to Simon Pegg and Rosamund Pike who give wonderful performances. Overall, it's a lovely though unremarkable film.

Simon Pegg is one of the few people I can pretty much watch anything with and he'd improve it just by being in the film. And I think that that's the case with this movie as well. But even one of the most talented comedic actors around cannot work miracles. I'm sure the film had its intentions in the right place, it wants to tell a sweet and beautiful story about a man learning what makes people happy in order to become a better psychiatrist. This is, of course, a red herring, if you will, as Hector is looking for a way to find out if he can truly be happy with his life. This certainly reminds me of the Secret Life of Walter Mitty, Eat, Pray, Love and other films of that type. In many cases, this movie, feels like it's just an excuse to have a paid vacation. Going to places like China, Africa, and Los Angeles to "film" a movie, but really, you're just enjoying the sights. At the very least this isn't as transparent as Adam Sandler's last film with Drew Barrymore, Blended, where Sandler basically he admitted that this was just a paid vacation. I don't think this movie is as transparent because, at the very least, this film tries to have a semblance of a story. The film is well-cast, as Simon Pegg is incredibly likable so you buy into this idea that he would friends everywhere he went, regardless of the situation he finds himself in, he would find a way to connect to someone. Perhaps it's overstating the point, as I doubt that Simon Pegg can go into any room and instantly makes friends with random people, but he's affable enough to where this slight exaggeration is somewhat believable. The rest of the cast is a revolving door really, no one character sticks around long enough to really make an impression one way or the other. Well, other than Hector's girlfriend Clara, the always excellent Rosamund Pike. And even then she's only around for parts of the film, when Hector skypes her during his journey. I think the story between Hector and Clara, which is really the core of the film, is a little annoying because Hector, for some reason or another, expects Clara to just wait for him while he goes on this journey of rediscovery and self-acceptance, which he has every right to go on, of course. But it's almost as if Hector expects Clara to put her life on hold until he decides to come back, and even he doesn't know when he's gonna come back home. He's also using this journey to visit his ex-girlfriend, the first person he ever truly loved, to see if there was still a spark there. It all makes Hector look incredibly selfish. It was clearly done so you'd think this about Hector, but it's not particularly satisfying. I think it's a stronger story if Clara and Hector break-up, or something, Clara dates someone and at the end, as cliche as it may be, Clara decides that she truly loves Hector and vice versa. It's probably one of the most cliched things in the book, but as far as telling a story, it's probably better than what they did do. Honestly I found the movie to be a bit of a mess, there's no structure, no real reasoning for anything that's happening. Hector meets people, things happen with these people, Hector moves on to the next place, rinse and repeat. It's honestly a series of poorly-thought out sketches. While the basis of the film itself is simple, the journey to true happiness is anything but. Which route do you think the film took? The easy, crowd-pleasing route or the more complex, maybe a little less satisfying route? I'm sure you can guess. And I don't blame them for that at all, I mean it's the story they wanted to tell, it's just that they didn't do it to the best of their abilities. It's also a movie that never really seems to find its footing. Is it a comedy with dramatic touches? Or is it a drama with some slight comedic touches? I'm leaning towards the latter, but there's no synergy between the two. It's two different films, instead of taking two different tones and styles and blending it cleverly to serve one master. It's not exactly a funny movie, but it is an overly sentimental one. That was to be expected, but it is a little annoying. Simon Pegg tries his very hardest, but he cannot overcome the film's flaws on his lonesome. The movie is watchable enough, but I wouldn't call it good. It just missed the mark on a lot of levels, so I can't quite recommend it.

A sweet movie that is predictable.
See Details