Hidden
(2015)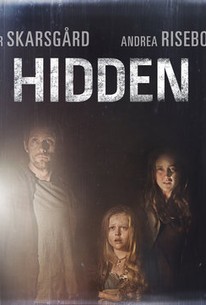 AUDIENCE SCORE
Critic Consensus: No consensus yet.
Movie Info
Alexander Skarsgard stars in this Warner Bros. thriller concerning a family surviving a deadly outbreak by hiding out in a bomb shelter in this Warner Bros. production from the writing/directing team of Matt and Ross Duffer.
Critic Reviews for Hidden
All Critics (3) | Fresh (2) | Rotten (1)
It's clear fairly early on that Hidden benefits substantially from the Duffer brothers' patient, methodical approach to their spare screenplay...
You know how people say 'yadda yadda yadda' when telling a story, assuming that the listener can fill in certain gaps on their own? Well, Hidden is a whole movie full of 'yadda yadda yadda'.
Audience Reviews for Hidden
A great, minimalist movie, but one that probably could have made a better short film than theatrical one.
The last twenty minutes are so terrible they almost ruin an excellent first hour that knows how to develop a gripping mystery and keep us terrified - which only proves that sometimes simpler is better as opposed to too much information leading to plot holes and inconsistencies.
Carlos Magalhães
Super Reviewer
½
I'm a bit mixed on how to view this movie. On the one hand, I think it plays out pretty much like one would expect it to given the plot. A family hiding out in a bomb shelter after a deadly outbreak. I'm pretty sure you can picture the film in your mind immediately just from that. This isn't a horror film in the conventional sense, it spends a lot focusing on the family dynamics and the relationship between these three, particularly Zoe's relationship with her dad, which is really the highlight of the film as you see how Ray, the father, tries to keep Zoe's spirits up in the face of everything that's happened and how fucked the world really is. He tries to make sure that she doesn't grow up with a distorted view of the world, he's trying desperate to keep the hope and beauty of the world she knew alive in her enough to push them forward. So I thought that worked really well. I like how they combine that family dynamic with the horror aspects present in the film. It definitely benefits from a really strong cast, like really fucking strong. Andrea Riseborough is an excellent actress, Alexander Skarsgard is also really fucking good, so they turn in really good performances here. The one surprise, however, is Emily Alyn Lind. I've seen her before in smaller roles, but she gets a meatier role in this film and she definitely delivers the goods. Her performance is really good, particularly for someone her age, but the character itself isn't really anything special per se. The only thing the character does in the film is either cry or scream. The character is fairly one-dimensional and, honestly, while Emily is really good in the role, there are scenes where I just didn't want to see her because it got annoying after a bit. Again, that's not Emily's fault, her character was scripted to be this way, so I blame the characterization itself and not the performance. With that said, I don't think the film does anything that's really all that interesting or refreshing with this concept. I've seen the 'stuck in a shelter during an outbreak' film before and there's nothing here that you haven't seen done better elsewhere, it's just that the family dynamics and performances elevate the film a lot. Even the twist itself, which I wouldn't say I saw coming, but I can't say I was surprised by it, feels a little uninspired. I honestly wasn't even thinking about it, but you get five guesses as to what the twist is. You'll probably figure it out. It's not a twist for the sake of a twist, because it actually makes sense within the film's context. The twist feels like it's there just to give something so the film doesn't play out similarly to other films of its ilk. It's a twist I've actually seen before, in a really good movie whose name I really can't remember, it's not exactly the same but it's similar in structure. I think it works, but it doesn't really change the film that much to begin with. You view the film differently, but not that much to truly change how you feel bout the movie. This isn't the Sixth Sense, where the twist changes how you viewed the film completely. It's just a twist that makes you go 'oh, I should've thought of that' if you hadn't prior to it being revealed. The film is definitely better than a lot of films like this, it has a strong cast and some strong story elements, but I don't think the film really overcomes a lot of the cliches tied to this movie. The horror plays out exactly like you would think, so I think that that holds the film back a bit and I wasn't entirely satisfied with the ending. But this isn't a bad movie in the slightest, it's just held back by its own unambitious approach. Great performances and a strong focus on character development elevates the film quite a bit. I can't recommend it wholeheartedly, maybe if it comes on Netflix, I had a free rental on Redbox, so I used it on this film.
Jesse Ortega
Super Reviewer
Hidden Quotes
There are no approved quotes yet for this movie.