Hot Fuzz
(2007)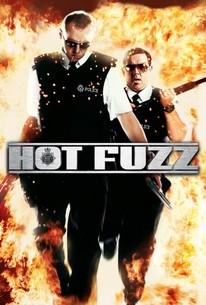 TOMATOMETER
AUDIENCE SCORE
Critic Consensus: The brilliant minds behind Shaun of the Dead successfully take a shot at the buddy cop genre with Hot Fuzz. The result is a bitingly satiric and hugely entertaining parody.
Hot Fuzz Videos
Hot Fuzz Photos
Movie Info
A top London cop who is so good at his job that he makes his fellow officers look like slackers by comparison is "promoted" to serve in the sleepy village of Sandford in this contemporary action comedy from the creators of Shaun of the Dead. Police constable Nicholas Angel (Simon Pegg) always gets his man, but these days his impeccable record seems to be more indicative of his fellow officers' shortcomings than his own formidable skills as a keeper of the peace. Loathe to stand idly by as their once respectable track record is steadily soiled by the hyper-competent actions of one lone overachiever, Sergeant Angel's superiors at the Met soon determine to remedy their problem by relocating the decorated constable to the West Country village of Sanford -- where tranquil garden parties and neighborhood watch meetings stand in stark contrast to the violent crime and heated gunplay of the city. As Sergeant Angel does his best to adjust to the relative calm of his new environment, his oafish new partner Danny Butterman (Nick Frost) strives to gain the respect of his fellow constables while sustaining himself on fantasies of his favorite action films and police shows. Later, just as it begins to appear as if Sergeant Angel has been relegated to an uneventful existence in the relative calm of the countryside, a series of horrific "accidents" lead him to suspect that the tranquil hamlet of Sanford has fallen prey to a sinister plot which reeks of foul play. Jim Broadbent, Timothy Dalton, Steve Coogan, and Martin Freeman co-star in the Edgar Wright film. ~ Jason Buchanan, Rovi
Rating:
R (for violent content including some graphic images, and language)
Genre:
, ,
Directed By:
Written By:
In Theaters:
On DVD:
Runtime:
Studio:
Cast
Critic Reviews for Hot Fuzz
Audience Reviews for Hot Fuzz
½
A hilariously great mash-up of bad buddy cop action movies about a straight-edge cop (Simon Pegg) who is promoted and relocated to a mysterious town inhabited by strange people, and how he discovers there is more to the town than meets the eye. Pegg's performance is its usual stuff, absolutely outstanding and brilliant in many respects, with a buddy (Nick Frost) and bad guy (Timothy Dalton) that make this movie an awesome ride all the way through. The energy director Edgar Wright gives this movie thanks to his kinetic film-making style is absolutely infectious, and the result is an outstanding comedy with a dynamite conclusion that makes this film a must-see.
Dan Schultz
Super Reviewer
The trio of Edgar Wright, Simon Pegg & Nick Frost succeed in this buddy-cop bonanza. Hot Fuzz supplies plenty of hysteria along with its fantastic direction and plot (even though it may be hard to catch on a times). It culminates to its grand finale and climatic action sequence that's action-packed every step of the way, making this film surprisingly entertaining as a result. 4/5
Eugene Bernabe
Super Reviewer
½
The second film in the Three Flavours Cornetto trilogy, this being the classic blue original Cornetto to represent the thin blue line of the police service (not force...wrong impression). Yep the ragtag bunch of scruffy oddball Brits are back with more outlandish comedy the likes of which the Americans can only dream of. First time it was a horror parody/homage, now this time its a kick ass action flick parody/homage which picks at various classic action film/genre ideas. This time Pegg plays top gun police officer (not man...all officers are equal) 'Nicholas Angel' in the MET, an all round action hero of epic proportions having graduated with honours from Hendon. Because he is giving all his colleagues a bad name by being so unbelievably good at his job they pack him off to a sleepy countryside village in rural Gloucestershire. Once there he quickly cleans up what little trouble there is and makes a bit of a name for himself being somewhat over the top and a jobsworth in the process. But he soon discovers all is not what it seems out in the sticks as people start to get bumped off. I think the best thing about this film is the clear cut satirizing of US buddy cop action movies with references and blatant homages/rip offs. The beginning of the film is a lighting fast montage of how Angel becomes an officer and what he achieves. This rapid quick fire editing is used all through the film accompanied by some over the top hard thumping sound effects just to nail the message home...this is daft but at the same time we're actually kinda serious too...sorta. I love how the simplest of duties, like paperwork, is edited with speed and sound effects to appear hardcore and deathly serious. I mean lets get this straight, the films plot is stupid and its been done before, an old fashioned murder mystery yarn, but that's not really too important. This is a character driven flick, its purely for the laughs, taking the piss, its very much in the same vein as the Monty Python films in that they actually look good, have great characters, they homage, they rip but they're silly. There are some great characters in this film but Pegg's by the book Angel is by far the most fun. The guy is a walking cliche but a true action man full of invincible confidence, courage and boldness, whilst his complete bookworm-like attention to detail, procedures and the righteous PC-ness of the law gives us the laughs (much like Rowan Atkinson in 'The Thin Blue Line'). As we delve further into the film we get more and more taglines and typical action movie style stunts until we reach the finale where its just an all out homage betwixt mockery of every kind of action cliche/move/style/camera angle you can think of with guns blazing and bullets ricocheting. Frost plays the buffoon again which does suit him well I can't deny, he also tends to provide much of the US cop movie tagline spiel as things progressively become more fast n furious. But its the dastardly Dalton and his caddish evil grin and tash that stole the show for me. This guy has the perfect British bounder good looks, a real scoundrel, a rotter, a roguish villain, Terry Thomas eat your heart out. Sure he doesn't actually do that much but its just his sneering wicked smirk together with his perfect speaking voice that nails the role. The finale fight with Pegg isn't to shabby either I might add. Must also give kudos to Bill Bailey as the easy going officer behind the front desk. Love how he just sits there and basically does nothing accept give messages, excuses and is never bothered by what passes by his reception area. Kinda reminded me of a Muppet type character actually, 'Waldorf and Statler'. There is plenty of comic book/cartoon violence with the murders, lots of squirting blood and body parts flying about, the dialog is witty, quirky and chock full of your typical British profanities and all set within the beautiful harmony of a stereotypical English village. In fact its a lot like Robert Rodriguez and what he does with his stereotypical sleepy Mexican towns. Both Wright and Rodriguez take what everyone expects to see in these typical locales and fused them with a mega budget Hollywood Bayfest extravaganza, the fun being seeing the two opposites working side by side. In this case its the quaint English village with rose gardens, a humble old vicar, tea rooms, grannies, an old wood beam open fire pub and a historic old church...which all slowly morphs into a blood soaked gun fest frenzy of violence that comes at you from every dainty nook n cranny. Flying martial arts kick to a little old ladies face as she tries to take you out with a shotgun? I rest my case m'lord. Admittedly some of it is very predictable, childish and you know you've seen or heard some visual/dialog gags before. All the officers in the small police station are pretty generic types (especially the old fella who mumbles and we never understand, very sitcom-like) and the fact the station has no evidence in the evidence room or the riot room has clearly never been used are cute but obvious jokes. The ending is again predictable and rather tame, I was disappointed we don't really see any of the bad guys getting killed off, even Dalton manages to survive the ordeal. Strange seeing as its a 15 rating, why not kill off more?. All in all the film is basically about giving the UK its own fast paced action flick along the lines of some of the classic films mentioned within the film. Its not meant to be serious of course but there has been a lot of love and attention poured into the film to elevate it above the more common spoof flick. Anyway its about time we saw the traditional British Bobby all tooled up with double hand guns and unlimited ammo diving around in slow motion gunning down bad guys...just like our American cousins.
Phil Hubbs
Super Reviewer
Discussion Forum
Discuss Hot Fuzz on our Movie forum!
News & Features