Hula Girls
(2007)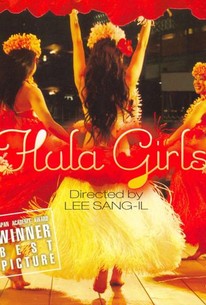 Movie Info
As the Korean War draws to a close and the pressing demand for copious amounts of coal takes a sudden plunge, the remote Japanese mining town of Joban attempts to compensate for the devastating economic blow by transforming itself into a lavish Hawaiian retreat in an affectionate comedy inspired by real events and directed by Lee Sang-il. The year s 1965 and the changes that have swept through the outside world are finally reaching Joban. As the mineworkers are laid off and the women of the town take it upon themselves to gently nudge their once-prosperous community from the brink of economic collapse, the ancient Hawaiian art of the hula dance seems to offer the ideal means of doing so. Though highly fashionable Tokyo urbanite Madoka Hirayama (Yasuko Matsuyuki) at first seems terribly out of place when she arrives in Joban to teach local ladies how to saw their hips with authentic grace, her noble efforts soon instill her students with a newfound sense of confidence in both themselves, and their struggling community.
Critic Reviews for Hula Girls
Audience Reviews for Hula Girls
I'm amazed that this film is already in the database. While I was watching it, I thought: "Gotta tell flixster to include this one." And here it is. Even if this weren't based on actual events, this movie would be worth watching if you enjoy dance, and especially if you like hula.
The hula revolution is in full swing these days. The last time I checked, there were more than 8,000 hula halau (dance troupes) located throughout Japan. That Japan loves Hawai`i and vice versa is abundantly apparent these days, but this movie is set in 1965-66, when launching your own halau was a bit of a mysterious and perhaps perilous adventure. Surely this group was a pioneering one, and that is a story worth telling.
An added bonus is that the film is scored by Hawai`i ukulele legend Jake Shimabukuro http://jakeshimabukuro.com/ . His soundtrack won the 2007 Japanese Academy Award for Best Sound Recording.
Lanning : )
Super Reviewer
Hula Girls Quotes
There are no approved quotes yet for this movie.