Hunky Dory
(2013)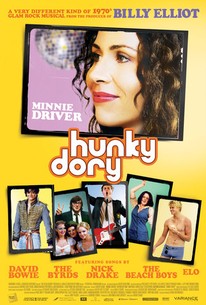 Movie Info
Relive the summer of 1976 in this heartwarming British musical from the producer of Billy Elliot. Minnie Driver plays Viv, a fiery high school drama teacher determined to fire up her hormonal, apathetic students by putting on the best end-of-the-year show the school has ever seen... a glam rock-infused musical version of Shakespeare's The Tempest. But as the Welsh summer begins to heat up, can she compete with the typical teenage distractions of sex and drugs with some great rock and roll? Find out in this fantastic, rousing film- but remove all fears of the typical teen-pop covered high school musicals from your minds, as the songs in this film are from legendary artists like David Bowie, The Beach Boys, ELO, and The Byrds. (c) Variance
News & Interviews for Hunky Dory
Critic Reviews for Hunky Dory
Audience Reviews for Hunky Dory
½
This British (or if you prefer Welsh) independent musical about the trials of an idealistic drama teacher as she tries to put on the end of year show, was like a book of clichés put together. That was done by the writer Laurence Coriat and directed by Welsh director Marc Evans and stars Minnie Driver, Aneurin Barnard, Kimberley Nixon and Robert Pugh. The setting of the story is in a Welsh comprehensive school during the long hot summer of 1976, and very keen drama teacher Vivienne (Minnie Driver) fights sweltering heat and general teenage apathy to put on an end of year rock and roll musical version of Shakespeare's The Tempest (that David Bowie would be proud of). She has high expectations and to engage her students, she uses hits of the time, performed by a fresh young cast led by Davey (Aneurin Barnard). It has a good message wrapped in a pleasant, feel good movie shiny wrapper (kept for a while) directed like a giant kids puzzle where you explain every piece in details, giving kids the hint where to put it. But, I have to admit I enjoyed it because all that was very smoothly done and with enthusiasm and chemistry which could not be faked! Enjoyable.
Superb comedy-drama interspersed with some truly brilliant music and featuring a warm and affable performance from Minnie Driver as the EA teacher trying to direct a musical based on The Tempest. It's sort of like Glee with a degree or Pitch Perfect without the slapstick and one-liners but with added (realistic) swearing and a particularly believable exploration of sexuality. Another gem from chameleon-like director Marc Evans. Cynicism should ideally be left behind.
Daniel Parsons
Super Reviewer
Hunky Dory Quotes
There are no approved quotes yet for this movie.