I Feel Pretty
(2018)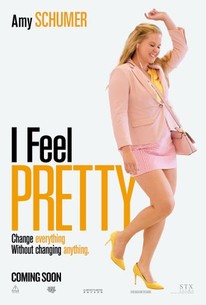 TOMATOMETER
AUDIENCE SCORE
Critic Consensus: I Feel Pretty has a charming star and the outline of a worthwhile comedy -- but unlike its suddenly confident central character, it suffers from a fundamental lack of conviction.
Movie Info
In I FEEL PRETTY a woman who struggles with feelings of deep insecurity and low self-esteem, that hold her back everyday, wakes from a brutal fall in an exercise class believing she is suddenly a supermodel. With this newfound confidence she is empowered to live her life fearlessly and flawlessly, but what will happen when she realizes her appearance never changed?
News & Interviews for I Feel Pretty
Critic Reviews for I Feel Pretty
Audience Reviews for I Feel Pretty
½
This comedy wants to persuade that a woman's look shouldn't be the highest consideration of her even while that is what the film itself does. Nonetheless, Amy Schumer is one game bird, up for any gamble and as reminiscent of any comedienne since Carol Burnett or Lucille Ball as any I've seen. She may not always get the laffs, but it's not for lack of trying. Michelle Williams - that"s one sneaky customer - tries to steal the film with her eyes. You gotta see it to believe it. But the overall work fails.
Kevin M. Williams
Super Reviewer
The over analysing of this movie is ridiculous. I don't think there's too many women who wouldn't relate to this character in some way. I thought the overall message was nice, a woman who is empowered by suddenly believing she is beautiful finds out in the end that it wasn't her looks that bought her good things, it was her confidence and personality.
Nicki Marie
Super Reviewer
WAIST SIZED STORY - My Review of I FEEL PRETTY (3 Stars) Abby Kohn and Marc Silverstein have had a long, successful creative partnership dating back to their feature writing debut, NEVER BEEN KISSED, in 1999. Their latest collaboration, I FEEL PRETTY, which also marks their directorial debuts, continues their streak of romantic comedies with decidedly mixed results. Amy Schumer, who excelled as an actor with TRAINWRECK and her Broadway debut in METEOR SHOWER, once again charms here as Renee, a woman with low self-esteem. Relegated to a dingy, windowless basement tabulating web traffic for an elite cosmetics company, she dreams instead of working the reception desk in the company's posh headquarters. Perhaps she should aim a little higher, but she wants what she wants. When a hilarious freak accident happens in her spin class, she looks in the mirror and sees what we assume is a knockout. It's ripped from the pages of BIG, which plays in the background of a scene in cased you missed the similarities. Wisely, the film never shows us what Renee sees, leading to some fun scenes where she assumes everyone else doesn't recognize the new her. All the audience sees is Renee with newfound swagger. Schumer knows how to sell the transformation whether it's with her bewildered best friends (the always delightful Aidy Bryant and Busy Philpps), or with Ethan (Rory Scovel) an "average" guy she meets-very-cute at a laundromat. Her abundance of confidence leads to her landing the receptionist job, impressing not only a perfectly snooty Naomi Campbell, but also Avery LeClaire (Michelle Williams), the head of the cosmetics line. Williams, who along with her mother Lily (Lauren Hutton) and brother Grant (GAME OF THRONES' Tom Hopper), run a Kardashian-level dynasty. Williams, in particular, devours every moment of screen time with her baby-girl voice and Gwyneth Paltrow in full GOOP mode. It's performance art and worth the price of admission alone. Schumer, who has built a career by simultaneously skewering and embracing the girly girls of the world, creating a beautifully subversive feminist ideology all her own, has to navigate through more problematic material than she did with the excellent TRAINWRECK. While I like the concept of this film, and truly enjoyed the performances, not everything lands. First of all, at 110 minutes, I FEEL PRETTY overstays its welcome by a good 20, making the third act feel like a list check of familiar tropes. I knew exactly where it was going and couldn't wait for it to end. Furthermore, great romcoms often feature love triangles which keep you guessing until the end which way they'll resolve, but here, don't really go anywhere with their third wheel, despite a setup made for such conflict. The message of loving yourself and for sticking up for the average people of the world couldn't feel more timely, but when it's in service of a cosmetics company, it's impossible to ignore the slightly transgressive optics on display. I say "slightly", because Schumer has built her brand around embracing all types of women, even the ones who conform to patriarchal norms, so my last criticism may be splitting hairs. The overall comparisons to BIG, however, don't quite gel, since that classic worked because it centered around a child and a childish conceit. Applying the "I wish" fantasy to a fully grown person doesn't have the same resonance. Sure, it's fantasy, but this movie may have been better without its contrived hook. What if Renee didn't hit her head, but instead made a conscious choice one day to love who she was? It's not as commercial, but it would have felt more invested. Still, I found so much of the film completely charming. Renee has a fascinating relationship with a gorgeous model from her spin class and I would have enjoyed a little more of what they explore together. There's also a very strange, unnecessary subplot in which she and her BFFs create a profile for a Triple Dating Site that feels so underdeveloped that when the inevitable date happens, we don't even hear a word from Renee's prospect. But, I could have watched an entire movie of just Schumer, Bryant and Philipps hanging out and triggering various emotional responses. Same goes for Scovel, who creates a unique, sweet chemistry with Schumer. On the whole, I FEEL PRETTY has spirit, energy and its heart in the right place. I am getting a little tired of Schumer presenting herself as fat and dumpy. She's not a supermodel, but there's no denying her prettiness and immense appeal. She also moves really well, so yes please to having her dance in every comedy. Kohn and Silverstein know how to make fluffy films....no small feat...even though this one is a tad messy and forgettable.
Glenn Gaylord
Super Reviewer
I Feel Pretty Quotes
There are no approved quotes yet for this movie.