I Married a Strange Person
(1998)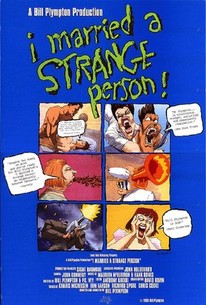 I Married a Strange Person Photos
Movie Info
Grant Boyer is an attractive, strange guy with a wife who is worried about his behavior. She realizes Grant is not stable but she can't identify his problems. A corporate executive and a military personality compound Boyers' miseries.
Critic Reviews for I Married a Strange Person
Audience Reviews for I Married a Strange Person
This is the strange tale of a man who discovers a boil on the back of his neck which gives him the power to bring his imagination to life. Bill Plymton has one of the most distinctly surreal styles of animation and it lends it beautifully to this bizarre tale of inner fantasies run amok. It contains one of the strangest sex scenes I've ever seen. I first became aware of Plymton through (god help me) MTV. He would do weird little animated bumpers featuring men eating their own heads, and other such bizarre activities. I've been a fan ever since.
Shane Donnelly
Super Reviewer
½
I remember getting a fuzzy, warm feeling when Plympton said to the TIFF audience I was in that this film was inspired by a lot of the gore films he's seen. What we have here is one of the strangest, violent and funniest animated movies I have ever seen. It's a real shame that it never really went anywhere, it's really one of a kind. See it with people who appreciate this type of thing and it can be a real party flick. Just don't watch too many times or your brain might melt.
Christopher Brown
Super Reviewer
I Married a Strange Person Quotes
There are no approved quotes yet for this movie.