Seul Contre Tous (I Stand Alone) (One Against All)
(1998)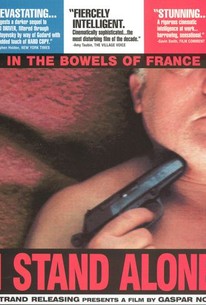 Movie Info
In this French drama, Gaspar Noe, who won awards (Prix Georges Sadoul, Cannes Crix Week) for his 40-minute Carne (1991), continues where that film ended, beginning with a Carne recap: The Butcher (Philippe Nahon) narrates, telling how, as a war orphan working at 14, he opened his horsemeat butcher shop and fathered a mute, retarded daughter. After the mother and daughter left for life in a Paris suburb, he served a prison term after an assault on someone he mistakenly believed had raped his daughter. The follow-up sequel, set in a Lille suburb, begins in 1980: Obese bar owner (Franjkyie Pain) is pregnant by The Butcher, who is unable to find work. The couple moves in with her mother, but he becomes irritated with the two women and goes to Paris where the humiliation of job-hunting and the sum total of futility and hopelessness triggers thoughts of what he might accomplish with his gun and his last three bullets. Shown at the 1998 Cannes Film Festival.
Critic Reviews for Seul Contre Tous (I Stand Alone) (One Against All)
Audience Reviews for Seul Contre Tous (I Stand Alone) (One Against All)
½
The deranged horse butcher from Carne is now struggling to regain any control of his life after spending many years in jail, in a heart-wrenching and incredibly disturbing film that has an amazing performance by Philippe Nahon and an absolutely brilliant final act.
Carlos Magalhães
Super Reviewer
½
I have to find a job soon but i cant because it is the law that you make sandwich wif smile on your face and i cant do that because making sandwich make me more miserable and i hate people i cook it for and i also want to fuck their children i smell my wifes putrid runny crushed juice-box pussy and become disgusted and this makes me horny again so i fuck it and i may just fuck the fat bitch and her fat cunt mother on the same night maybe wait til baby be born and let it age four years and bring wife and wife mother to preschool fuck them on top of toybox and blow teacher brains out then fuck each child and blow each brain out then feed brain to retard daughter then fantasize about glorious make fuck wif daughter and then brain blowing then come back to miserable consciousness and realize im good father so no brain blowing but still fuck her young retard cunt because i show affection i want her to grow up big and strong and learn to fuck my sweet grandchildren and dis make my life worth living so i no blow my brains out. you americans like romantic so buy my movie. my pockets feel good. oh.. horny again, come here grand-daughter.
Coxxie Mild Sauce
Super Reviewer
I didn't give a flying fuck about Irreversible, and considering how terrible it was, I was hesitant to check this one out. Thankfully, it wasn't as bad as I'd feared. Noe fantastically displays the feelings of a common man and what one has to suffer in day-to-day life. The frustration of the central character (the butcher) is displayed marvelously. However, I was disappointed by the ending. IMO, the director took it a bit too far. And I wonder how true it is to say it was a creative scene. That scene displays how rotten the director's mind is. Some call it creativity, though. Well, to each, his own. Then again, I guess I wasn't the target audience here. So, in a way, it's my fault that I'd to witness such horrible and pretentious sequences. Taking into consideration all the aspects, Morality and Justice do leave some impact, but the final stroke (which, in my humble opinion, was totally unnecessary and avoidable) is equally harmful.
familiar stranger
Super Reviewer
Seul Contre Tous (I Stand Alone) (One Against All) Quotes