Isn't It Delicious
(2014)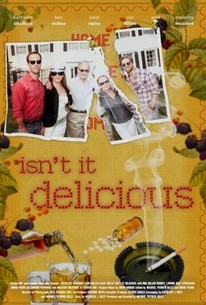 Isn't It Delicious Photos
Movie Info
A fractured family of misfits finds - and tries to fix - themselves - in this hilarious and heartbreaking story of a mother who seeks understanding in her tarnished relationships, while finding personal peace, self-forgiveness and love. (C) Official sIte
Critic Reviews for Isn't It Delicious
Audience Reviews for Isn't It Delicious
½
I loved the film for many reasons. I felt it told a realistic story about a family dealing with death and not in the way we would expect. The stellar cast, which includes Kathleen Chalfant, Keir Dullea, Alice Ripley, Malachy McCourt, Mia Dillon, Nick Stevenson, just to name a few, deliver performances that left me thinking about living large in the face of death. The movie was made on a very low budget, and while some may bemoan the lack of polish in some scenes, I wasn't taken out of the story at all. In fact, it made it that much more real for me. While some may think this is just another film about dysfunction and dealing with death- it isn't. Dark humor was used in a very artful way. The director, Michael Kelly, takes a non-sentimental approach to the material, and as a result, we are allowed to experience the humor and sadness without a filter. The film is raw and real. Moreover, Isn't It Delicious addresses a very taboo subject in our society: death. Unlike some of the films that whitewash death, with soaring music and fairy-tale endings, this film takes a heads-on approach and leaves us uplifted. I can say with certainty I hope I go out blazing like Joan Weldon.
denise colette
I went into a film festival showing of this film with guarded expectations. This low budget film exceeded its limitations on so many levels. Kathleen Chalfant's performance is pitch-perfect as the dying matriarch of a typically dysfunctional upper-class family. Keir Dullea, Alice Ripley, and a wonderful cast fills the screen with extraordinary performances. And the production values far outweigh what the budget ($200K) would indicate. Several scenes were shot aboard a beautiful fifty-foot sailboat, with DP Axel Fisher providing sumptuous photography. Ably directed by Michael Patrick Kelly, this is his first narrative film, and I'm already looking forward to his next feature. Kathleen Kiley wrote a screenplay that addresses grownup issues with humor and drama. Sadly, we see too few films of this nature, but there is definitely an audience for films like this.
Connecticut Bob
½
sn't It Delicious is a thoughtful film for Baby boomers (and others) dealing with family end-of-life issues, as well as family dysfunction - including addiction and co-dependence. But that doesn't mean the film is a downer. The dialogue is sharp and crackles with intelligence. The principal actors -- Kathleen Chalfant, Keir Dullea, and Alice Ripley, as well as sharp-as-a-tack Malachy McCourt -- all bring depth and understanding to their roles, and Jonah Young stands out as younger brother Teddy. Although made on a shoestring, Delicious takes viewers on an emotional ride that quite a few more accomplished filmmakers seem unwilling to undertake. The director, MIchael Kelly, executive producer Alfred Caiola and producer Suzanne Hayes, have worked intelligently with the material to create a rich and satisfying film experience.
Bryce Morris
Isn't It Delicious Quotes
There are no approved quotes yet for this movie.
Discussion Forum
Discuss Isn't It Delicious on our Movie forum!