It Comes At Night
(2017)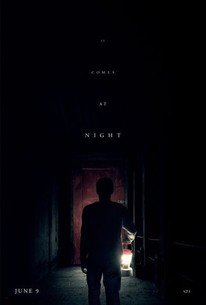 TOMATOMETER
AUDIENCE SCORE
Critic Consensus: It Comes at Night makes lethally effective use of its bare-bones trappings while proving once again that what's left unseen can be just as horrifying as anything on the screen.
Movie Info
Imagine the end of the world. Now imagine something worse. Award-winning filmmaker Trey Edward Shults follows his incredible debut feature KRISHA with IT COMES AT NIGHT, a horror film following a man (Joel Edgerton) as he learns that the evil stalking his family home may be only a prelude to horrors that come from within. Secure within a desolate home as an unnatural threat terrorizes the world, the tenuous domestic order he has established with his wife and son is put to the ultimate test with the arrival of a desperate young family seeking refuge. Despite the best intentions of both families, paranoia and mistrust boil over as the horrors outside creep ever-closer, awakening something hidden and monstrous within him as he learns that the protection of his family comes at the cost of his soul.
News & Interviews for It Comes At Night
Critic Reviews for It Comes At Night
Audience Reviews for It Comes At Night
This was just a bad movie in general. It had grounds to be okay but never really developed into anything. There was a lot of violence and forlorn that led to an ultimate let down.
Jarrin Rozenblad
Super Reviewer
THE WALKING DREAD - My Review of IT COMES AT NIGHT (2 Stars) Trey Edward Shults made a stunning feature filmmaking debut last year with KRISHA, a study of a woman slowly breaking down at her estranged family's Thanksgiving dinner. Gorgeously shot by cinematographer Drew Daniels, the film impressed me with its ability to wring suspense out of the most mundane of setups, such as the cooking of a turkey. When I heard he followed up this little gem with what looked like a more traditional horror film, I thought it would be a match made in heaven. KRISHA's camera swooped around, honing in on our quickly disintegrating title character, and it gave me the creeps in a really good way. I couldn't wait to see what Shults did next. Taking a look at the trailer to it, I had to know what was outside that red door, what was in the woods, and what came at night. And then I saw the movie. Perhaps the marketing campaign influenced my opinion, but IT COMES AT NIGHT is not a horror film. It has some really good performances, some assured imagery, and a genuine sense of hopelessness, but in the end, I found it to be tedious and disappointing. I wanted to be scared, yet I was ultimately bored. Where have you heard this scenario before? In the woods, a family, Paul, Sarah and Travis (Joel Edgerton, Carmen Ejogo, Kelvin Harrison Jr., and their trusty dog) have turned their home into a bunker to protect them from what appears to be an epidemic that leaves its victims covered in boils and spitting blood until they die. Grief stricken from burying a loved one, they encounter an intruder, Will, (Christopher Abbott of GIRLS) one night who challenges their ability to trust anyone outside their own family. From here on out, it's a power play to see who gets to be Rick Grimes. Yep, IT COMES AT NIGHT is essentially a standalone, super-sized episode of THE WALKING DEAD. All that was missing were zombies and a chyron that read: MEANWHILE ON THE OTHER SIDE OF ATLANTA. To make sure Will isn't diseased or dangerous to them, Paul ties him to a tree to sit overnight. Once he feels he can trust him, Paul offers to fetch Will's wife and young son (Riley Keough and Griffin Robert Faulkner) and bring them to their house to live. Strength in numbers, he reasons. From this point, any little transgression could mean the delicate balance ends. Guns will come out if anyone gets caught in a lie, because preserving the family gets top priority. Haven't we been doing this for the past 7 seasons on AMC? I can appreciate a good, post-apocalyptic nail biter, and IT COMES AT NIGHT has some tense moments. Shults drops us into the story with no exposition. Our main characters know very little about what happened to their world, so neither do we. Composer Brian McOmber, who also worked on KRISHA, has written an intense score, and along with the unnerving sound design, shadowy, candlelit images, and ambiguous intentions of its main characters, it's easy to see why an audience could find parts of the film frightening. Edgerton, Abbott and Harrison Jr. give fine performances. Harrison Jr. has terrible nightmares and often snoops around the house spying on their guests or gazing outside into the woods. He has an enigmatic face and is asked to pretty much carry the film from his point of view. He does well with what he's given.....but it's not nearly as much as I was hoping. Same goes for Ejogo and Keough, both of whom have proven themselves to be world class actors with their work in SELMA and AMERICAN HONEY respectively. Here, they cry and scream well, but just don't get that much to do. Ejogo was wasted in ALIEN: COVENANT as well. Somebody please give this talented actor more to do, stat! I kept writing a better movie in my head as it went along. Travis seems to struggle with something internal. Is he imaging everything? Is he an unreliable narrator? What does he see in the inky, black forest? Is there a supernatural being in the trees? Is ANYTHING going to come at night? Will SOMETHING please come at night? Why is this movies called IT COMES AT NIGHT????!!!!! Shuts still has promise. The film has what I like to call good bones. A house. A desperate pair of families. The end of the world. All solid elements for a horror movie. I wanted insane BLAIR WITCH-style mayhem, things banging at the house at night, creatures emerging from the darkness. I know it's not fair to want a different movie, but when you give your movie a title like that, expectations do exist. I supposed they wouldn't sell as many tickets with something called THE WORLD ENDS WITH A DULL WHIMPER.
Glenn Gaylord
Super Reviewer
½
The horror genre is subjective with any film that it releases, plain and simple. There will never be a horror film that 100% of its audience enjoys. Some viewers will either be chuckling, completely invested, or hoping for something else entirely. Yet again, It Comes At Night will probably do just that for the majority of its screenings. That being said, this is one of the best horror films of the last few years and quite possibly the best film in general that I've been able to see in all of 2017. Recently, with films like Lights Out, Don't Breathe, or The Witch, the horror/thriller genre has been utilizing the proper tropes and delivering some pretty effective films. It Comes At Night is just another one to add to the list of recent greats, and here is why. The style of film and television hasn't ever been the same, but with the wave of great television shows over the last decade or so, the difference is not so far off anymore. The best way to describe this film is to call it the very best of The Walking Dead. Beginning with an outbreak of some kind that has already began to spread, we are dropped into the lives of a family, lead by Paul (Joel Edgerton). As they are living as peacefully as they can out in the woods, another man barges into their lives unintentionally. Wishing to keep his wife and son safe, they form a bond and begin to trust one another. The tension between who is keeping secrets and lies begins to unfold and this film deals with those elements wonderfully. If you're looking for a terrifying horror film or wish to have an incredibly intense thriller, you've come to the wrong place. Although the trailers for It Comes At Night shroud the film in secrecy, making you grasp for answers, this is just a human story from beginning to end. It's two families pitted against each other, both in need of the same things, supplies and survival. From start to finish, this is a tension-filled character study and nothing more. Sure, there are some truly terrifying images spliced into the film and certain moments definitely made me uneasy, but I found myself completely sucked into this world and wondering who was truly good and bad deep down. Another thing this film fails to do is reveal itself for what it truly is, which is what I found to be the best aspect of the entire movie. As mentioned above, the best part about this movie is that it doesn't take any time to deliver long exposition sequences as to what it going on in the outside world around them. Left to the imagination of its audience, due to the fact that there are so many films and television shows that probably already have similar explanations, It Comes At Night is the type of film that cares about its characters first and foremost. The plot at hand is among these six people and the story never strays away from that for a second. There are dream sequences and side issues that happen in order to keep the audience engaged, but this an incredibly focussed little thriller. Some people may called this a zombie film of sorts and they wouldn't be wrong in the slightest, but the fact that it's kept ambiguous was terrific. Reflecting on this film, there really aren't any glaring issues throughout this movie, due to the fact that it's just a slice of life in a post-apocalyptic world. The tension is very present, the conclusion is gutsy and satisfying, and I cared about each and every character. What put It Comes At Night over the edge for me, was the fact that it felt real. Without the mention of otherworldly things (even though you knew the implications of that), this film makes itself grounded in reality and you truly believe that these two families are fighting for their survival. There are a few unanswered elements and there are a few predictable scenes, but if you feel like investing yourself in a thrilling drama, then look no further than It Comes At Night, because it deserves your attention. I loved watching this movie.
It Comes At Night Quotes
There are no approved quotes yet for this movie.
Discussion Forum
Discuss It Comes At Night on our Movie forum!