The Italian
(2007)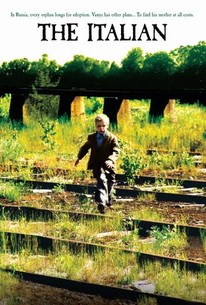 TOMATOMETER
AUDIENCE SCORE
Critic Consensus: Poignant and unforgettable, The Italian stands out from other European melodramas. Like its extraordinary child lead, this Russian drama about an orphan's search for his birth mother is small in size and monumental in pathos.
Movie Info
An abandoned Russian child forsakes a life of luxury in the name of finding his true mother in director Andrei Kravchuk's affecting drama. Vanya is a six-year-old boy who is about to be adopted by a loving Italian couple, but this is a crucial moment in his life, and there are choices to be made. Will Vanya be content to simply spend his days basking in the warmth of the Mediterranean sun, or will his desire to know his true mother slowly eat away at him from the inside for the rest of his life? Though he eventually decides that in order to move on with his life he must first seek out his birth mother, Vanya must learn to read the file containing the information he will need to locate her. As Vanya sets out on the ultimate journey of self-discovery, he is about to find out that the world of children is a universe unto itself, a universe where the longings of the heart often overpower the ability to reason. ~ Jason Buchanan, Rovi
News & Interviews for The Italian
Critic Reviews for The Italian
Audience Reviews for The Italian
½
Wonderful movie. The little boy in this film is really adorable, and an extremely convincing actor. The story is not melodramatic, or deliberately tear jerking, as many child "lead" films tend to be. There are a few difficult scenes, but the entire movie as a whole was very sweet...and left me in awe at the direction. It really warms my heart to watch real quality films....this one including.
Cynthia S.
Super Reviewer
½
A very touching story about the struggles of a six year old Russian orphan, who (after landing the ultimate placement for a Russian orphan - a nice couple from Italy) has an incredibly mature epiphany that prior to the move. What if his real mother comes for him after he is adopted? Does anyone know who his mother is? Is she still alive? This sets him on a quest to find out the truth about who he is and how he became an orphan in the first place. A quest that is clouded by a shady child broker who tells him he must be an idiot to not want to go to Italy and threatens to have him locked up in the "idiot hospital" if he refuses. What would you do? A happy adopted life in sunny Italy, or risk it all on the hopes of finding your real mother and staying in a rather bleak and cold Russia? The journey is harrowing but heartwarming and the results are touching.
This movie completely engrossed me, I haven't seen anything this emotionally rivetting in a really long time. It's one of those films that if it can hit the mark, it does...without mercy. Of course, those of you who detest subtitles....beware! 'cause it's another foreign film, this time it's Russian. I've not heard of any of these actors before, and this review is probably fricken' biased...but who cares...let's get on with the story! It's about a little boy, Ivan [affectionately Vayna for short] Solnestev who is one of the numerous children in a little orphanage in some little town in Russia [I'm presuming]. Anyways, so the film begins with a nice young Italian couple coming by to check out this little boy deciding on whether or not they would like to adopt him and give him a fulfilling life in Italy. Regardless of this fantastic offer, the little six-year-old is still in a dilemma as after his good friend Alesha Mushkin is carted off to another family a short while before...finally, his birth mother shows up distraught looking for him fervently. Instead, the director of the orphanage kicks her out and threatens to kill her. After drinking too much vodka sitting at the bus stop she waits until Vayna, his friend Anton and an older girl Natasha who went shopping come back and asks little Ivan to sit and talk to her about Alesha. Later on we learn that 'allegedly' Mushkin's real mother threw herself onto the train tracks...although the older kids swear she just drank too much and fell and that starts Vanya thinking. 'What if when I'm in Italy and my real mother comes looking for me?' As his friend Anton says, 'Once they change your name, that's it. There's no hope of them for ever finding you again.' Determined to find out about his birth mother Vanya takes on a lot of very brave, and sometimes quite foolish tasks that included breaking into the director's safe for personal files, stealing from Nikolai [who being one of the older kids takes advantage of the younger ones by having them work for him and give him all their money], and eventually leaving the chances of Italy far behind him. The hardships that he faces seem a little bit surreal and unrealistic for a six-year-old to deal with but once engrossed by this film we stop and wonder 'how the hell do we know what we would do in that situation?' The amazing quest that Vanya sets out on is something of a dream which he struggles to make a reality, facing various [dangerous] obstacles, kind people, neglect, apathy, escaping the authorities and so forth. Eventually he learns that the world isn't altogether necessarily a safe and happy place and that sometimes although the brain is yelling at us to stop our heart beats on stronger and louder drowning out any warnings that the brain utters.
Bannan instant enigma- just add water
Super Reviewer
The Italian Quotes
There are no approved quotes yet for this movie.