Italian for Beginners
(2001)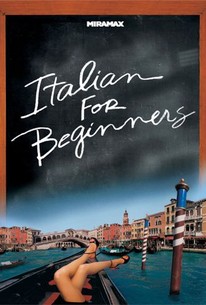 Italian for Beginners Photos
Movie Info
The Dogma 95 movement has seen some searing looks into the human condition but rarely a romantic comedy -- until now. Veteran Danish filmmaker Lone Scherfig spins this deadpan look at a group of lovelorn outsiders living in a grey corner of Copenhagen. After the perennially foul-tempered minister of a local church is fired after doing great injury to the organist, Andreas moves to the area to take over the parish. Staying in a hotel until his predecessor can be wrested from the rectory, Andreas befriends the establishment's scatter-brained manager, Jørgen, who is utterly in love with a beautiful Italian barmaid working at a nearby pub run by Hal-Finn. When the irascible Hal-Finn is chastised by the bar's owner for his unkempt appearance, he goes to a local salon where he meets Karen, a comely hairdresser harried by her grasping mom. Meanwhile, Andreas falls for a lethally klutzy pastry shop assistant named Olympia. This film was screened at the 2001 Toronto Film Festival.
Critic Reviews for Italian for Beginners
Audience Reviews for Italian for Beginners
½
A Danish film from 2001 billed as a "romantic comedy", Italian for Beginners is not really a comedy at all, but a nice introspective look into our hearts and minds, where all are looking for something and find it through and because of community. Filmed in single camera style, this has that low budget indie look to it, with some very abrupt editing as scene after scene cuts to tell the stories of a group of charactors in a Danish town. Dispite the editing and film style the director does a very nice job of keeping your eye interested by subtle use of closeups - not necessarily of faces, but hand gestures and such. What makes this film fly is earnest acting and a wonderful story that shows the viewer the many charactors and then weaves them together through not only a series of funerals, but an Italian class (hence the title). I felt that the way in which all the charators seemed to move in their own arcs and yet all came together was reminiscent of The Cook, The Thief, His Wife and Her Lover, from a decade earlier. What this film has going for it, is its honesty and the almost brutally naked way in which the charactors are portrayed - just real people, living real lives. I can't really give a shout out to the actors - as it's often hard to get into nuance when you're reading subtitles - and I often found it surreal to be reading along and then realizing that the charactors had switched from speaking Danish, to speaking Italian (which they had learned in the class). However I will say that, while there are no big emotional scenes (except one which I will mention in just a bit), the lonliness and ofttimes dispair comes through easily. There is a wonderful dramatic scene that speaks volumes about the heart of this film (and why it really isn't a comedy at all). The parish Vicar has recently lost his wife to cancer, and while he loses his parish, he is allowed to stay on and live in the vicary. When the new priest arrives, he cat calls through his sermon, saying that God is an abstraction. When the new priest later confronts the old vicar, the old vicar states "God took my wife, and my wife took my God". A wounded soul if ever there was one - and the new priest can only respond that the vicar needs to move on with his life (assuming that God will right all wrongs, etc). This is all he can say, as he has recently lost his own wife - and FOUND God in the process - a contrast between light and dark, optimism and the abyss. Not the stuff of romantic comedy, is it?
paul sandberg
Super Reviewer
Very strong effort. It is interesting how strong the connection is between Scandanavians and Italians and this is one is very a very well crafted study of that relationship and the search for romance.
John Ballantine
Super Reviewer
Sweet movie with some implausible, yet tolerable, coincidences. My first Dogme film and now I'm certainly more curious about the movement.
Alice Shen
Super Reviewer
Italian for Beginners Quotes
There are no approved quotes yet for this movie.