Jaan-e-Mann
(2006)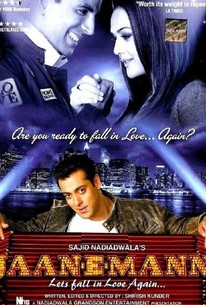 Movie Info
Bollywood bad-boy Salman Khan stars in screenwriter/director Shirish Kunder's romantic tale of two men who share an intense love the same woman, but just can't seem to find the words to express their heartfelt feelings. Suhaan (Khan) is the kind of college stud that every woman on campus longs for; a wannabe rock star whose smooth way with words can melt hearts, he longs to be with the beautiful Piya (Preity Zinta). But Suhaan isn't the only man on campus with eyes for the Piya, because loveable dreamer Agastya (Akshay Kumar) also harbors deep feelings for the girl. Though the fun-loving trio is virtually inseparable on campus, neither the ultra-smooth Suhaan or the lovably nerdy Agastya can muster the courage to make their love known to the unassuming object of their affections. Ten years after college graduation, Suhaan has become a famous singer and Agastya a highly-respected astronaut; yet despite their success in life, both men's for Agastya still goes unspoken. When fate brings the long-separated trio together once again on an idyllic afternoon, fond memories rapidly resurface and an undying love soon underscores the happy reunion.
Critic Reviews for Jaan-e-Mann
Audience Reviews for Jaan-e-Mann
A hilarious movie! Salman Khan and Akshay Kumar are obviously great together. Their vast friendship in the movie depict an amazing connection. Preity Zinta is also fantastic. Great music. Funny! Absolutely loved Salman Khan dressed up in various costumes, especially the Elvis suit as well as a female in the night club scene.
Jaan-e-Mann Quotes
There are no approved quotes yet for this movie.