Jason's Lyric
(1994)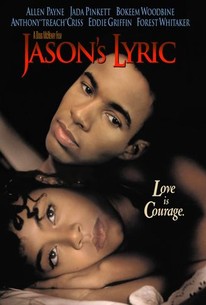 TOMATOMETER
AUDIENCE SCORE
Critic Consensus: Jason's Lyric is a sexually charged film whose violent streak weakens or, depending on your perspective, supports the melodrama.
Movie Info
Two inner-city youths find love on the hard streets of Houston. Each has personal problems to work through, and is wary of emotional attachments. Jason is haunted by the memory of his father's death and feels responsible for his brother's violent behavior. Lyric is strong and passionate, but doesn't want to to give her love to another just to see it snuffed out by the violence around her. Together they learn to let go of fear and guilt and dream of a better life.
Critic Reviews for Jason's Lyric
Audience Reviews for Jason's Lyric
A man falls in love while attempting to curtail his brother's criminal behavior. If I recall correctly, this is John Singleton's fault. Though it's unfair to judge an artist based on his imitators, Singleton's Boyz 'n the Hood began a rash of "hood" films that eventually culminated in the Wayans brothers' parody of the genre. Jason's Lyric "feels like" an imitation, stuck in a particular time, fitting all the generic requirements in, unable to breathe on its own. The abusive father, the aspirations of escape, and the burgeoning love are all things we've seen from Singleton, and there's nothing radically new here. What is more, the love story plot, which, during the first hour of the film, is evenly interspersed with the "hood" plot, is so excessively sappy. Every elevator song you ever heard underscores Jason's courtship of Lyric, and the idyllic landscape gives the plot a maudlin feel. He washes her feet for Christ's sake! Then, the film tries to be realistic in the "hood" plot, and when the two plots converge, I couldn't shake the feeling that the film had multiple personality disorder. Forest Whitaker's performance during the film's first ten minutes as the damaged Vietnam vet was fantastic; Whitaker set the bar so high that it's no wonder the rest of the actors could only disappoint. Jada Pinkett is alluring and beautiful, but there's not much of a character here. It doesn't help her that the script gives her the most expository lines, especially before Jason reveals the truth about his dreams. Overall, this is a poor imitation of John Singleton; see Boyz 'n the Hood and you can tell everybody that you saw Jason's Lyric too.
Jim Hunter
Super Reviewer
½
Suprisingly well acted by EVERY actor involved. . . A sweet love story that will please those who want to see it and suprise those who find themselves watching it "against their will".
Miriam Kline
Super Reviewer
Jason's Lyric Quotes
There are no approved quotes yet for this movie.