Juice
(1992)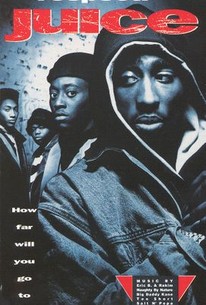 Movie Info
Cinematographer Ernest R. Dickerson directed and co-wrote this crime drama about a group of friends who get involved in a robbery. Bishop (Tupac Shakur), Q (Omar Epps), Raheem (Khalil Kain), and Steel (Jermaine Hopkins) are four Harlem friends who spend their days skipping school, getting in fights, and casually shoplifting. The only member of the group who has plans for the future is Q, who dreams of becoming a deejay. But one day Bishop happens to see James Cagney in White Heat and the film inspires him to buy a gun. His plan is to rob a corner store and split the money. Everyone goes along with the plan except for Q, who is competing that night in a deejay contest. At the club, Q is a rousing success, but he spies the stern faces of his friends through the cheering crowd and realizes that he has to go along with the robbery, which goes completely wrong.
News & Interviews for Juice
Audience Reviews for Juice
½
Bishop: You gotta snap some collars and let them motherfuckers know you here to take them out anytime you feel like it! You gotta get the ground beneath your feet, partner, get the wind behind your back and go out in a blaze if you got to! Otherwise you ain't shit! You might as well be dead your damn self!  "Power. Respect. Juice. How far will you go to get it? There's an understated sociological aspect at work here and it works because the film doesn't beat us over the head with it. Juice is a "hood" film that has a lot to say. It's not about senseless killing, but the motivation behind the senseless killing. In order to live in the hood, some young black men believe you have to have the power, or the juice. Tupac's character, Bishop, is the prime example of that in this film, while Omar Epps' character, Q, can see through the need for power and "respect."  Juice really took me by surprise. There's a lot of honesty in the story, sure, but what really surprised me was just how well made the movie was. Some of the acting by the supporting cast left a lot to be desired, but the main characters were extremely well played. Tupac and Epps were both fantastic and I believe their performances will surprise you. The movie hits a level of a power that it couldn't without them giving these type of performances.  Juice is about four friends who live in the hood. They have been friends for a long time and spend their time together listening to music, skipping class, watching tv, and hanging out at the local pool hall. They aren't what you'd call hardcore criminals. Sure they'll occasionally shoplift some records, but there's no power in that. Bishop gets the idea to hold up a local store and gets his three friends to go along with it. Q is especially against it, but the pressure of his life long friend ship gets to him. This is one of the main themes at work throughout. The difference between two friends, Q and Bishop. I'm not going to go any further into the plot aspect of the film, but from there it gets even more interesting as things play out. Overall, I was very surprised by the power of this movie. It has an honesty to it that Boyz N' The Hood and Friday had, while still being its own movie. I know this doesn't sound like it could be as good as I am saying it is, but you must give it a chance. I can almost guarantee you'll be as surprised by it as I was. It has its problems just like any other urban movie about violence does, but the pros of the film definitely outweigh the cons by a landslide. Juice is a movie worth seeing at least one time. 
Melvin White
Super Reviewer
½
Another 'Boyz N the Hood' type film it has to be said although this film is almost as well known with a cult following in the genre. Nothing too surprising about the plot, every aspect is predictable and cliched these days, I personally enjoyed the start of the film as the young teens get ready for school showing classic early 90's styles which also harked back to the 80's. I found the film enjoyable to watch as a trip down memory lane in terms of clothing, ways of speech, age of the stars (Shakur with hair!) seeing a certain early 'Street Fighter' video game being played in an old arcade hehe I like things like that. As the plot moves forward it does get pretty obvious, Shakur being yet another gun totting hoodie and really giving himself a bad screen image in my view, Epps never was a decent actor really and doesn't really impress here, much the same as other cast members, nothing too stand out. A film of its time for sure, a bit funny to watch now but I'm sure fans of the genre will enjoy, anyone else don't expect too much but I'm sure most would have guessed that right from the start.
Phil Hubbs
Super Reviewer
the first time we really get to see tupac's talent, and he plays a truly vicious character in this film. in this lifestyle things can turn quickly, and the film shows us a great example of how the wrong kind of friends can be the death of any of us.
Juice Quotes
| | |
| --- | --- |
| Bishop: | You know, you were right. I am crazy. But here's the thing - I don't give a fuck. |
| | |
| --- | --- |
| Quincy "Q": | '' you know me since 2nd grade, but i'm not like you. '' |
| Quincy "Q": | We been tight since second grade, but I'm not you. |
| | |
| --- | --- |
| Bishop: | Riverside, Mothafucka! |
| Bishop: | Riverside, mothafucka! |
| | |
| --- | --- |
| Bishop: | Finally decided to stand up like a man and throw down. Too bad Raheem had to die first. |
| Bishop: | The brother finally decides to stand up like a man and throw down. Too bad Raheem had to die first, huh? |