King Arthur: Legend Of The Sword
(2017)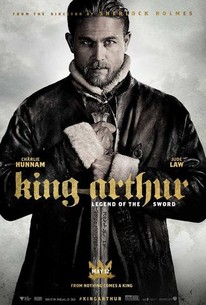 TOMATOMETER
AUDIENCE SCORE
Critic Consensus: King Arthur: Legend of the Sword piles mounds of modern action flash on an age-old tale -- and wipes out much of what made it a classic story in the first place.
King Arthur: Legend Of The Sword Videos
King Arthur: Legend Of The Sword Photos
Movie Info
Acclaimed filmmaker Guy Ritchie brings his dynamic style to the epic fantasy action adventure "King Arthur: Legend of the Sword." Starring Charlie Hunnam in the title role, the film is an iconoclastic take on the classic Excalibur myth, tracing Arthur's journey from the streets to the throne. When the child Arthur's father is murdered, Vortigern (Jude Law), Arthur's uncle, seizes the crown. Robbed of his birthright and with no idea who he truly is, Arthur comes up the hard way in the back alleys of the city. But once he pulls the sword from the stone, his life is turned upside down and he is forced to acknowledge his true legacy...whether he likes it or not.
News & Interviews for King Arthur: Legend Of The Sword
Critic Reviews for King Arthur: Legend Of The Sword
Audience Reviews for King Arthur: Legend Of The Sword
This story is well known because it's over told. Woe betide the one who dares to update the thing! Yes, this is not your daddy's King Arthur, and thank goodness. Ritchie raises this bad boy up from the grave and instills the sucker with sweet life, and makes it a bad boy all over again. Jude Law is mad impressive. Charlie Hunnam makes relatable the whole "I-don't-wanna-be-king-but-watch-out-if-I-do" dynamic. Just as good of a film as it's forebears, The Adventures of Robin Hood" and "Excalibur" and worthy of that prestigious canon. Time will prove this one out.
Kevin M. Williams
Super Reviewer
Guy Ritchie continues to make overstylized versions of classic stories, only this one is a tedious and derivative action movie that seems like a desperate display of virility - let's be honest, instead of a sword, it would have been more honest to just show Arthur wielding his penis.
Carlos Magalhães
Super Reviewer
In a time where remakes rule the world and many young viewers have no clue about previous tellings of classic stories, King Arthur: Legend of the Sword was still not a film I believe needed to be back in the spotlight just yet. That fear was proven to be pretty accurate as this film is nothing short of a hot mess. It's one thing to revamp a story for a modern age, but another thing entirely to make it seem like it takes place in another time period, only to constantly remind its audience that we live in a post-rock and effects-heavy era. Here is why I believe King Arthur: Legend of the Sword shouldn't have ever received the green light, at least for this version of the story. You'll know exactly what you're in for after the first few minutes. I've always been a Guy Ritchie fan and his style fits most of the films he puts his hands on, but this should've been a property he stayed very far away from. Following an orphaned boy as he grows up on the streets, only to find out he is the heir of a man with many gifts, he is able to pull the sword from the stone and prove his worth. Rushed into training and sent on missions in a heartbeat, this film suffers from many pacing issues. There are times when the film really seems to drag out the premise, but others where it feels cut like a trailer or music video in order to speed things up. This style didn't fit the tone of the movie at all. I quite enjoy the charisma that Charlie Hunnam brings to his performances and including great stars like Eric Bana and Jude Law only seemed to be a plus. While everyone does give their all here, there were many moments that felt like they deserved to be in a better film, delivering better dialogue. They each have their times to shine, but its too far and in between in my opinion. When you have a cast that seems to care about the film they're in, its sad to see waste talent in an otherwise very poor film overall. This leads me to the biggest issue this film suffers from. As aforementioned, King Arthur: Legend of the Sword doesn't know how to cut itself together, making it seem like a true medieval piece of cinema, mixed with a bit of the film 300, only to horribly juggle the two with rock music that brings audiences from point A to point B in a matter of seconds. There are many moments where characters discuss doing something and the following scene already has them accomplishing it easily. I didn't ever fear for Arthur, because he was so powerful and skilled that nobody could touch him. Adding to that, there are quite a few moments throughout his action scenes that felt very CGI heavy, truly making this film feel like one long video game cutscene. In the end, King Arthur: Legend of the Sword is about as bland as you can get when it comes down to the final product. I found myself incredibly bored in between action sequences and thought the action sequences were oddly edited and stylistically didn't fit this time period, so there really wasn't much to like about this incarnation of the story. That being said, these actors are giving it their all and I quite enjoyed their performances. Say for a few action sequences early on, most of it feels like a big-budget video game, and that isn't anywhere near what a film like this should be like. I'm aware that I may be in the minority when style in particular bugs me, but I can't bring myself to recommend this film to anyone. There is a cool war film somewhere here and if it was its own thing, not needing to hark back to the King Arthur storylines, it may have been a much better film overall. King Arthur: Legend of the Sword sadly isn't even good enough popcorn entertainment.
King Arthur: Legend Of The Sword Quotes
There are no approved quotes yet for this movie.
Discussion Forum
Discuss King Arthur: Legend Of The Sword on our Movie forum!