King Arthur: Legend Of The Sword
(2017)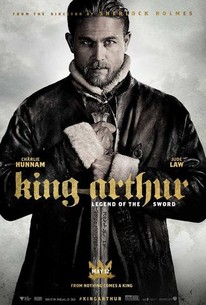 TOMATOMETER
AUDIENCE SCORE
Critic Consensus: King Arthur: Legend of the Sword piles mounds of modern action flash on an age-old tale -- and wipes out much of what made it a classic story in the first place.
King Arthur: Legend Of The Sword Videos
King Arthur: Legend Of The Sword Photos
Movie Info
Acclaimed filmmaker Guy Ritchie brings his dynamic style to the epic fantasy action adventure "King Arthur: Legend of the Sword." Starring Charlie Hunnam in the title role, the film is an iconoclastic take on the classic Excalibur myth, tracing Arthur's journey from the streets to the throne. When the child Arthur's father is murdered, Vortigern (Jude Law), Arthur's uncle, seizes the crown. Robbed of his birthright and with no idea who he truly is, Arthur comes up the hard way in the back alleys of the city. But once he pulls the sword from the stone, his life is turned upside down and he is forced to acknowledge his true legacy...whether he likes it or not.
News & Interviews for King Arthur: Legend Of The Sword
Critic Reviews for King Arthur: Legend Of The Sword
Audience Reviews for King Arthur: Legend Of The Sword
Oh boy. I think I have gotten shit for even bothering to see this from at least 3 different people. But it's not everyday a studio puts big budget money into a medieval fantasy film anymore, even if that's ill advised. No, that's best reserved for premium and higher end cable television, as we all know now. But I stuck to my old idiom of giving a movie its "fair day in court." And that was probably a mistake. King Arthur: Legend of the Sword is a kind-of-shit movie with no real reason for existing, but is the fascinating kind of bad that deserves to be viewed and picked apart as an example of how not to jumpstart a franchise. I have no idea on how this nonsense of a six-part King Arthur franchise started. But gods an HBO film based on the making of this movie and the studio infighting that this thing must have caused would be a hell of a lot more substantial than the actual movie I'm reviewing. This version of King Arthur comes courtesy of Guy Ritchie and I have to admit I am impressed that Warner Bros would take a risk on hiring him to helm a King Arthur movie. It was an incredibly fucking stupid idea, but I applaud risk-taking when I see it these days. And you can see the idea here - this Arthur is a rough and tumble street-smart survivor, whose "knights" are equally as ahem... "urban" and the flash cutting and quick dialogue is evocative of Ritchie's style. The problem is - it has no place in a fucking movie about Arthurian legend, defeating the purpose of risking 200 million dollars on Guy Ritchie. It's the kind of "edgy" movie that studio execs probably think audiences like, but in reality actively avoid. The same goes for the titular character himself. Charlie Hunnam is not a bad actor by any means and would have done well in another of Ritchie's crime dramas for sure, but he has no business playing Arthur Pendragon, the first of his name and King of all Britain. Also, Hunnam is simply not a movie star, and that's kind of a big risk in of itself isn't it? Jude Law excels as a mad king with a fetish for blood magic. Law is one of those actors who everyone is supposed to hate for some nondescript reason, but I've always enjoyed him and he hams it the fuck up here. In fact, I'd say that he's the only performer that understands what kind of movie this is supposed to be - an over-the-top howler bound for the $5 bin at Wal-Mart but still packs enough entertainment for that price or the Redbox rental that most people will opt for. The supporting cast deserves a nod as well for making much of the film's humor work and giving Legend of the Sword the little bit of life it has. The action is flashy and well-made, but little of it remains memorable, aside from a gloriously crazy prologue battle and another showcasing the devastating power of Excalibur itself. But the CGI nonsense drowns out any enjoyment to be had, and it clearly wasn't worth the millions blown on it. So yes, King Arthur: Legend of the Sword is not worthy of its name and not worth the price of admission. It may make a decent rental, but I would recommend being intoxicated while viewing it. If you are looking for a decent, serious take on Arthurian Legend your best options are still the 1981 classic Excalibur and the BBC series Merlin. As for me I KNOW NO KING BUT THE KING IN THE NORTH, WHOSE NAME IS STARK. In other words, this movie can fuck off. Anyone else excited about Game of Thrones Season 7?
Joshua Sheetz
Super Reviewer
Guy Ritchie meets King Arthur, an interesting and potentially rewarding concept. I won't lie, after seeing the lineup of trailers for King Arthur: Legend of the Sword, I was very excited to see the film. I loved Ritchie's Sherlock Holmes movies with Robert Downey Jr. and have heard great things about some of his older films, like Snatch. This one looked like the great retelling of the age-old tale of King Arthur that we haven't seen in a long time. For the most part, it is a pretty great retelling, but not without some noticeable flaws. King Arthur: Legend of the Sword stars Charlie Hunnam in the titular role, which is the first good thing about this film. If you do a little bit of research into the development of the project, you will learn that Hunnam tried desperately to convince Ritchie to give him the role, claiming that he would "do anything" in order to land the part. After lots of persuasion, Ritchie gave it to him, and it paid off. Hunnam does a great job as the King: he fills the role with gusto and swagger and portrays a very likeable version of the character. Jude Law is another great part of the film, brilliantly playing the part of the villain Vortigern. His performance captures much of the internal conflict that his character feels on his quest to become all-powerful; it makes him more human than it makes him a pure force of evil. Law seemed to relish his performance as the character, which showed greatly in the movie. I liked most of the supporting characters as well, especially Djimon Hounsou as Sir Bedivere and Aidan Gillen as Goosefat Bill. And while many of these characters were not given much of any backstory or introduction, the film does a good job building them into heroes that you can't help but root for. A noticeable thing about Legend of the Sword is the very Guy Ritchie-esque feel that it has. The film is very fast paced for the most part, wasting no time jumping from scene to scene or switching between dialogue. This is both a pro and con of the film: many of my favorite scenes featured very snappy dialogue and quick editing and switched between dialogue and the circumstances described by it, much like the scenes in the Sherlock Holmes films where Holmes quickly imagines and analyzes a situation and develops and executes a plan to make the best of that situation. However, this also led to lots of confusion as to what was going on in the plot, causing me to have to pause and think about what was happening and why and waiting for the dialogue to lay out to me what I had missed. In that sense, the editing was both snappy and choppy at the same time, sometimes sacrificing coherent storytelling for quick pace. The film's action also has that Ritchie feel to it, utilizing sharp camera angles and, once again, quick editing to deliver some pretty satisfying action sequences. And while the heavy focus on action in the film seems to be a problem for many critics, I felt it benefitted from it, allowing the King Arthur story to be more exciting and appealing for its modern audience. Overall, I enjoyed King Arthur: Legend of the Sword. It's not the best retelling of King Arthur that can be made by any means. However, it is entertaining and well-done. I loved the explosive action, fast pace, fun characters, and gorgeous visuals that it presented, but I also felt it was bogged down by some choppy editing and mediocre storytelling, two things that this film needed to shine at its fullest potential. I would probably watch it again given the chance, but I am still waiting for the great film that the Arthur mythology rightfully deserves. King Arthur: Legend of the Sword gets 3 out of 5 stars.
Paul Fuchs
Super Reviewer
In a time where remakes rule the world and many young viewers have no clue about previous tellings of classic stories, King Arthur: Legend of the Sword was still not a film I believe needed to be back in the spotlight just yet. That fear was proven to be pretty accurate as this film is nothing short of a hot mess. It's one thing to revamp a story for a modern age, but another thing entirely to make it seem like it takes place in another time period, only to constantly remind its audience that we live in a post-rock and effects-heavy era. Here is why I believe King Arthur: Legend of the Sword shouldn't have ever received the green light, at least for this version of the story. You'll know exactly what you're in for after the first few minutes. I've always been a Guy Ritchie fan and his style fits most of the films he puts his hands on, but this should've been a property he stayed very far away from. Following an orphaned boy as he grows up on the streets, only to find out he is the heir of a man with many gifts, he is able to pull the sword from the stone and prove his worth. Rushed into training and sent on missions in a heartbeat, this film suffers from many pacing issues. There are times when the film really seems to drag out the premise, but others where it feels cut like a trailer or music video in order to speed things up. This style didn't fit the tone of the movie at all. I quite enjoy the charisma that Charlie Hunnam brings to his performances and including great stars like Eric Bana and Jude Law only seemed to be a plus. While everyone does give their all here, there were many moments that felt like they deserved to be in a better film, delivering better dialogue. They each have their times to shine, but its too far and in between in my opinion. When you have a cast that seems to care about the film they're in, its sad to see waste talent in an otherwise very poor film overall. This leads me to the biggest issue this film suffers from. As aforementioned, King Arthur: Legend of the Sword doesn't know how to cut itself together, making it seem like a true medieval piece of cinema, mixed with a bit of the film 300, only to horribly juggle the two with rock music that brings audiences from point A to point B in a matter of seconds. There are many moments where characters discuss doing something and the following scene already has them accomplishing it easily. I didn't ever fear for Arthur, because he was so powerful and skilled that nobody could touch him. Adding to that, there are quite a few moments throughout his action scenes that felt very CGI heavy, truly making this film feel like one long video game cutscene. In the end, King Arthur: Legend of the Sword is about as bland as you can get when it comes down to the final product. I found myself incredibly bored in between action sequences and thought the action sequences were oddly edited and stylistically didn't fit this time period, so there really wasn't much to like about this incarnation of the story. That being said, these actors are giving it their all and I quite enjoyed their performances. Say for a few action sequences early on, most of it feels like a big-budget video game, and that isn't anywhere near what a film like this should be like. I'm aware that I may be in the minority when style in particular bugs me, but I can't bring myself to recommend this film to anyone. There is a cool war film somewhere here and if it was its own thing, not needing to hark back to the King Arthur storylines, it may have been a much better film overall. King Arthur: Legend of the Sword sadly isn't even good enough popcorn entertainment.
King Arthur: Legend Of The Sword Quotes
There are no approved quotes yet for this movie.
Discussion Forum
Discuss King Arthur: Legend Of The Sword on our Movie forum!