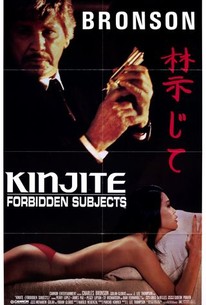 Kinjite: Forbidden Subjects
1989, Crime/Drama, 1h 38m
6 Reviews
1,000+ Ratings
Where to watch
Subscription
Rate And Review
Kinjite: Forbidden Subjects Photos
Movie Info
A Los Angeles police detective (Charles Bronson) and his partner (Perry Lopez) hunt down a pimp (Juan Fernandez) who preys on teenagers.
Rating: R

Genre: Crime, Drama

Original Language: English

Director: J. Lee Thompson

Producer: Pancho Kohner

Release Date (Theaters): limited

Release Date (Streaming):

Runtime:

Distributor: The Cannon Group

Sound Mix: Surround
Audience Reviews for Kinjite: Forbidden Subjects
One that really stands out for Charles Bronson is that he has had a great career playing some truly intense roles. His films are brutal, action packed and bad ass. With Kinjite: Forbidden subjects, he delivers yet another top notch performance in an action packed roller coaster ride where he plays a cop determined to destroy a prostitution ring that employ underage girls. Although nothing like some of his more memorable action films, this is nonetheless a worthwhile viewing for diehard Bronson fans. This is not a perfect film, but for what it is it's an entertaining ride that has all the ingredients of what makes a Charles Bronson special. The acting is decent, but what keeps the ball rolling is the usual performance that Bronson gives, which is of course the film's strong point. The plot is a bit derivative from a few films, but nonetheless if you're in the mood for an entertaining action film, then this is a good little film worth checking out. Sure, it has plenty of issues, but it's your typical Bronson flick, so you know what you're in for. There things that could have been improved of course, but if you enjoy Bronson films, then you won't mind its sheer cheesiness. By this time in Bronson's career, his films were increasingly tongue in cheek, and despite the serious plot of stopping a prostitution ring, the film does have its moment where its tongue in cheek and quite cheesy. If you see it, you'll know what I mean. Nonetheless, in the end it's part of the aspect of Bronson movies and that's why they're quite entertaining. Kinjite is a good film with an interesting story, and like I said before, delivers everything you'd expect from a Charles Bronson film.

There is always one thing to expect in a Charles Bronson Movies, violence beyond your fuckin imagination.

There was one thing I liked about Charles Bronson Movies when I watched. Mess with him and you will pray to commit suicide. His movies were often very Brutal like his character seeking for revenge.

******Some Spoilers Here************ Bronson plays Crowe, a Los Angeles cop heading for retirement who has developed a consuming passion to nail a local pimp, Duke, whos speciality is teenage prostitution. Crowe begins at full throttle, torturing a businessman found engaging in sado-masochistic sex with a minor, it is implied by turning a large and forbidding dildo on him. Not surprisingly, Crowe worries when he gets home that he is becoming as bad as the scum he hunts, yet at home he seems more worried by the fact that his teenage daughter is now indulging in heavy-petting with boys her own age (Crowe's wife has a more liberal, tolerant attitude). In the meantime, the film is following the story of a Japanese businessman, Hiroshi, who is being schooled in Western ways (he must learn that some things are, in the West, "kinjite ? forbidden subjects") whilst at the same time getting unhealthily interested in teenage girls. Early in the film, Hiroshi sees a nymphet being touched up on the underground, and with this incident he becomes sexually obsessed. Hiroshi is then posted, with his wife and two young daughters, to Los Angeles. By coincidence, not only does he drunkenly molest Crowe's daughter on the bus one night, sending Crowe into a racist frenzy, but also when Hiroshi's own daughter is kidnapped, raped, addicted to drugs and pimped by Duke, Crowe is the investigating officer. What follows is a somewhat genre-typical hunt for the girl, ending in the massacre of Duke's crew and the arrest of Duke (and also the suicide of the girl) but it never comes out that Hiroshi was the man who molested Crowe's daughter. The plot is as lurid, nasty and discomforting as could be imagined. What is remarkable is the way the script refuses the audience its usual comforting vigilante thrills. Crowe tortures, harasses, murders and generally turns the tables on the scum of the night, but he is clearly shown to be not that different from them himself. He is a racist and a chauvinist, and he comes very close to admitting that his protectiveness towards his daughter is not fatherly but something far more jealous and possibly sexual and unhealthy. His propensity for anally violating his enemies should give any viewer pause for thought, and the end makes it clear that Crowe's form of "justice" has a sexual-sadistic governance ? he ensures that Duke is locked in a cell with a rapist and will be used as a sexual slave throughout his incarceration. This finale is the film's most shocking and eye-popping moment, especially given the way in which the American prison system in general uses prisoner rape as a method of punishment and control in US jails. This film seems to be nailing US justice as a mask of hypocrisy, which gets sadistic pleasure from meting out severe retribution in a country where formal hypocrisy covers the truth that the men who institute justice have, beneath their skins, the same desires as the pimps, paedophiles and perverts. Kinjite ? Forbidden Subjects tells the story of three remarkably similar men ? Crowe, Hiroshi and Duke ? all of whom enact their part as alpha male individuals, aggrandizing themselves and demeaning women and children as chattels, subordinates and secondary citizens. This is not a film to make any liberal viewers happy ? human life is seem as Darwinian and inherently corrupt ? but it also radically challenges masculine self-perception, making it something more than the reactionary shoot-'em-up we might expect from the genre and this star. It just goes to show that radical cinematic visions crop up in the least expected places, most often in the films "respectable" critics would dismiss as kinjite ? forbidden subjects?
See Details