La belle endormie (The Sleeping Beauty)
(2011)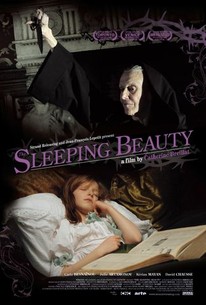 La belle endormie (The Sleeping Beauty) Photos
Movie Info
As with most "fairytales", "The Sleeping Beauty" begins with "Once Upon A Time" but anyone familiar with a Catherine Breillat film knows that a "happy ever after" is no guarantee. In a castle in a far away land in a far away time, a baby girl is born. The child's name is Anastasia. The fairy Carabosse places a curse upon the child- saying at sixteen the girl will prick her hand and die. Three younger and somewhat scatterbrained fairies alters the curse so that instead of dying, Anastasia will sleep for 100 years. For a century Anastasia will live in the world of dreams. -- (C) Strand Releasing
News & Interviews for La belle endormie (The Sleeping Beauty)
Critic Reviews for La belle endormie (The Sleeping Beauty)
Audience Reviews for La belle endormie (The Sleeping Beauty)
At last! A Catherine Breillat film that I really liked. A fairy tale, but unlike any tale you've seen, Ms Breillat seems to have melded the Sleeping Beauty story with a bit of Alice in Wonderland and made it something fresh. Condemned to sleep for a hundred years, beginning at age 6, Anastaia (Carla Besnaïnou) wanders about a phantasmagorical landscape, meeting various eccentric characters who befriend her and send her on her way as she searches for her lost brother. She awakens, at age sixteen (don't ask, it's part of the curse) and discovers true love. Lots of bizarre images and plenty of symbolism, although I'm sure I didn't catch much of it, and an interesting take on the story made this an interesting interpretation.
Mark Abell
Super Reviewer
In "The Sleeping Beauty," the birth of the Princess Anastasia(Carla Besnainou) would have been a happy occasion if not for the curse placed on her for her to die when she turns 16. That would not have happened if a trio of faeries(Dounia Sichov, Leslie Lipkins & Camille Chalons) had been on duty, instead of frolicing in a nearby pond. They try to make it up to her by casting a spell that will allow her to fall into an enchanted sleep from the age of 6 to 16 while living a dream life. It is there that she successfully evades an ogre(Dominique Hulin) to live with Peter(Kerian Mayan) and his mother(Anne-Lise Kedves) in the woods. "The Sleeping Beauty" is an intriguing reimagining of the venerable fairy tale. A lot of that is due to the unique sensibility of director Catherine Breillat who approaches the material from all directions, even invoking the spirit of the real Grand Duchess Anastasia who died in 1918 at the age of 17. To Breillat, girls operate in their own rarefeid worlds, separate from the dangers of the real world with little concept of what the future will bring nor who they will eventually become as they play in what feels like an eternal present.
La belle endormie (The Sleeping Beauty) Quotes
There are no approved quotes yet for this movie.