La Vallée (The Valley)
(1972)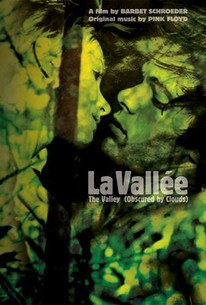 AUDIENCE SCORE
Critic Consensus: No consensus yet.
Movie Info
An early film by director Barbet Schroeder, La Vallée stars Bulle Ogier as the wife of a diplomat who embarks on a journey through the jungles of New Guinea in order to locate a rarely seen type of bird feather. During the course of her quest, she meets up with a group of free-spirited hippies who are seeking their own personal Shangri-la. She becomes involved in their alternative lifestyle; however, their idea world comes crashing down when they begin to interact with a local native tribe. Future Oscar winner Nestor Almendros's cinematography and the counter-culture attitudes helped make this film a success in art-house theaters. ~ Perry Seibert, Rovi
Critic Reviews for La Vallée (The Valley)
All Critics (4) | Fresh (1) | Rotten (3)
Schroeder is more infatuated with than perceptive about the compulsion to search for paradise ...
the background scenery is strong enough to save former hippies and sixties people from embarrassment
It is a film with a lush visual element and ambience, and with little substance.
Audience Reviews for La Vallée (The Valley)
Another movie that proves how stupid hippies are. The Pink Floyd soundtrack was highly underrepresented.
Curtis Lilly
Super Reviewer
[font=Century Gothic]In "La Vallee," Viviane(Bulle Ogier) is avoiding the boring life being the wife of the French Consul of Melbourne and its accompanying serial cocktail parties by working as a buyer for a boutique in Paris specializing in native arts. While browsing at a trading post in New Guinea, she accidentally stabs Olivier(Michael Gothard) in the foot with a dagger. He introduces her to his friends and to a rare feather which beguiles her. They are heading to a valley that is obscured by the mist which is in the general direction of where the feather came from. Despite the illegality of trading in rare feathers and the restricted land they are about to venture into, Viviane accepts the invitation to join them...[/font] [font=Century Gothic][/font] [font=Century Gothic]Written and directed by Barbet Schroeder, "La Vallee" is a spellbinding odyssey, both personal and geographical, with a perfectly ambiguous ending. The movie was made at a time when many people were leaving home to explore themselves and the world around them and this is especially true for Viviane who has a foot in both worlds, not totally comfortable with the people she is seeking to exploit. Uptight at the travelers' sleeping arrangements, she is immediately drawn to Olivier and have sex not long after meeting. These are explorers who are interested in parts of the world about which not much is known.(It is a specific arrogance of Europeans that if a white person did not go somewhere, than it does not count as having been explored.) The movie treats the indigenous tribes with great respect but I would have liked to have heard more from the other two female members of the expedition, Monique(Monique Giraudy) and Hermine(Valerie Lagrange).[/font]
La Vallée (The Valley) Quotes
There are no approved quotes yet for this movie.