Late Autumn (Akibiyori)
(1973)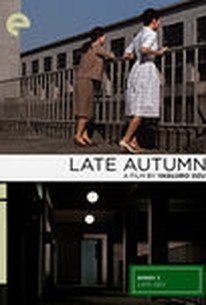 Movie Info
At the annual memorial service of their friend Miwa, three old buddies propose to find a husband for his daughter Ayako. She refuses because she wants to remain by her mother Akiko's side. The men, who harbour a lifetime crush on Akiko then scheme to marry Akiko to one of them. This causes great discard and distress. With the interception of Ayako's friend Yuriko, mother and daughter reconcile, and attend the latter's weddings with a mixture of joy and sorrow.
Critic Reviews for Late Autumn (Akibiyori)
Audience Reviews for Late Autumn (Akibiyori)
[font=Century Gothic]"Late Autumn" starts at a remembrance on the sixth anniversary of the death of Akiko's(Setsuko Hara) husband which is also attended by her daughter Ayako(Yoko Tsukasa) and a trio of his closest friends who were smitten with Akiko before she married, frequenting the pharmacy where she worked, going so far as to buy unnecessary medical supplies. As the evening wears on, the focus turns to Ayako who at the advanced age of 24 is still not married.(Her hesitancy comes from not wishing to abandon her mother.) So, the three friends snap into action with a search for a match but sadly, the first candidate is already engaged...[/font] [font=Century Gothic]"Late Autumn" is a touching and engaging if talky movie about moving on. That having been said, this reminds me too much of another of director Yasujiro Ozu's movies that I have seen to be considered anything more than just a variation on a theme.[/font]
½
although this film is a reworking of ozu's 1949 film "early spring", it also bears some striking similarities to equinox flower in terms of theme, actors, and set designs which were identical in some cases. the film started slow and i was unsure how it would turn out, by the end it had become an epic romantic drama that drew some strong emotion. unlike ozu's usual approach which focuses specifically on family strife, this film is about families but deals more with romance. the film also fuses comedy into the drama to a far greater degree than the typical ozu film causing me to laugh out loud on more than one occasion. a beautiful film.
½
Rockin' color Ozu. So sweet.
Bob Stinson
Super Reviewer
Late Autumn (Akibiyori) Quotes
There are no approved quotes yet for this movie.