Le Voyage dans la lune (A Trip to the Moon)
(1902)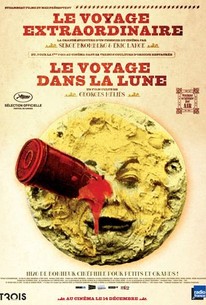 Le Voyage dans la lune (A Trip to the Moon) Photos
Movie Info
A Trip to the Moon is the most famous of the over 500 short films produced by cinema pioneer Georges Méliès betwen 1896 and 1912, and its signature image of a bullet-shaped rocket lodging itself in the eye of a smirking moon is one of the most recognizable images in cinema history. An accomplished magician, Méliès moved from simple recordings of his stage shows to dazzling fantasy epics which were among the first narrative films ever made. These "trick films" combined fantastic yarns, intricate painted sets, and elaborate costumes with such simple but effective special effects as slow motion, dissolves, and superimpositions. Like Méliès's other long films of the period, Trip to the Moon is composed of a series of tableaux, each featuring chaotic action and multiple camera tricks photographed with a stubbornly static camera, which work together to tell a simple story. It proved sensationally popular with audiences, though Edwin S. Porter's The Great Train Robbery rode a slightly more sophisticated narrative to greater success the following year. As one of the earliest examples of cinematic fantasy, A Trip to the Moon paved the way for such filmic flights of fancy as The Wizard of Oz and Star Wars, as it proved that the seduction of the audience through special effects has roots deeper than the blockbusters of the Seventies.
News & Interviews for Le Voyage dans la lune (A Trip to the Moon)
Critic Reviews for Le Voyage dans la lune (A Trip to the Moon)
Audience Reviews for Le Voyage dans la lune (A Trip to the Moon)
A Trip to the Moon is worth the short runtime. It's the first sci-fi film and has been an influence to everything that has come after it. This is a nice little imaginative sci-fi film from one of filmmaking first pioneer. Putting into context when this was made and how short a period of time it had been since making films had even been possible, is pretty crazy to think about. Definitely give this one a look. It's nice to see where cinema started.
Melvin White
Super Reviewer
Ladies and Gentlemen: the world's first sci-fi film! Based on works by Jules Verne and H. G. Wells, this is a landmark film from essentially the king of the silent era, one Georges Melies. What we have here is the story of a group of curious astronomers who, fascinated by space, construct a rocket, travel to the moon, have a run in with the locals, raise a ruckus, then escape back home to planet Earth. It's simple, and sounds a bit hokey, and does come off as a tad silly, but, at the time especially, and, to an extent today, this is still a work which evokes a sense of awe and wonder. Yeah, it's rough in comparison to contemporary films, but for something that's 111 years old, I think it holds up reasonably well. There's innovative special effects, the pioneering use of now common cinematic techniques, and a great amount of energy and excitement, especially with the performances. Yeah narratively speaking some of it seems rough, especially since there's no title card inserts, and, even though I don't mind having to figure stuff out based purely on visuals, for a few bits I think it would have been nice to get some specific clarification on things. Apparently during some screenings, someone would read a script to provide some basic narration as things played out. I think that's kinda cool, and a touch ambitious. I recognize that this is an important and influential film, and it's more successful in those regards than it is when looked at as just a stand alone film, but even then it's still pretty cool and entertaining. And of course, if not for this movie, there wouldn't be one of the greatest music videos ever ("Tonight, Tonight" by The Smashing Pumpkins).
Chris Weber
Super Reviewer
½
This film was the turn of innovative film narratives to come. For its time, this must've been absolutely incredible. During a time when the world received little to no exposure to films, they were introduced with special effects and cuts with disappearing and revealing objects. This must've really blown everyone's minds away. Now if you're ready to jump in, you're really gonna needa wipe the dust off "A Trip to the Moon"; its really showing its age by now, but its easy to see why this is considered a masterpiece for its time. Can't exactly recommend it to the average joe, but for those film enthusiasts, "A Trip to the Moon" is a must watch for its the Godfather of all films.
Albert Kim
Super Reviewer
Le Voyage dans la lune (A Trip to the Moon) Quotes
There are no approved quotes yet for this movie.