Leprechaun in the Hood
(2000)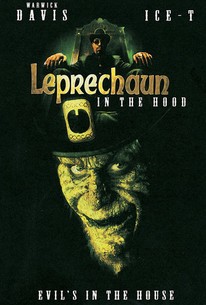 Leprechaun in the Hood Photos
Movie Info
Everyone's favorite bloodthirsty Irish gnome invades the world of hip-hop in the fifth film in the Leprechaun series. Stray Bullet, Butch, and Postmaster P are three young rappers trying to raise money for their first record. They break into the studio of powerful producer Mack Daddy (Ice-T), hoping to steal something salable or do some recording. Instead, they discover the secret behind Mack Daddy's multi-platinum success: a magic flute. The rappers take the flute with them, and their careers take a dramatic upswing; but Mack Daddy wants the flute back, and he has reinforcements: the Leprechaun (Warwick Davis), who has an agreement with Mack Daddy and isn't happy when people cross him. Leprechaun in the Hood was directed by Brian Trenchard-Smith, who also directed the third and fourth Leprechaun films.
News & Interviews for Leprechaun in the Hood
Critic Reviews for Leprechaun in the Hood
Audience Reviews for Leprechaun in the Hood
Fifth entry in this dreadful series really makes you wonder how can the filmmakers can stretch their "creativity". Well, this entry is just as bad as when they did the Leprechaun in space flick. Just when you thought they already the four most appalling films in Horror Comedy history, the film makers gives us this crap. This in a nut shell, is simply an awful film with no redeeming quality, the film is terrible, the script sucks and the actors seem bored, and are not even doing a half decent job, if you suffer from insomnia, this film may cure you. I don't even know what was the inspiration for this dreadful unnecessary sequel. The film was terrible and had no redeeming qualities. Come to think of it, this series has no redeeming qualities whatsoever. This film was yet another dreadful sequel in a series where all the films are horrible. The film like all the others, suffers from a poorly written script, bad cast, bad directing and cheap production value. This films premise is stupid and this is one of those films that doesn't even belong on a so bat it's good list. This film is plainly bad, and it proves that the filmmakers were really scrapping the bottom of the barrel on this one. This film is a pure waste of time, and if you enjoy a good, cheesy horror comedy, pass up on this one, as it doesn't offer anything good. This film was horrible, and should be avoided.
This is hilarious; more of a spoof than an actual horror movie. The film is one half "Friday" and one half Leprechaun. The "getting out of the hood" story could actually stand on its own and be a decent little flick, but throw in the Leprechaun and you instantly have a cheesy B-style romp. The effects disappoint, so there are no cool kills, but there is plenty of rhyming and intriguing minor characters to satisfy the viewer. And it does even better than I expected - I expected a rap song about the leprechaun - instead at the end, the Lep does hid own rap including his own music video hos and bling references. I'm not surprised a second Lep in the hood was done, but I am unsure if I will watch it (both currently available on FEARnet web viewing).
_kelly .King
Super Reviewer
Another enjoyable installment. Mainly because it takes a very cliche story and shoves the Leprechaun right in the middle. We have a struggling rap group that fail often as they are trying to send out a positive message. In a desperate attempt they decide to rip off a local record executive/gangster. Add to this our green Oirish friend for some bizarre kills and laughs. The film sort of has a message about the negative connotations of rap music and the affect it can have on youths. The more they try to succeed, the more questionable their actions become, becoming no better than the leprechaun himself. The acting is better than usual, which is lucky as everybody is so serious it could have failed miserably. The filmmakers make a clever move of playing their best hand last. Let's face it, we were all waiting for Warwick Davis to rap.
Luke Baldock
Super Reviewer
Leprechaun in the Hood Quotes
| | |
| --- | --- |
| Leprechaun: | A friend with weed, is a friend indeed. But a friend with gold, is worth more I'm told. |
| | |
| --- | --- |
| Leprechaun: | Lep in the hood, out to do no good! |
| Leprechaun: | Lep in the Hood, come to do no good! |