Life And Debt
(2001)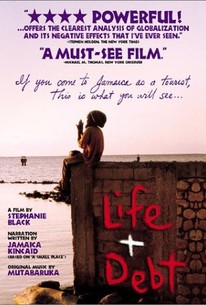 Movie Info
Using Jamaica as its focus, filmmaker Stephanie Black presents an in-depth examination of the impact of the International Monetary Fund's global economic policies on a developing nation's economy. The program represents the views of Jamaican workers and farmers, as well as government officials and policy experts.
Critic Reviews for Life And Debt
Audience Reviews for Life And Debt
It's pretty one-sided, but if you want to see the how the IMF and World Bank screws third world countries, this is it.
Alex T.
½
documentary about the effects of the global economy/banking system on jamaica, like the way the narration is in first person speaking directly to an audience in the first world
Mina Blyly-Strauss
We watched this stupid documentary film in Geography. It was bad...like really bad. It's just weird because...I looked at the reviews and the darn thing is 91% fresh. What the heck? Okay so...it's about like the IMF and how it's affecting Jamaica and...I dunno, it's interesting and all, but it's like the narrator is intentionally trying to make Americans feel like crap. And it's working. But really, we shouldn't have to feel like crap because it's not like its our fault we were born into better circumstances than they were. I mean...I understand they are going through tough times. They have a right to be mad and upset about what's happened. I feel bad for them and I'm all for trying to help them out, but I don't want to hear about how fortunate we are and how we're stupid because we have more money than they do. And that's exactly what the narrator continues to remind you. Grr.
Sonya L
Life And Debt Quotes
There are no approved quotes yet for this movie.
Discussion Forum
Discuss Life And Debt on our Movie forum!