Lisbon Story
(1997)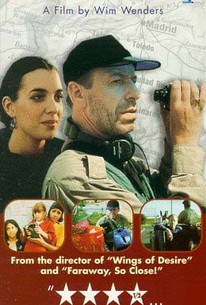 AUDIENCE SCORE
Critic Consensus: No consensus yet.
Movie Info
This beautifully photographed German drama is set in Lisbon, a major center for contemporary European culture, and offers insight into the nature of cinema. Sound recordist Phillip Winter is driving to Lisbon to meet his old friend Friedrich Monroe who recently sent him a postcard asking Winter to help him with a documentary, but when he arrives, Monroe is nowhere to be found. Instead, Winter only finds a few cans of film shot on an old fashioned hand cranked camera. When he is not aimlessly ambling about the beautiful city recording sounds for the film, Winters passes the time playing with the local street children who are obsessed with chronicling even the smallest events on their video cameras. He also begins falling for Teresa, the singer whose band is composing the soundtrack for the documentary. Eventually Monroe returns with a brand new vision and some strong opinions on the sorry state of contemporary cinema. ~ Sandra Brennan, Rovi
Critic Reviews for Lisbon Story
All Critics (3) | Fresh (2) | Rotten (1)
One thing becomes apparent, Wenders has very little feel for comedy as all his efforts to evoke Buster Keaton type comedic skits fall flat.
Audience Reviews for Lisbon Story
Oh Wim, Wim, Wim. What happened to you? You seemed like a major new visionary, for awhile there. Unfortunately, "Lisbon Story" is typical of director Wim Wenders' increasingly numbing fixations. We get another emotionally remote, introspective protagonist who observes life more than he lives it. And more dwelling on the filmmaking process itself, positioned as an intellectual filter between the world and its recording witness. Philip Winter (Rudiger Vogler's fifth portrayal of a similarly named character in a Wenders film) is a sound man who has been summoned to Lisbon. Colleague Friedrich Monroe (Patrick Bauchau) needs help shaping some chaotic guerrilla footage into a movie. We eventually learn that Monroe is disillusioned with the "selling" of images inherent to cinema, and thus has been shooting random material around the city without even looking through the viewfinder. Thus no one has seen the images, and they remain aesthetically "pure." Philip (who has a broken ankle throughout much of the film, for no compelling reason) arrives in Lisbon after some weakly farcical mishaps with his car, but Friedrich is mysteriously absent. No matter -- Philip moves into Friedrich's home, scans the silent reels and starts wandering the streets with a large microphone, recording ambient sounds to match the footage. These scenes do not further the plot -- mostly, they just serve as a peripheral travelogue of local Lisbon color. Meanwhile, Philip meets an elegant quintet called Madredeus who also lives in Friedrich's house and is recording songs for the soundtrack. The group's music is a sleek, updated version of regional folk (not so far from flamenco in feel) and their female singer has a beautiful voice, but their lovingly captured performances don't enrich the plot either. When not immersed in his work, Philip has some fun with the neighborhood children, who improbably enjoy filming him with their own camera. An early segment with him showing them industry tricks for simulating natural sounds (crackling plastic wrap = sizzling egg, etc.) is easily the most entertaining scene. Friedrich finally enters the story, after only appearing as a taped voice in earlier portions. But by then, it's far too late for the film to turn interesting. Still, Wenders did get to plug a favorite band and write off a Portuguese vacation as a business expense, so the project wasn't a total loss.
Eric Broome
Super Reviewer
Lisbon Story Quotes
There are no approved quotes yet for this movie.