Longtime Companion
(1990)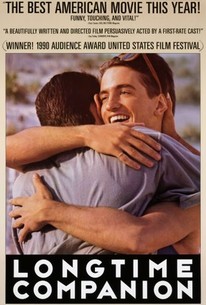 Longtime Companion Videos
Longtime Companion Photos
Movie Info
One of the first films to offer a thoughtful treatment of the AIDS epidemic and its effects on the gay community, Longtime Companion was directed by Norman Rene, who would die of AIDS himself in 1996. The ensemble drama is told through a series of vignettes that begins with the first New York Times report on the mysterious "cancer" that had resulted in the deaths of a growing number of homosexual men and ends eight years later, after the disease has thoroughly and devastatingly affected the movie's close-knit core group of characters.
Rating:
R
Genre:
, ,
Directed By:
Written By:
In Theaters:
On DVD:
Runtime:
Studio:
Samuel Goldwyn Company
Critic Reviews for Longtime Companion
Audience Reviews for Longtime Companion
For those of you old enough to remember a time before AIDS, this film will bring back all the trauma and paranoia that queer culture felt at the beginning of the 1980's. The film brilliantly captures two times in gay culture: Before AIDS and After AIDS and is filled with powerful moments. Wrenching and unforgettable. The film actually plays a bit like a horror film to me. Hard to watch, but important.
Matty Stanfield
½
As It Was Then This and [i]How to Survive a Plague[/i] would make good companion pieces to one another. When this movie was made, it was shocking enough that it features repeated shots of two male characters kissing. It also seemed apparent that these men were going to go to bed together. The movie is rated R despite having no violence, no nudity, no graphic sex, and little swearing. Just having a movie about the lives of gay men has generally been enough for the MPAA, as we've discussed before. However, shocking or not, this movie portrays fictional men living during the same events as the historical figures of [i]How to Survive a Plague[/i]. There are references to some of the same organizations, but while one is the story of the political campaign and the overarching group of patients and those afraid of becoming patients, the other is the story of a group of individuals and how the disease affected them personally. The story starts on 3 July 1981, the day the first article about AIDS, then without a name, appeared in [i]The New York Times[/i]. A group of gay men read the article, but not all of them are concerned. Then, it is 30 April, almost a year later, and John (Dermot Mulroney) is in the hospital with pneumocystis pneumonia. Within days, he is dead. On 17 June, a little over a year after that, the character Howard (Patrick Cassidy) plays on the soap opera for which Sean (Mark Lamos) writes comes out, and Sean might be getting six. Another year, on 7 September, and Paul (John Dossett), Howard's lover, has toxoplasmosis. Six months, on 22 March, and Sean has dementia. Almost nine months, 4 January, and Sean is dead. Slightly over a year, 16 May, and Sean's "longtime companion," David (Bruce Davison), is dead. 10 September, more than a year later, and Paul is dead. 19 July 1989, and the only ones left are Willy (Campbell Scott), Fuzzy (Stephen Caffrey), and Lisa (Mary-Louise Parker), dreaming of what was. So spoilers, okay. But really, how can a movie about AIDS from 1990 end, except in the deaths of pretty much any character with the disease? Early in the movie, Sean and David talk about how they've been together since 1980, and neither has slept with anyone else in all that time, and surely four years together means they're safe. How awful to think that, by the time they even knew the disease existed, it was too late and they were already infected. The disease is believed to have reached the US in 1968; the first probable US death was in 1969. There's been speculation that the disease spread with the Bicentennial celebrations, with people traveling to New York and so forth for the festivities. It's just that, given the incubation period, there weren't enough cases to recognize the epidemic until 1981. This is another of the sad truths of HIV; for many people, by the time they knew there was a reason to change their behaviour, it was too late. It sounds as though the story ought to be too complicated, but it really isn't. I'll admit I couldn't always keep track of who characters were from one bit to another, but I kept the important ones in mind. The chronology isn't always believable; Howard learns that his character is to be gay over a year before the character actually comes out. However, I did believe the idea that characters would vary in how their illness progressed. Sean goes from "might be sick" to dead in about two and a half years, and there is no hint that David has the virus when Sean dies, but he is himself dead about fifteen months later. The disease actually does work that way, odd though it may seem. Most diseases work in similar ways, though faster--some people just get sick faster than others, progress through the disease faster than others. That's true if the disease runs its course in days or years; it just becomes more noticeable in diseases where the whole thing takes longer. Some of the issues these characters confront remain in place. Howard doesn't want his character to come out as gay on the soap, because as soon as an actor plays a gay character, they're typecast as always playing gay characters. The actor who plays his lover on the soap is probably gay. He lives in Lisa's building, and she is certain he lives with a lover. But he won't admit it, probably because he worries about his career. There are plenty of people willing to make money on the gullible; Michael loads Sean up with things he swears will cure him. He gives him self-help books and swears that no one who really loves himself and wants to be well can die of the disease. His doctor, he says, asks his body what Sean's body needs, and he gives him the right herbs and so forth. Michael says it's more scientific than it sounds, of course, but no one believes him. All these issues and more still rise. All these issues and more linger. It's easier to come out than it was, but there are still career consequences. And, of course, the epidemic continues.
Edith Nelson
Its surprising. It was made before Philadelphia, focuses on characters that are almost entirely gay men, it covers the entirety of the 1980s, offers a very honest portrait of the AIDS crisis, is a better movie, but Philadelphia is heralded as the definitive film about this subject. This film may move a little too fast but it isn't cheesy or award hungry like Philadelphia. It has a great cast and its well made. Deserves way more attention than it gets.
Alec Barniskis
Super Reviewer
Longtime Companion Quotes
There are no approved quotes yet for this movie.
Discussion Forum
Discuss Longtime Companion on our Movie forum!