Love Field
(1992)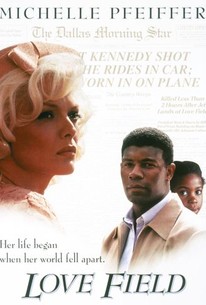 Movie Info
Set in Dallas in November 1963, Love Field stars Michelle Pfeiffer as Lurene, a beautician who aids a black man (Dennis Haybert) on a secretive road trip with his young daughter (Stephanie McFadden).
Rating:
PG-13
Genre:
,
Directed By:
Written By:
In Theaters:
On DVD:
Runtime:
Studio:
Orion Home Video
Critic Reviews for Love Field
Audience Reviews for Love Field
½
Love Field is a story of bigotry set in 1963. I I thought Michelle Pfeiffer and Dennis Haysbert's acting was top notch. And it is always nice to see a movie with a ray of hope at the end.
Great Performance, Shaky Accent I was negative thirteen. My mother was in class at San Jose State University. Most of my friends' parents were in elementary school. I don't know where my dad was; I'm not even sure where he was stationed, off the top of my head, but he'd already long since joined the Air Force. You get the idea--everyone knows where they were. Every generation has those moments, though for a long time, my generation's "that moment" was Kurt Cobain's suicide. (Which Heather found out about when the gardener called The End before he called the cops.) Ours is a little more serious now--a little more serious than Mom's, I would argue. But the thing is, there are a lot of movies which are basically remembering Where You Were When starring famous people. Since we're at ten years now, I think that means we're going to start having them about our own Where You Were When moments. And they can be interesting places to start movies. It's all about what you do with it from there, however, because it's really not enough to carry a movie all by itself. The person in question here is Lurene Hallett (Michelle Pfeiffer). Where was she? Dallas. She got her husband, Ray (Brian Kerwin), up very early in the morning so they could go out to Love Field, where Kennedy flew into Dallas that fateful morning. She just missed her chance to shake Jackie's hand, which broke her heart. Or so she thought, until the day progressed and got worse. She tells Ray that they need to go to the funeral, and Ray blows her off. So she runs off to the Greyhound station. While on the bus, she meets Paul Cater (Dennis Haysbert), who is taking his daughter, Jonell (Stephanie McFadden), home to Philadelphia. Lurene is hopelessly naïve, but she eventually works out that something is wrong with Paul and Jonell. She makes a terrible mistake, and they end up on the lam. In fact, Paul is now suspected of kidnapping Lurene. What's most embarrassing, even more than Michelle Pfeiffer's accent, is Lurene's constant talk of all Kennedy did for "the negroes." I'm sure that she would be shocked if you called her a racist. After all, she is perfectly comfortable talking to Paul and Jonell and the old woman on the bus. She knows how to talk to blend in with "real" racists, and she most certainly isn't like that herself. And she's right; she isn't like that. But any time you start in about how "the negroes" feel about something, you are showing that you don't have enough experience with any of them to know that they don't all think and act and feel the same way. That she doesn't know that most of Kennedy's civil rights record was because of Bobby goes without saying, of course. But I'm sure she is well aware that there are white people all over the South celebrating even as she took that bus to Washington. She knows that white people have many different views. The idea that there are black people who think Kennedy could have done more is obviously foreign to her--bet she didn't know that Martin Luther King, Sr., didn't think people should vote for Kennedy at all. Because Kennedy was Catholic. Kennedy, it should be noted, found that hilarious. "We all have fathers, don't we?" But I do not scoff at Lurene's need to connect to Jackie. Another thing I don't think most people know is that the trip to Dallas was Jackie Kennedy's first political trip with her husband following the death of their second son, Patrick, who had been born weeks premature. In the movie, Lurene had a daughter die at about the same age and same time as young Patrick Bouvier Kennedy. Stranger things have caused people to form emotional connections with figures they never actually met. Ray says that Lurene voted for Kennedy because he looked like a movie star, and that was probably at least partially true. But I think what gets lost in the memories of that November weekend are the memories that went before. John F. Kennedy was the first US President born in the twentieth century. I think in many ways young Presidents can connect better to their generation, because they're a sign that said generation has come of age. JFK may well have been the first person to convince Lurene that she could be more than just another Dallas beautician, more than yet another Southern housewife. Lurene was grieving her own lost chances as much as the man who was killed. The assassination and its aftermath are merely a loose framework to the story, a reason for Lurene to take the trip. Ray's lack of interest is a reason for her to be taking the trip alone. After all, Lurene and Paul are not people whose paths would much cross. Paul Cater was a veteran. A Northerner. A black man. The bus and the train, much more than airplanes, bring a certain camaraderie to American travel. After all, we had just reached the point where the facilities on the bus weren't segregated--though there is still a "colored" bathroom at one point. (This is in fact a minor anachronism; in theory, those signs would have come down two years earlier.) But Lurene is able to take Jonell into the bathroom with her. Lurene's greatest flaw may be that she thinks everyone sees the world in the same way she does. But Paul and Ray share the flaw that they think the way they see the world is automatically better.
Edith Nelson
Captivating, engrossing film that details some of the feeling millions of Americans felt when their new president, John Kennedy, is suddenly taken from them. A woman who feels she owes a lot to him and his wife, vows to go to the funeral of the President, leaving a beer drinking bully of a husband behind. The title seems descriptive enough until we realize that Love Field is the Dallas airport's name where the ill-fated President John Kennedy and his wife touched down in Dallas before his grieved assasination. I was engrossed by this film from the very beginning without knowing anything about it, other than a married woman gets romantically involved on the way to a funeral. I can risk this by advising you to see it as well IF you lived during the time this film portrays. The story of two travelers -- Lurene, an unhappily married beautician, and Paul, a black pharmacist who is searching for his five year old daughter -- who meet and develop a friendship over the turbulant weekend in 1963 when President John F. Kennedy was assassinated. Cast Michelle Pfeiffer Beth Grant Dennis Haysbert Cooper Huckabee Brian Kerwin Louise Latham Stephanie McFadden Johnny Ray McGhee Mark Miller Peggy Rea Crew Costume Designer: Colleen Atwood Set Decorator : Jim Erickson Executive Producer: George Goodman Executive Producer: Kate Guinzburg Music Supervisor: Jerry Goldsmith Production Designer: Mark S. Freeborn Associate Producer: Sulla Hamer Editor: Jane Kurson Director: Jonathan Kaplan Costume Designer: Peter Mitchell Producer: Sara Pillsbury Co-Producer : Don Roos Screenplay: Don Roos Producer: Midge Sanford For the good trailer to introduce this captivating film: http://www.rottentomatoes.com/m/love_field/trailers/10903712
monsieur rick
Love Field Quotes
There are no approved quotes yet for this movie.