Lula, the Son of Brazil
(2012)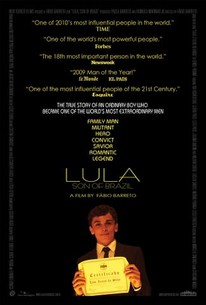 Lula, the Son of Brazil Photos
Movie Info
Lula, Son of Brazil is a richly produced, deeply moving story of the early years of Brazil's most beloved president, Luis Inacio Lula da Silva (Lula). Born into extreme poverty in 1945, Lula was guided by a strong mother (Gloria Pires) who faced overwhelming obstacles to raise her children with the drive and courage to live life without fear. Lula spent the better part of his childhood growing up just outside of Santos, Brazil. When he wasn't in school, he helped support the family. As a full-fledged member of the union, Lula found his path to a life in politics. However it wasn't until he experienced an intense personal transformation following the startling death of his first wife and unborn son, that Lula found the courage and ambition he needed to take full control of his destiny. -- (C) New Yorker
Critic Reviews for Lula, the Son of Brazil
Audience Reviews for Lula, the Son of Brazil
½
Having been born into poverty in a remote part of Brazil, Luis Inacio Lula da Silva could not have been born into more modest circumstances if he tried. In fact, the bus journey with his mother Lindu(Gloria Pires) and younger brother to Sao Paolo takes 13 arduous days and claims at least one fatality along the way. Once they are reunited with his father Aristides(Milhem Cortaz), all Aristides is concerned with is what happened to the family dog. Which apparently he values more than his kids who he forces to work instead of playing or going to school, and beating them when they disobey him. When a well-meaning teacher recognizes Lula's intellectual aptitude and offers to adopt him, Lindu instead finds a third way and leaves her husband. "Lula, The Son of Brazil" is a stirring and reliable biopic about the first half of the life and times of the future president of Brazil. As such, the movie charts the changing times in Brazil, starting with a great wordless sequence and followed by an ever increasing reliance on archival material, while Lula continues his climb, even during the military dictatorship. But just as much, the movie is interested in his political education which he almost falls into by accident from his apathetic working roots.
½
Loved it! Based upon the self-titled book, this docudrama reflects the early years of one of Brazil's most popular modern figure, Luiz Inacio Lula da Silva. The film follows from childhood living on the countryside of Pernambuco through the family's relocation to Santos to reconnect with the father whom left eariler to find work in the city. Refusing to endure the abuse of their father, Lula, his mother, and six silbings leave to move to the busy and industrious city of São Paulo. While obtaining an education, Lula and his siblings work various jobs to help their mother support the family. As a young adult, he enters a technical school and obtains a certificate in a skilled trade that lands him a job in a factory. Through the time period, the rise of work conditions and various social issues worsen that Lula cannot avoid when a personal accident enables him to become more involved with the social injustice occuring. The primary film language is set in Portuguese with English subtitles. Great performances- Rui Ricardo Diaz, Glória Pires, and Juliana Baroni. Definitely worthy!
Lula, the Son of Brazil Quotes
There are no approved quotes yet for this movie.