Magnificent Desolation: Walking on the Moon 3D
(2005)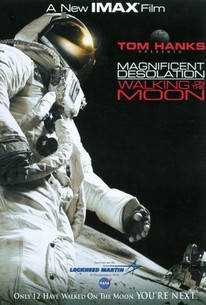 Magnificent Desolation: Walking on the Moon 3D Videos
Magnificent Desolation: Walking on the Moon 3D Photos
Movie Info
Audiences will be transported to the surface of the moon to walk alongside the 12 extraordinary astronauts who have been there, experiencing what they saw, heard, felt, thought and did. Presented and narrated by Tom Hanks, 'Magnificent Desolation: Walking on the Moon 3D' features never-before-seen photographs, previously unreleased NASA footage, CGI imaging and live-action renditions of the lunar landscape. It is sponsored by Lockheed Martin Corporation and filmed with the cooperation of the National Aeronautics and Space Administration.
Rating:
G
Genre:
,
Directed By:
Written By:
In Theaters:
On DVD:
Box Office:
$32,533,825.00
Runtime:
Studio:
News & Interviews for Magnificent Desolation: Walking on the Moon 3D
Critic Reviews for Magnificent Desolation: Walking on the Moon 3D
Audience Reviews for Magnificent Desolation: Walking on the Moon 3D
½
Great cinematography (NASA!) combine with excellent editing and script-writing for a powerful documentary.
Christopher Bergan
This was really good and should appeal to everyone who isn't a space nut. Really opened the doors for the kids and interested them into learning more about the Apollo program and space exploration.
Bobby Diablo
So Why Morgan Freeman as Neil? As the film so accurately points out, no one ever remembers what anyone but Neil said upon stepping onto the surface of that alien world so far from home. "One small step for man," sure. (And, no, there's no space in the transmission for there to be a missed "a" there.) However, I was delighted when the guy who sold me this at the Buckley Safeway actually knew where the title had come from. Indeed, I'm quite sure he was startled at exactly how delighted I was. Suffice it to say, however, that very few people know that it comes from how Buzz described the surface of the Moon. At that, of course, Buzz should be grateful. Sure, no one knows that he said that, but at least people tend to know his name. Take instead poor Michael Collins, or indeed practically any other astronaut, so far as the United States public is concerned. And people wonder why we haven't gone back--we don't care much about what happened when we were there the first time! Obviously, of course, there's not much plot to describe here. It's less than an hour long, and pretty much everything involved is revealed in the subtitle. Again, if you know what Buzz said, the title tells you what the movie's about. However, let us say that the movie is a combination of historical footage, reenactment--including celebrity voiceovers--and speculation about the future of space exploration. There are several things hinted at. For example, let's take the fact that no one knows what Buzz said. (Indeed, it is my experience that most people fail to even consider there were any Apollo missions other than 11 and 13.) They interview several children to ask really quite basic questions about Apollo, and none of the kids are really able to even name an Apollo astronaut; two of our choices are "Jim" and "Lance Armstrong." And, okay, the kids are young. However, it is certainly true that knowledge of the space program is sadly lacking. Which leads us inevitably to hoax believers, doesn't it? The film chooses to essentially brush them off, certainly not taking valuable minutes to bother rebutting any of their silly claims, but they do manage, in those two minutes or so, to show one of the things none of them ever seem to take into consideration. There's a hoax believer who dodges explanations of how lousy his science is by saying he's "thinking like a director," but of course he isn't. No director with any sense would have allowed things to go as the Apollo footage does. The film shows us, for example, a "Neil" falling off the ladder and swinging away on his harness. They have to do another take. The fact is, there are uninterrupted hours of footage from each mission. No director would want to risk that. Someone could indeed fall off the ladder. Lines could be flubbed--heck, Neil actually [i]did[/i] flub his line. Even directors who gladly work with animals and children would avoid that! One of the things the film discusses is the way scale can fool you on the Moon. To be sure, on Earth, you shouldn't attempt to guess how far away something is unless you know how big it is, but it's worse on the Moon. The film shows a theoretical pair of astronauts tipping their rover and having to walk back to the LM. ("Lunar module." It's still pronounced "LEM," but they changed the name when people thought perhaps a Lunar Excursion Module sounded like they were going on a picnic.) One of the few things which fails to ring true about the documentary is that they are able to estimate their distance back pretty accurately. There is no worry that perhaps they might be farther away than they believe they are, for all Tom Hanks has just assured us that distances on the Moon are tricky, that even standing at Hadley Rille, it was easy for James Irwin and David Scott to miss that the valley is deeper than the Grand Canyon. There's no atmosphere to blur things, you see. The thing is, it's really easy to tell the faked footage. It was faked with pretty much every tool available to the IMAX camera, and it still looks really obvious that it's a fake LM setting down on fake regolith on the fake Moon. It's apparently a fairly faithful recreation of the surface based on the stereo photos taken by the actual astronauts, but the actual photos they show in the special features are a lot more realistic. (On account of being real, obviously.) No one has ever been able to fake everything shown on the Apollo film with any degree of accuracy. It seems as though the best way to acquire more footage which really looks as though it was shot on the Moon is to send people back to the Moon to film it. One of the fun things about the DVD is that the special features show where the original landing sites are, which among other things shows exactly how much of the Moon there is left to explore. Maybe someday, people will care enough so that the government will spend the tax dollars to do just that.
Edith Nelson
Magnificent Desolation: Walking on the Moon 3D Quotes
There are no approved quotes yet for this movie.
Discussion Forum
Discuss Magnificent Desolation: Walking on the Moon 3D on our Movie forum!