Mamma Roma
(1962)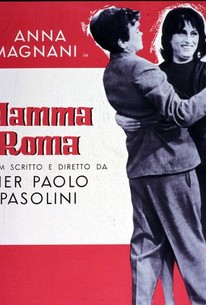 Movie Info
Anna Magnani stars as Mamma Roma, a rural Italian hooker trying to create a new life for herself. This proves impossible when the past keeps rearing its ugly head in the form of Mamma Rosa's previous "johns." She returns to her old profession, whereupon her son Ettore Garofalo becomes a thief and is killed by the police. Written and directed by Pier Paolo Pasolini (his second film), Mamma Roma is one of the least known but most approachable of the director's efforts. As in many of his earliest movies (and the novels which preceded them), Pasolini explores the limited lives and dashed hopes of the cafoni, the Italian equivalent of America's hillbillies.
Critic Reviews for Mamma Roma
Audience Reviews for Mamma Roma
½
I think this is the earliest Pasolini film I've seen, and it's really pretty good, it has a good story, although it's sort of predictable, the end is good.
A bravado performance by Anna Magnani in an early Pier Paolo Pasolini film, when Pasolini was still heavily under the sway of neo-realism. You may be hearing Magnani's robust laugh in your sleep for days after watching. The script is a bit wobbly in deciding whether it's a story about Magnani's character or her teenage son, but the ending is surprisingly dramatic. Be patient with the slow opening, and stick with it. I loved the bit with Magnani sauntering down the night streets, indulgently monologuing about herself while other loiterers casually trade off on being her sounding board.
Eric Broome
Super Reviewer
The Italian auteurs? cinematic roots were in neo-realism, yet diverged as their respective styles developed. Aside from Pasolini's political leanings, it is easy to forget he is part of the tradition. This early film is representative of the genre with its trademark usage of natural settings, unknown actors, and class exploration. Yet, it also diverges by casting a well-known actress and idiosyncratic camerawork. Pasolini?s incorporation of the marginalized and psycho-sexual themes (think Oedipal) are his own unique signature. What ultimately sticks with me in this film is the priest?s statement to Mamma Roma regarding Ettore: 'You can't make something from nothing.' Yet, this is precisely what Mamma Roma is attempting to do with her son and herself. This is a damning declaration against petit bourgeois values and attempts to move above your class. Anna Magnani as Mamma Roma is larger than life, high spirited, hard working, but is an unredeemed character. This is a visionary indictment of the human spirit ~ an implied consequence of Italy?s political inheritance.
Stefanie C
Super Reviewer
Mamma Roma Quotes
There are no approved quotes yet for this movie.