Mes chères études (Student Services)
(2011)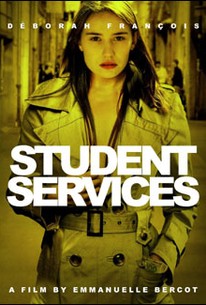 AUDIENCE SCORE
Critic Consensus: No consensus yet.
Mes chères études (Student Services) Photos
Movie Info
Laura is a 19-year-old university freshman who desperately wants to do well in school. She works a part-time job but cannot make ends meet. One evening in which she is short of funds, she answers a personal ad online by "Joe," 57, who seeks a female student for "tender moments." The pay is 100 euros per hour. Laura pledges to do this just once, and three days later, she goes to a hotel room with Joe. And then her spiral begins.
Critic Reviews for Mes chères études (Student Services)
Audience Reviews for Mes chères études (Student Services)
½
Great movie. Really surprised to find out it's made for TV. Quality was very high. The actress they chose to play Laura was perfect too. Looking forward to reading the book next, sad to think it's a true story and a bright young girl would have to stoop to prostitution to complete her studies. Hated the Joe character. What a beep.
Nicki Marie
Super Reviewer
This French drama, written and directed by Emmanuelle Bercot is bravely revealing us the problem which exist in most of the EU countries since the Union began. In a market economy, education has to make money and the high fees of education are paid by the students. The story of Laura is a story of one of the students who works in a call center, but even with an extra job she cannot meet her monthly payments. One day she faints in public during a lecture because she hasn't eaten enough, and instead of help by the student counselor, she is given the advice to sue her parents. She knows that her working class parents can't afford to pay more money. Her electricity is cut off and when it comes back she explores on internet a dubious website where matured men advertise in order to get to know women. She contacts a man called Joe who wants to pay her for keeping him company... One of the things to remember after watching this film is the acting! Déborah François as Laura, Alain Cauchi as Joe and Mathieu Demy as Benjamin did everything for us to believe that these are real lives which suffer in those situations which seemed like a solution for their problems! It is sad that we had no chance to know the characters better due to the lack of their development in the screenplay . If you like good acting and lots of sex scenes which exploit the perfect body of the actress Déborah François, and you don't mind the weaknesses in the screenplay, give it a go. Very watchable.
A sad little film in which a financially troubled university student begins turning tricks to finance her education and living expenses and quickly gets in over her head. Similar in subject matter to A Call Girl, from Slovenia, this girl seemed to be more easily duped and less in control of her situation. According to the blurb at the end, this is a common occurrence in Europe. The acting is passable, the scenery nondescript and the sex is pretty chaste. An entertaining film, but not, by any means, great cinema.
Mark Abell
Super Reviewer
Mes chères études (Student Services) Quotes
There are no approved quotes yet for this movie.