Molly's Game
(2017)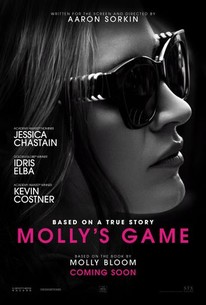 Movie Info
MOLLY'S GAME is based on the true story of Molly Bloom, an Olympic-class skier who ran the world's most exclusive high-stakes poker game for a decade before being arrested in the middle of the night by 17 FBI agents wielding automatic weapons. Her players included Hollywood royalty, sports stars, business titans and finally, unbeknownst to her, the Russian mob. Her only ally was her criminal defense lawyer Charlie Jaffey, who learned that there was much more to Molly than the tabloids led us to believe.
News & Interviews for Molly's Game
Critic Reviews for Molly's Game
Audience Reviews for Molly's Game
SLOANE SQUARED - My Review of MOLLY'S GAME (3 Stars) Have you ever had that experience of seeing a film you really enjoyed, but had a nagging feeling about nonetheless? Where you wondered why it was made in the first place? How its central premise ultimately made no sense? Such is my ultimate summation of Aaron Sorkin's directorial debut with MOLLY'S GAME, based on the autobiography by his title character, Molly Bloom. Jessica Chastain plays Molly, an Olympic skiing hopeful whose accident during the qualifying rounds would send her life in a completely different direction. Moving from Colorado to Los Angeles, she slept on couches and worked as a server until happenstance would being her together with Dean Keith (Jeremy Strong, who REALLY knows how to play the hell out of your garden variety Hollywood douchebag). Hired as his assistant, she made $450 week fetching him bagels and performing any menial tasks required. Soon, he roped her into acting as the hostess for his underground, high stakes, celebrity-filled poker games. In real life, Molly collected $10,000 buy-ins from the likes of Leonardo DiCaprio and Ben Affleck, here personified by Michael Cera and known in the film as Player X. When Molly and Dean reach an impasse, she poaches his contacts to migrate to her own poker events. All of this, as the movie takes great pains to clarify, is legal, since Molly's payments are in the form of tips and she reports her income to the IRS. So far, so good. There would be no movie, however, unless she crossed a line, scraping money from the earnings and acting as a lending bank for the gamblers in hoc. Now we're off to the races! Sorkin tells the story well, with a mixup of timelines which take us from Molly's youth, her rise, and her struggles throughout her battle in court. He employs a ceaseless voiceover throughout, but the writing of it is so good and so compellingly performed by Chastain, that I didn't mind. Besides, this movie has some 'splaining to do. Raised by a strict father (Costner, who brings shines as her tough love but caring parent), Molly appears hardened at a young age. She's self-possessed, direct, and fraught with a nihilistic streak. Her introduction on the ski slope in the opening scene as her voiceover explains in exhaustive detail how things went so wrong on her fateful slalom, sticks the landing with her perfectly placed "Fuck you" even when her body literally doesn't. It's a great introduction to her character, but she's not presented as the most layered person on the planet. If anything, she seems to be a icier, chillier V 2.0 of Chastain's performance in last year's MISS SLOANE. While Chastain captures the real Molly's precise intelligence well, her sexuality goes missing. Molly Bloom made herself over to appeal to the rich poker players, who clearly prefer women in breast enhancing sausage skirts and Louboutins. She has a funny, flirty side that Chastain and the script seem to ignore. Chastain's Molly is all business all the time. Once Molly starts committing crimes, she seeks the help of an Attorney, Charlie Jaffey (Idris Elba), who's reluctant to take her case since she was busted by the Feds, stripped of her money, and, oh yeah, broke the law. Nevertheless, Jaffey takes the case because...well, I'm not really sure. Because it's high profile? Because Molly has integrity because she refuses to name names? God, I wish I knew, because it's a huge stumbling block that the movie, for me, never really addresses properly. My guess is that Sorkin, working with a female protagonist for the first time, saw his story as a treatise on how tough it is for single women to survive in this world. Molly played the game, dressed the part, and appealed to men in order to keep a roof over her head. When she started feeling comfortable, she lowered her standards and made the choice to break the law...and now we're celebrating her as some sort of working class heroine in a major motion picture? Can't we just stick with Norma Rae? She had fun spunk. Molly has spunk too, but it's pretty humorless. Now don't get me wrong. There's a lot of greatness in this film. Idris Elba, compelling and winning as always, has a standout scene in which he keeps switching seats back and forth with a spectator in a courtroom so that he can keep talking to Molly. Chastain knows how to keep you watching her, even when the script doesn't allow her as many levels as we would hope to see. It's still a magnetic, memorable performance. Michael Cera, who really knew how to play the monster version of himself in THIS IS THE END, excels as a celebrity sociopath who loves to watch others lose. I was shocked to discover that Bloom based him on Tobey Maguire, who she claimed bullied her. I guess you can't be Spider-Man 24/7. Chris O'Dowd, Brian d'Arcy James and Bill Camp offer up terrific supporting turns as some of Molly's poker players. The script has Sorkin's patented onslaught of sharp dialogue, forcing the viewer to sit up and take notice for its entire running time. As a director, he has clearly learned a lot from the David Finchers and Danny Boyles of the world by keeping things moving along crisply, despite a lack of his well-known walk and talks and a running time of 2 hours and 20 minutes. He still has a ways to go as a visual stylist, but it's impressive work nonetheless. Evidently, Sorkin was reluctant to take on this project. I'm guessing he was troubled by the same things I've mentioned, but somewhere along the way, he found his way in to his character. His attempt is on the screen, finding a key moment in her life where she found inner strength and persisted, but I don't think he's completely succeeded. There have been many films about innocent people drawn into a life of crime, THE GODFATHER, GOODFELLAS, and THE DEPARTED among them. MOLLY'S GAME can fairly be named the distaff version of these works, complete with a heroine who steadfastly refuses to curry favor from the audience. She made her choices, however, and those involved going too far. Should that be celebrated? I really don't know.
Glenn Gaylord
Super Reviewer
½
Adapted from the novel by Molly Bloom (the subject of the film), Aaron Sorkin has officially stepped up to helm his first film as both writer and director. Most notable for his screenwriting work on The Social Network, Moneyball, or Charlie Wilson's War (just to name a few), I've always had a love for anything he writes. His screenplay's always place the dialogue in the forefront, making for a very intense drama on almost every account. Even if the material is dull, he always finds a way to pick up the pace and make it an interesting and engaging experience for audiences. Molly's Game is latest film that's about to hit the big screen, and once again, his style is as engaging as ever. You should keep your eye out for the release of this film. Opening with a very stylish sequence involving her past as an Olympic skier, we quickly learn that her character has been through a lot and will be a very devoted person throughout the course of the movie. From then on, this film is a series if dialogue-driven scenes that never seem to stop until the credits roll. Throwing you into the life of Molly as a waitress, only to see her grow into a woman who assists in running a high-rollers underground poker event, this film wastes no time on the small stuff. Whenever it seems as though a certain plot point is starting to drag, it jumps forward in time, either immersing you in an intense game of poker, an emotional moment with a family member, or simply a double-cross by one of the players. Characters state that everything going on is technically legal, but you'll still find yourself wondering, which is the beauty of such a well-written screenplay. This movie doesn't create an overdone conclusion, because that's not the point of this film. This film exists to prove that this woman was innocent in what she had done and that everything was legal along the way. Sure, there are moments of tension between characters, but the film has much more heart behind it as well. This screenplay deserves a nomination of some kind, there's no doubt about that, but is the direction just as impressive as the script? When writers or even actors step into the director's chair, it's always a risk for the studio. They could be fantastic and making the right step for their career, or it could end up where they should've stuck to what they new best. Happily, Aaron Sorkin is definitely worthy of making films in my opinion. No, the visceral imagery and camerawork that comes from a film directed by the likes of a David Fincher (who he has worked with in the past) is certainly not present here, but that's not to say he did a bad job in the slightest. Molly's Game is ar above average in terms of direction and I can see him continuing to pursue this area of his career and doing an even better job. He was clearly passionate about this particular story and I believe his choices paid off in spades. In the end, I believe Molly's Game will definitely be up for a few awards this coming season, due to is devoted cast and crew throughout the entire production. From its inspired editing by a trio of editors who have worked on some pretty large productions, to it's Oscar-worthy screenplay, to its intense moments of dialogue and surprise turns throughout each act, this is not a film to miss. Yes, I feel as though it may be about 10-15 minutes too long, but some of the greatest films of all time are nearly four hours and even those films feel unnecessarily long. Molly's Game is slightly drawn out, but it's a superb picture nonetheless. I loved my experience with this film and I highly recommend checking it out when it hits theatres.
Molly's Game Quotes
There are no approved quotes yet for this movie.
Discussion Forum
Discuss Molly's Game on our Movie forum!