Mon Oncle d'Amérique
(1980)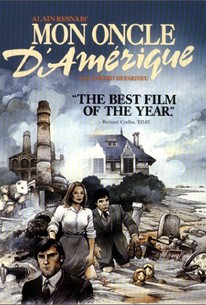 Mon Oncle d'Amérique Photos
Movie Info
Alain Resnais's Mon Oncle D'Amerique is presented in the form of a "case history," replete with a pedantic narrator, played by real-life behavioral scientist Henri Laborit. Gerald Depardieu plays a plant manager whose behavior is inspired by the films of "macho" French film star Jean Gabin. Nicole Garcia portrays an actress who has patterned her conduct after stage and film luminary Jean Marais. And Roger-Pierre is a TV executive whose main influence in life is lovely cinema actress Danielle Darrieux. Though it may sound like a Woody Allen comedy, Mon Oncle D'Amerique eschews satire for the most part, treating both its subject matter and its subjects with intense seriousness. The film scored a hit with moviegoers and critics alike, and was honored with six French Cesar Awards.
Critic Reviews for Mon Oncle d'Amérique
Audience Reviews for Mon Oncle d'Amérique
Very Woody Allenesque but it still works. Thoroughly entertaining!
John Ballantine
Super Reviewer
[font=Century Gothic]"Mon Oncle D'Amerique" is an example of the Alain Resnais we all know and are flabbergasted by. The movie starts out as a faux nature documentary that turns its attention to that most educated of animals - human beings. Specifically, it is about three people - Janine(Nicole Garcia), an actress with a radical background; Jean(Roger Pierre), a government minister and Rene(Gerard Depardieu), a manager of a textile mill. The movie delves into their personal histories, backgrounds and influences(including cinema with occasional glimpses of movies starring Jean Gabin and Jean Marais), showing what role they would play in how their lives would turn out.(And are they happy with the destination once they get there?) But chance also plays a very important part, especially in the first meeting between Jean and Janine. [/font] [font=Century Gothic][/font] [font=Century Gothic]Other directors would probably be more subtle in exploring these themes but Resnais does have a very unique approach which lends credence to my theory that we are all just lab rats on LSD.(If you have any better theories, let me know.)[/font]
Mon Oncle d'Amérique Quotes
There are no approved quotes yet for this movie.