Mozart's Sister
(2011)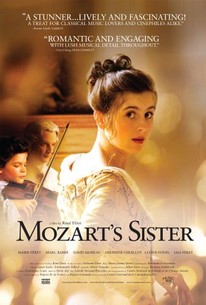 Movie Info
A speculative account of Maria Anna "Nannerl" Mozart (Marie Feret), five years older than Wolfgang (David Moreau) and a musical prodigy in her own right. Originally the featured performer, she has given way to Wolfgang as the main attraction, as their strict but loving father Leopold (Marc Barbe) tours his talented offspring in front of the royal courts of pre-French revolution Europe. Approaching marriageable age and now forbidden to play the violin or compose, Nannerl chafes at the limitations imposed on her gender but a friendship with the son and daughter of Louis XV offers an alternative. -- (C) Music Box
News & Interviews for Mozart's Sister
Critic Reviews for Mozart's Sister
Audience Reviews for Mozart's Sister
½
With sumptuous locations and costumes, the restrained performances present a powerful tale of gender inequality and quiet injustice. "Nannerl, la soeur de Mozart" is well worth watching.
Christian C
Super Reviewer
Thirteen year old Nannerl Mozart(Marie Feret) and her ten year old brother Wolfgang(David Moreau) are on a tour of the royalty of Europe, giving musical performances along the way. Their father(Marc Barbe) is pleased at Wolfgang's progress but has forbidden his daughter from composing and feels the violin is not a ladylike instrument. The monotony of the journey is broken up when an axel is broken on their carriage, forcing them to stay at a convent while repairs are undertaken. While there Nannerl makes friends with Louise(Lisa Feret), the seventh daughter of King Louis XV, who asks her to bring a letter to her brother, the Dauphin(Clovis Fouin), who she has never met, when Nannerl goes to Versailles. Admittedly, the story of Nannerl Mozart does deserve to be told but not really like this, as in the end "Mozart's Sister" basically only serves as a slow moving and unnecessary reminder of how bad the 18th century was for women. While the lives of women have increased tremendously since then, other things have not improved like long distance family trips and stage parents. And that's not to mention how some people only judge a work of art by the artist's age. By comparison, the highlights of the film, outside of a shot of the Dover cliffs, involve the scenes where Nannerl passes for male.
½
Humanist tale of how an equally gifted child of the Mozart clan is, um, bypassed simply by dint of her sex, and how she struggles against the tide. Pillowy costumer with an elegant, if baroque music score, but the story moves with glacial rapidity.
Kevin M. Williams
Super Reviewer
Mozart's Sister Quotes
There are no approved quotes yet for this movie.