The Mudge Boy
(2003)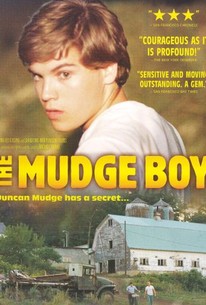 Movie Info
Writer/director Michael Burke makes his feature-length debut with the coming-of-age drama The Mudge Boy. Known as a weird kid, Duncan Mudge (Emile Hirsch) is a naïve 14-year-old farm boy with an aging father, Edgar (Richard Jenkins), and very little social life. When Duncan's mother suddenly dies, he develops a strange fascination with her clothes, speaks in her voice, and spends his time with his pet chicken. His father and the other people in the town just don't understand his behavior, while the other kids make fun of him. A drunken group of older boys call him names, but they eventually allow him to hang out with them if he provides beer money. Duncan admires one of the boys, Perry (Tom Guiry), who reveals some hidden truths about himself. As the relationship between the two deepens, it begins to take on darker, more ominous shadings. The Mudge Boy premiered at the 2003 Sundance Film Festival.
Critic Reviews for The Mudge Boy
Audience Reviews for The Mudge Boy
great performances but the story was kinda weak..but it did hold my interest..it had an honest and real feel too it...it also got strange and shocking towards the end.
Mike N.
½
This was very disturbing, but I liked it. Emile Hirsch was great as always!
Sarah Prisbylla
Super Reviewer
In every generation, I suppose, there's one actor who stands so far above his peers that he becomes almost forgettable in his perfection. Emile Hirsch is that actor in our time. I want to compare him to James Dean, in one sense, but that's not entirely accurate and not fair to James Dean. Emile Hirsch is simply one of the finest actors of all time, any time. I knew that this film was so close to something else I'd seen that I couldn't wait to jump on IMDB after I saw it to check, and I was right: In 1998, Michael Burke made a film called 'Fishbelly White', a 22 minute short film. 'The Mudge Boy' is the same story writ large, but each is a work of art in its own right. The single better thing about this film is Emile Hirsch. I mean in no way to discredit any other actor in 'Fishbelly White' nor in this film, and there are many good ones, as well as a fine director. I know Duncan's story well because I grew up as the gay boy in the rural setting - minus the chickens, dead mother and singular weirdness...OK, maybe the weirdness stays, but you get the picture. I understand Duncan's desire to fit in. I understand Duncan's crush on someone who would rather throw him under the bus to save himself than do the right thing, yet Perry clearly adores Duncan and he knows that Duncan worships him. And in the end, he comes to Duncan's rescue. Richard Jenkins did a fine job as Duncan's dad, dealing with the death of his alcoholic wife and trying in his own way to toughen Duncan enough to take care of himself. Ryan Donowho has come to be one of my other favorite actors, and I'm glad to see him in another film with Emile Hirsch. Despite playing Duncan's opposite number in this film, there was still the chemistry of two fine artists at work. Watching this movie was a fine and pleasant discomfort, and I enjoyed it immensely.
Jim Chatman
The Mudge Boy Quotes
There are no approved quotes yet for this movie.
Discussion Forum
Discuss The Mudge Boy on our Movie forum!