Nina's Tragedies
(2005)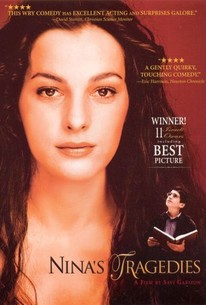 Movie Info
Israeli filmmaker Savi Gabizon directs the tragi-comic drama Ha-Asonot Shel Nina, also released as Nina's Tragedies (A Very Sad Comedy). Teenaged boy Nadav (Aviv Elkabeth) is secretly in love with his beautiful Aunt Nina (Ayelet Zurer). When her husband dies and his parents get divorced, Nadav is more than willing to go live with her. However, many strange things start to happen just after he arrives. Nadav's estranged father (Yoram Hattab) suddenly wants to reconnect with him after many years. Also, the mourning Nina is pursued by a photographer named Avinoam (Alon Aboutbul). Nina's Tragedies won several awards at the Jerusalem Film Festival before its U.S. premiere at the Sundance Film Festival in 2004.
Critic Reviews for Nina's Tragedies
Audience Reviews for Nina's Tragedies
Nina's Tragedies is a well-done serio-comical look at a young boy growing up in the midst of chaos. The one constant in Nadav's (Aviv Elkabeth) life is his puppy-love for his aunt, Nina (Ayelet Zurer). His father moved out, his mother entertains a string of lovers, and he gets his fondest wish when the woman of his dreams needs someone to help her deal with the sudden death of her husband. The cast is terrific, and the comedy is low-key while dealing with some serious issues of love and trust and abandonment. The pace is slow, to the point of almost losing momentum altogether, but picks up again before complete paralysis takes over. This would have benefited from a slightly firmer hand in the editing room, but was still quite entertaining.
Mark Abell
Super Reviewer
½
[font=Century Gothic][color=teal]"Nina's Tragedies" is a movie from Israel that starts out with a funeral, It then goes back two days when Nadav's uncle is reading his journal which he had lost some days before. The movie is told from teenage Nadav's viewpoint, through his journal, as he observes what goes on in his family's life, especially his young aunt, Nina, who has just become a widow. Nadav is a Peeping Tom(I haven't seen it but did "Brighton Beach Memoirs" have a teenage character whose main goal in life was to see a naked woman while eating ice cream?). It's even more disturbing and creepy when you consider that his partner in crime is a middle-aged man. What's his story?[/color][/font] [font=Century Gothic][color=#008080][/color][/font] [font=Century Gothic][color=#008080]There is nothing in "Nina's Tragedies" that we have not seen before. (Especially when you compare it to last year's "Broken Wings", also from Israel.) The framing device takes over a movie that should be about the grieving process of the title character. The most memorable parts of the movie involve such tiny details as a wobbly wheel and tracheotomy patients. This is a movie that wants to come to a tidy conclusion for all of its characters. On the plus side, Ayelet Zurer, as the eponymous lead character, is very good. [/color][/font] [font=Century Gothic][color=#008080][/color][/font]
Nina's Tragedies Quotes
There are no approved quotes yet for this movie.