Noriko's Dinner Table
(2005)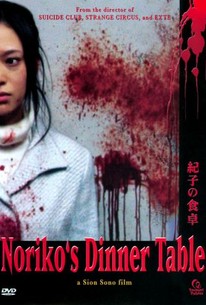 Noriko's Dinner Table Photos
Movie Info
Noriko's Dinner Table (2005) constitutes a follow-up with thematic similarities and loose narrative connections (though not a direct sequel) to Japanese filmmaker Shion Sono's dark 2002 satire Suicide Club. The time-fractured narrative weaves the gothic tale of the two backward Shimbara sisters, teenagers Yuka (Yuriko Yoshitaka) and Noriko (Kazue Fukiishi). The girls inadvertently become enslaved to a website, Hayiko.com, that represents a front for a perverse theatrical group, "The Family Circle" -- whereby young girls are hired by clients to act out bizarre fantasies. As a product of becoming implicated in the site, the sisters lose the ability to recognize their own identities; one is brainwashed by being forced to watch the mass suicide of 54 young Japanese girls from the earlier Suicide Club. The picture ultimately descends into blood-soaked carnage involving the titular table and a bevy of inanimate domestic objects. Ever the formalist, Sono divides his recit into a quintet of segments, and labels four of five with the names of key characters, each of whom narrates his or her "chapter" in voice-over.
Critic Reviews for Noriko's Dinner Table
Audience Reviews for Noriko's Dinner Table
I believe every filmmaker should make the type of movie he/she wants. I don't think they should acquiesce to a studio who wants something done differently because it doesn't fit what the studio wants. Then there's movies like this, which make me re-think those ideas. And it's not that the movie doesn't make sense. I resigned myself to the fact that it probably wouldn't make sense long before I even started watching it, hell Suicide Club (of which this movie is a pre/sequel of sorts) didn't make sense either, didn't stop it from being a great movie. The problem is how self-indulgent and pretentious the movie is. Can anybody, seriously, give me a good reason why this movie was 2 hours and 40 minutes long??? If you wanted to see Sion Sono pleasuring himself metaphorically through his characters for 3 hours, then this is the movie for you. There are a lot of narrated monologues that absolutely serve no purpose whatsoever, other than, again, to stroke Sion's ego. You could've cut this movie in HALF, would've been an IMMENSELY better and I don't think I've ever gone that far with a movie. Think about it...this would be an hour and 20 minutes cut. And this isn't me exaggerating, it's Sion Sono getting WAY out of hand with this movie and refusing to edit it down out of pure stubbornness or, perhaps, stupidity. And the thing is, the movie has good ideas. It adds intrigue into this mysterious suicide circle and the individual stories, while the constant voice over monologues are probably the worst (as in self-indulgent and pretentious) part of the movie other than the length, at least seem to be hinting that they're all heading toward the same end. Like they're on a collision course and that's good. There's also some interesting themes about family, identity, nihilism. I don't get how people thought it was a good movie, but hey that's their opinion. I wouldn't say I hated this movie, but in a lot of ways I did. This, Southland Tales, and almost every Gus Van Sant movie in existence is proof that giving people creative freedom isn't always the best idea. Very disappointing and I wouldn't recommend it on any level.
Jesse Ortega
Super Reviewer
½
I thought this might either explain Suicide Club, or be interesting in its own right. It didn't, and it wasn't. .
½
Watch half, take the other only if you have a strong desire to watch a (up til then) decent film circle the drain of pretentious, philosophical nonsense. Ok, that's not quite fair, what the makers were trying to accomplish was a muiti-charater-centered narrative that dreamily moves between each of their stories in a manner that may or may not be "the truth" of the situation. Who's at fault? Who hurt who? Who wants what? Who knows. Believe you me, I'm not a total philistine snob, but even you enjoy the type of philosophical film-making that forces you to dissect for meaning (which I do) this is still too much. By the end you aren't so much confused as you are thinking about what the dinner special is at Denny's tonight...or what it would be like to eat at Denny's crammed in a booth with a bunch of hot, Japanese school girls. Mmm pancakes. What was I talking about?
Brett Warren
Super Reviewer
Noriko's Dinner Table Quotes
There are no approved quotes yet for this movie.