O Fantasma
(2001)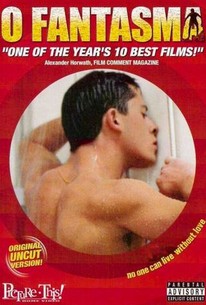 Movie Info
Shot almost entirely at night, O Fantasma chronicles a young trash collector's descent into a world of increasingly bizarre sexual encounters. Sergio (Ricardo Meneses) spends his days living in a run-down rented room, engaging in anonymous sex and trying to rebuff the advances of his co-worker Fatima (Beatriz Torcato). Unfulfilled by his daily sexcapades, Sergio finally gets turned on by a Tom of Finland-esque motorcyclist (Andre Barbosa), whose physical beauty becomes the source of Sergio's obsession. Sergio stalks him, eventually donning bondage gear and making the motorcyclist his love prisoner. After having his brutish way with his comely captive, Sergio vanishes into the night and prowls the city's garbage dumps in a phantasmic odyssey of sexual dysfunction and cruelty.
Critic Reviews for O Fantasma
Audience Reviews for O Fantasma
Darkly sensual and raw, O Fantasma is most daring when refusing to follow a well-defined structure, becoming a series of nihilistic moments that expose the depressing emptiness of an animalistic life yet however frustratingly losing any sense of direction towards its end.
Carlos Magalhães
Super Reviewer
What the F is this film all about, I understand it's an art house film, but to me it seems like a soft core porn. (Due to the excessive nudity and sex scenes minus dialogue) Sex is well explored in the film, but it could have been done better.
Sylvester Kuo
Super Reviewer
My Logline: A Dirty Little Slut with a Forbidden Big Crush. A great art house portrait of loneliness, squalor, and sexual desire. Great anonymous sex scenes and some truly great erotic cinematography very partial to the callipygian lead. (I'd recommend a jerk before you watch this if you're ten percent the horndog that this main character is). There is very little dialogue but swimming pools of unspoken communication, tense as a hard-on and spread like petroleum jelly. The grungy filth is there though; this character is a garbage worker living in the streets, garbage warehouse, and rented rooms who steals from garbage bins for masturbatory articles of clothing and sneaks about his obsession's property. Don't read past the spoiler if you want to watch this. The problem with this film is the ambiguity of the pivotal point which causes the ending of the final act. It's not the (chronologically) non-linear editing of the scenes that bothers me, but the story; BIG SPOILER - I dislike the options of scenarios that are offered regarding the outcome of the capture and rape. Problem: in one scenario (the first scene actually) the guy is lovin Sergio pounding him in the kinky gear (when I first saw it, I didn't know it was non-consensual; I thought it was just some fetish stuff as both parties looked to be having intense pleasure.). In the other, Sergio just drags the guy out to street and leaves him somewhere, the only bit of action being Sergio dry humping him (without the zipper on the latex suit open) whilst securing his bonds. I want to know if Sergio degrades into the animalistic swine he is at the conclusion of the film because he has totally fulfilled his fantasy or he's completely pitifully failed at his attempt. Maybe the point is that both would lead to the ending's savage lack of humanity and loss of identity; that's pretty common of art house, but had I wrote it, I would have definitively picked one and explored THAT subsequent theory instead. Me myself, would be better that he got the more glorified version and fell into such utter despair that he no longer needs to function as a human so reverts to a primordial state, no longer able to exist in the human context, as opposed to failing at such a thing, stooping so low and doing something so primal, causes a human to lose their humanity (this answer is just flatter and more common sense as opposed to revealing like my choice).
ADDED NOTE NON-SPOILER
movie is loaded with sexually explicit scenes, plenty of nudity - lots of cok and arse, with some hot sucking and unusual masturbation. "So Fucked Up" highlight: digging through trash for masturbatory material and then using it in combo with some auto-erotic asphyxiation
_kelly .King
Super Reviewer
O Fantasma Quotes
There are no approved quotes yet for this movie.