Open Grave
(2014)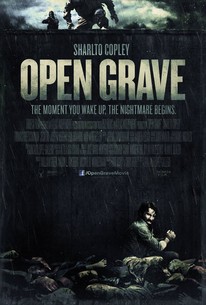 Movie Info
A man (Sharlto Copley, DISTRICT 9, ELYSIUM) wakes up in a pit of dead bodies with no memory of who he is or how he got there. Fleeing the scene, he breaks into a nearby house and is met at gunpoint by a group of terrified strangers, all suffering from memory loss. Suspicion gives way to violence as the group starts to piece together clues about their identities, but when they uncover a threat that's more vicious -- and hungry -- than each other, they are forced to figure out what brought them all together -- before it's too late. (c) Tribeca
Critic Reviews for Open Grave
Audience Reviews for Open Grave
Not as terrible a film as the reviews made it out to be. It's definitely a movie that requires a lot of patience as a lot of the story hinges on the reveal of what is actually happening in the midst of red herrings and misdirection. You're kept as much in the dark as the characters in the film...that can be a positive and a negative. It's a positive in the sense that it keeps up the suspense. It's a negative because it pretty much stalls character development. It's all about finding out who they were and not getting to know them as they are right now. I guess you could say the film does find a balance between the two, but I don't think it does at least. Because of that, in some parts, the movie can drag tremendously and feel completely aimless. You've no idea what the endgame is and you're completely left at the mercy of the screenwriters and the film crew. If they wanted to throw in aliens out of nowhere then, no matter how cheap it was, they'd be able to get away with it since they pretty much sidestepped addressing the issue until it absolutely needed to. I had to watch this in two sittings because I was so tired I had to sleep, so because of that the film probably flowed much better than it would've if I had watched it in one sitting. It's just one of those movies. While the film is certainly trite and unoriginal, I think it does a good job at keeping you intrigued enough to make you watching until the end. I think there's a sense of intrigue and mystery that makes watching somewhat interesting. You're invested in finding out what happens. The acting is perfectly fine, if unspectacular, but it also lacks a bit of consistency. Can't put my finger around it, but something about the acting felt really off to me. I found the climax, everything before the last shot itself, to be a little sentimental and melodramatic for what is supposed to be a tense experience. The last shot itself is pretty dark and depressing where all hope is gone and the future is incredibly uncertain. So many people have been lost, that it's hard to believe that, if you think about it as a continuous world even after the film ends, then finding a cure for this plague, that wiped out a large chunk of the world, will really make up for how many people were lost. But this reveal feels really cheap in my opinion, because while it has everything to do with what's going on in the actual film, it also has nothing to do with it. It's weird how that works. The reveal that they're a group of scientists working a cure for a plague has nothing to do with the amnesia all of the characters have. To me, it comes across as a way to needlessly complicate the plot. Instead of telling a simple story about the zombie apocalypse, they had to complicate matters by adding in the amnesia stuff to make it seem like it's fresh and original. It accomplished the exact opposite, cause it's obvious why it was done. I appreciate the effort, but it didn't work. If you look at Contracted, an anti-zombie film if I ever saw one, it tells the start of the zombie apocalypse in a very clever way that, if it would've been seen by enough people, would've pretty much revitalized the genre. I think this doesn't try as much to revitalize it as much as it tries to throw you off from ever thinking about the fact that it is a film about the zombie apocalypse. It does so in a hackneyed manner, but at least it makes an effort. Ill-fated, but an effort is made nonetheless. Wouldn't exactly recommend this film, doesn't really offer anything new or that interesting. Requires a lot of patience and will probably annoy more people than it will satisfy.
Jesse Ortega
Super Reviewer
loved the grave scenes, has some cool elements and great actors... its pretty interesting, just felt like it could have had a little more to it. still cool tho
Shawn Montague
Super Reviewer
½
[img]http://images.rottentomatoes.com/images/user/icons/icon13.gif[/img]
Directors Cat
Super Reviewer
Open Grave Quotes
There are no approved quotes yet for this movie.